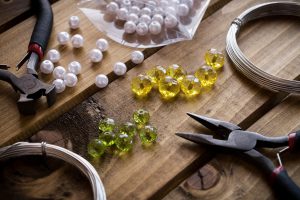 Want to find a unique look for your latest necklace designs? You can add an extra handmade touch to your pieces by learning how to make a necklace chain with wire. It's really simple to do and will add a new finish to your necklaces, all while helping you to develop your wire work skills for future projects.
Here's what you'll need when learning how to make a wire necklace:
Wire (approx. 20 gauge)
Round nose pliers or multi sized looping pliers
Steel bench block
How to make a wire necklace step by step
Making wire loops
Take your chosen wire. This could be silver, copper, or silver plated wire. Aluminium can also be used but it's more prone to breaking as it's a softer metal. Some people choose to cut their wire ahead of making loops, but when you're just learning how to make a necklace chain with wire, you need to figure out how much wire is required per loop. So it can be helpful to take a longer length of wire and cut as you go.
Now take your round nosed pliers. Grip the end of the wire with your pliers and twist until a loop is formed. This may require some practise but you'll soon get a feel for how much pressure to apply with the pliers. Keep twisting until the end of the wire comes back around to meet the length of the wire that remains – forming a small loop.
Form a figure of eight. Once you're happy with the shape of your first loop, you can take the length of the wire, close to your first loop, and rotate your wrist in the opposite direction of the first loop you created. Continue to rotate your round nose pliers until you're content with the look of the second loop. Take your flush cutters and snip the end of the wire as close to the end of the final loop you've made as possible. Now you have your basic figure of eight shape.
Perfect your loops. You may need to adjust the loops a little to minimise the gap you have made between the ends of each loop. This will help you close the gaps later on as you assemble your wire necklace chain.
Just keep making loops. You'll need to continue making wire loops until you've reached your desired amount. This will depend on how long you would like your wire necklace chains to be, the wire, and the diameter of your loops.
Quick tip: If you've found the size of the loop you prefer to make for your wire necklace chains, you can use a black marker or file a small notch onto your round nose pliers where you tend to find the best sized loop for your work. Then the next time you come to make a necklace from wire of the same size, you know where to go. The smaller the loop, the farther away the wire will be from your hand as you hold your pliers.
Before you connect your loops
Hammer the loops you've created. To do this you can use a jobbing hammer or a ball pein hammer and a steel bench block. This will flatten out the loops and help to bring the joins together more symmetrically. Simply place the figure of eight link on your bench block and lightly gripping your hammer, give each link a solid couple of taps. This technique can also be used to remove any nicks that may have been created by gripping the wire too tightly with your pliers.
Forming your wire necklace chain
Connect your loops. Once you've hammered each link, you can now connect each figure of eight link together. You may have to tease open each end of the wire a little to connect each loop – like you would with a jump ring. Once connected in place, you can then firmly close each loop to make a necklace. This may require the use of your pliers to ensure each link is locked in place.
Finish with a clasp. Happy with the look and length of your wire necklace chain? Now you can add a clasp of your choice. This could be a ready-made clasp or a simple DIY hook clasp made with the same wire you've been using to make your chain. Browse our complete range of jewellery findings to finish off your wire necklace chain.
Now that you know how to make a necklace chain with wire, you can use these techniques to experiment with new wire necklace patterns and clasps. Stock up on all the supplies you need to make a necklace including artistic wire and reliable pliers and flush cutters at Cooksongold.