This summer, the much anticipated Season 7 of Game of Thrones returns to our screens to the delight of millions of avid fans the world over. One of the lead characters Daenerys Targaryen, Queen of Dragons has become as famous for her fabulous outfits, as she has for her ruthless pursuit of the throne of the 7 Kingdoms – and the jewellery she wears is a very big part of that.
Game of Thrones costume designer Michele Clapton has collaborated with Yunus Ascott and Eliza Higginbottom (who create bespoke metal sculptures for the film, TV and fashion industries) to produce pieces which reflect Daenerys' dynamic character, and this has not gone unnoticed by fans. There has been such a demand for jewellery in the style of the Dragon Queen that Yunus and Eliza have now produced a range of official Game of Thrones inspired pieces, which are now available to the general public in an unprecedented move.
Going back to reality, the ongoing obsession with all things pink looks set to continue a while longer. 'Millennial Pink' as it has been dubbed is a dusky pink, which isn't quite a nude but not quite as bright as a bubblegum pink.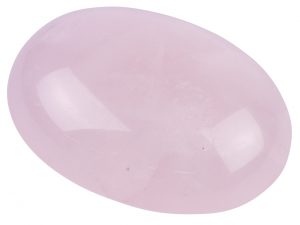 Add a touch of 'Millennial Pink' to your designs with a Rose Quartz gemstone (product code 61QZ CA20) 
The term 'Millennial' refers to Generation Y  which can loosely be pin pointed as individuals born between 1982 and 2004, who have grown up in the age of social media, but definitions do vary wildly. It has been strongly favoured by fashion houses over the past few years, and is actually said to be reaching saturation point now as it is everywhere in both interiors and fashion. However, it won't disappear overnight so don't panic if you've only just got on board with this one!
Other hot colours this summer (please excuse the pun) include red, cobalt blue and yellow. In fact, primary colours are predicted to be strong going into next year and beyond, so if you want to get maximum wear out of your clothing and accessories it might be best to keep this in mind:
"We will see primary tones again, rather than what's happening at the moment, which is quite fashiony and pretty." – Monnington Boddy, colour director of trend forecasting agency WGSN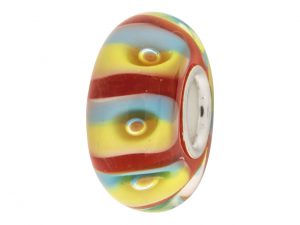 Glass charm bead featuring the three colours set to be popular this year: red, blue and yellow (product code 61GL CB48)
Fashions this summer have been very much focussed on the neck and shoulder area, with a multitude of 'off the shoulder' and also 'cold-shoulder tops' flooding the high street. This has resulted in jewellery for the same area filling sales counters, in the form of oversized earrings and also choker style necklaces. Hoop earrings also have enjoyed a much needed overhaul from designers who have updated the style to include interesting details such as inverted stones and pearls.
Sterling silver hoop earrings set with CZ stones (product code XSS 2117)
For those who prefer a more subtle look, the humble geometric stud has been immensely popular this summer, thanks to the emphasis designers placed on outrageous geometric catwalk jewellery earlier in the year. Thankfully, most retailers have opted for much more pared down versions suitable for the likes of us everyday folk, rather than 6ft willowy models who let's face it, look good in just about anything!
What do you think about incorporating any of these trends into your upcoming jewellery designs? Make sure you enter your latest piece into our Design of the Week competition so we can see what you have been creating!