Fretz Design is an American company started in 1970, as a jewellery venture, by husband and wife team Marian and Bill Fretz. Both were originally involved in different areas of the industry, and combined their collective skills to start a small specialist company which initially focussed on the production of bespoke pieces. As time went on, their area of expertise began to focus on the setting of unusual Maine Tourmaline (prevalent in the area), and it was at this point that they started developing specialist stakes to help them with this. With necessity being the mother of all good inventions, the range grew; bezel stakes were introduced in 2003 and then later in 2006 the first Fretz hammers came into existence, and it is these products which have gained the company its reputation for great quality, professional tools.
When you look at a Fretz hammer, you can immediately see that you are dealing with something special, and you will notice details that you just don't see in comparable products. For example, you will observe that many of the hammer heads are curved when traditionally they are flat. This is to help with working of flat and inaccessible surfaces, and is a detail only a jeweller or silversmith would appreciate and seek to change. They are, in effect, giving you extra reach with these hammers.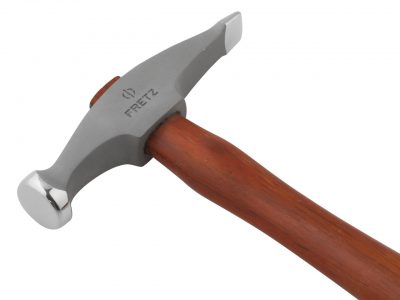 Fretz Goldsmiths Hammer (997 3108)
Another key feature of Fretz hammers is the handle, which is perfectly weighted and constructed from high quality woods (usually North American Ash or Padauk) which flex to aid with the repetition of hammering. They are extremely lightweight and designed with a 'pistol grip', meaning they are comfortable to hold and pleasurable to use:
"This was a little treat for my studio. Beautifully made, perfectly balanced – a true heirloom-quality tool! If you can afford to equip yourself with Fretz hammers, do so. You will not be disappointed!" – Joel, 18 Jan 2018 (Cooksongold Feefo Review)
Fretz Planishing Hammer with 9 Nylon Inserts (999 7179)
Selected Fretz hammers, such as the one shown above, come with a selection of nylon inserts in a range of different profiles – meaning one hammer can often perform a variety of jobs. These products become particularly cost effective when compared to buying each hammer shape individually.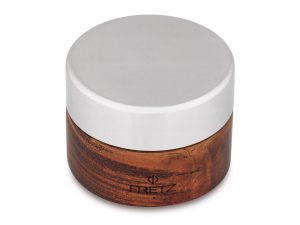 Fretz Bench Block Anvil Flat (999 7189)
Like the hammers, other products within the Fretz range are manufactured to the same impeccably high standards, turning them into things of beauty as well as functional working tools. Take Fretz anvils such as the one pictured above; have you ever seen one that looks as good as this one? Made from the same flexible Padauk wood to help absorb impact, these anvils are even mounted on nylon feet for stability which is enhanced by a weighted base. As for the working surface itself, you can see the beautiful mirror polish on the 420 grade stainless steel plate for yourself, which creates a flawless backdrop for forming and planishing which is going to last for decades.
Small specialist companies born out of necessity are often the ones that create the best products, particularly when the inventors of those products are using them themselves. Their understanding of what is required from that product is second to none, and this is exactly what we have with Fretz. Make no mistake, these are professional quality tools which will last a lifetime if looked after, so if you can invest, do.
You can explore a wide selection of high quality Fretz hammers and metal forming tools for yourself by clicking here to take a look at Cooksongold's full range.