July 9th, 2014
For me personally, pearls are something that I have come to appreciate over time. I was never immediately drawn to them like other gems but instead, like many, simply wrote them off as something my Nan and mum wore.  It is unfortunate that we are conditioned into thinking that most pearls are white, round and come in single strings because the reality of what is available now is quite to the contrary.




I think my 'eureka' moment came as I stood for the first time in a hall totally devoted to pearls in Hong Kong, at the Gems and Jewellery Fair about 10 years ago now. It was a truly awesome sight. Everywhere I looked there were tables laden with pile upon pile of loosely strung pearls with buyers closely scrutinising each one. It was at that point that I realised I needed to try a little harder to understand and appreciate these little wonders of nature!

When you see pearls laid out on mass, it is far easier to see the true range of qualities and grades available. The lustre of a good quality pearl is absolutely stunning, almost metallic so you can see your reflection in it! Unfortunately pearls of this quality command high prices and are simply not accessible to most.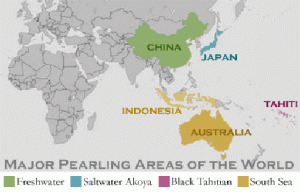 The difficulty when purchasing pearls is the lack of standardised grading system. Unlike diamonds, pearls are graded differently by each farmer, so what is 'A' grade from one supplier will not be 'A' grade from another. It is vital to build up a good relationship with your supplier so you both have a clear understanding of what you are buying. This is particularly important when supplying goods to the mass market here in the UK as consistency is absolutely key. (It can be a very steep learning curve when things go wrong!)
Although naturally occurring, true 'natural' pearls are rare and the majority of pearls today are farmed, 'cultured' and are grown as quickly and efficiently as possible. The range of colours and shapes, if left undisturbed, is largely determined by the origin and age of the mollusc. But, as with everything, there is an increasing demand for new and innovative shapes and colours which require more human intervention.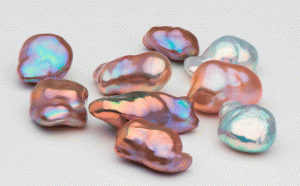 These soufflé pearls pictured above are one of the more recent innovations to take the pearl industry by storm. They are only grown by two farms in the Hunan Province of China which makes them extremely rare. I have learnt about them from a company called Pearl Paradise (pearlparadise.com), who are one of the few American suppliers of these top quality pearls. (Their website is packed full of information about top quality pearls and their blog details some of the amazing, more unusual finds they source from buying trips abroad. It's well worth a look).
The Formation of Soufflé Pearls
'The earthen material that is inserted into the existing pearl sac – a nacre-producing pouch inside a freshwater mussel from which a pearl was already harvested – is inserted to "souffler" the pearl sac. The material, which starts out dry, soaks up the surrounding moisture and begins to expand. As the material expands, the pearl sac also expands. The pearl sac continues to deposit nacre over this now-much-larger nucleus – the birth of a soufflé pearl.'
Once the pearls are harvested, they are drilled so the mud can be removed, leaving a large, hollow form. Traditionally pearls are sold by weight so initially soufflé pearls were discarded but that soon changed as their popularity grew.

I absolutely love these new irregular beauties. They challenge all that we traditionally associate with pearls which is no bad thing and you can rest assured that you will not have seen your granny wearing them!