August 5th, 2014
The term 'Purple' covers everything from lilac to aubergine and all that lies in between. It is one of the most varied colours and like pink or blue for example, it almost always requires further explanation as to its exact hue. Simply describing something as purple is not enough. Can you imagine asking a painter and decorator to paint a room purple and then letting them choose the colour? I think not!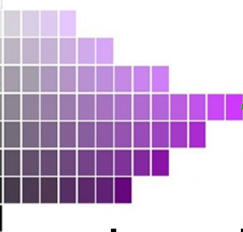 I have also found that the lines between purple/ pink and also purple/ blue are very blurred. Men especially seem to have great difficulty identifying the point at which purple becomes pink (red) and in turn when purple becomes blue. Rarely do people ever agree on this – or perhaps it's just the people I know……. I digress!
So what of the origins of purple?
pur·ple
[pur-puhlnoun
any color having components of both red and blue, such as lavender, especially one deep in tone.
cloth or clothing of this hue, especially as formerly worn distinctively by persons of imperial, royal, or other high rank.
the rank or office of a cardinal.
the office of a bishop.
imperial, regal, or princely rank or position.
You can see from this dictionary extract that even by definition, purple has indisputable royal and religious symbolism denoting someone of high rank. In fact Bishops wore purple because of its royal connection to re-affirm their high position within the church: (Priests wear black symbolising poverty, Cardinals wear red symbolising the passion of Christ and Bishops wear purple symbolising Royalty (Princes of the Church)).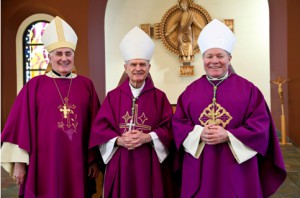 As with most things favoured by royalty, purple was their colour of choice because it was expensive to make, therefore only the very wealthy could afford it. In Ancient Rome Tyrian Purple or Royal Purple as it was known, was actually made from sea snails which were boiled in lead vats for days to produce the distinctive purple colour. It took thousands of snails to produce the dye therefore making it expensive, and thus extremely desirable. It wasn't until the 1850s that a synthetic version was discovered by William Perkin quite by accident. He was actually searching for a cure for Malaria using quinine, a substance produced by the bark of the cinchona tree which grows in South America. It was during his experiments to synthesize the quinine in a lab, that Perkin produced a sticky black mess which, when dissolved in alcohol, turned into a fabulous purple liquid which became known as aniline purple or mauveine. This was the first synthetic purple dye and signified the end of purple as an elite colour, as it quickly became available to the masses.
Fascinating stuff, I think you'll agree! It's interesting how the symbolism of colour somehow becomes frozen in time, irrespective of change or subsequent events.  The world moves on and the rationale behind colour choices moves on, yet certain institutions remain unchanged. (I am aware I have straying down a dangerous path of questioning, but it is certainly food for thought).