With summer drawing to a close, we look ahead to some of the key jewellery trends for Autumn/Winter 2013.
Autumn is here! The nights are drawing in fast and there is a definite nip in the air. The shops are filling up with warm winter coats and boots and the dreaded 'c' word can be heard muttered in hushed tones. But what changes, if any, can we expect in the world of jewellery this season?
In many ways the year looks set to go out as it began in a blaze of bold and brash statement neckpieces. This seemingly relentless trend is still dominating fashion jewellery in a big way. Accessories are currently given a much bigger display area in stores simply due to the enormous scale and range of collars, bibs and neckpieces. Dominated by the colour gold, the styling is still being drawn from a wide range of sources including Inca, Egyptian and Roman as well as the more recent 20s, 30s, 40s and even 60s revival! I stood in front of one of these huge displays yesterday and was completely overwhelmed by the huge melting pot of ideas: Layered chains mixed with woven leather, rows of huge spikes suspended in collar formations, oversized gems in eye popping, futuristic colour mixes and articulated highly polished platelets layered into Cleopatra style bib necklaces.
Articulation and Armour are a key trend for AW13 according to Adorn London, (now working in conjunction with IJL). Many designers have tapped into our desire for protection in an uncertain world and this has been manifested in display of articulated knuckle cuffs (Maxime Simoens), mixed metal layered collars (Jean-Paul Gaultier) and Crystal Ear Cuffs (Dries Van Notens).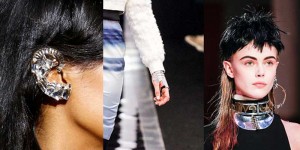 It is a look which has also been embraced by one of contemporary jewellery's design heroes Shaun Leane in collaboration with fashion icon Daphne Guinness. Entitled, 'Contra Mundum' which translates as 'against the world', this armoured glove has been constructed by hand using 1000g of 18k gold and is set with 5000 diamonds to create an exquisite masterpiece of design and workmanship. Stunning I think you'll agree!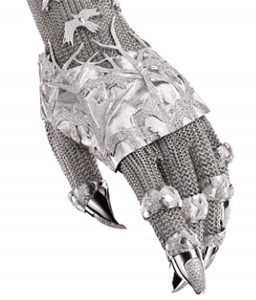 Not even the delicate and beautiful pearl could escape being 'toughened' up this winter. Now considered a standard in every jewellery collection, Pearls were reincarnated by Sarah Burton (Alexander McQueen) into elaborate head cages and knuckledusters challenging the traditional, instead giving a more satirical edge.
Pearls look set to receive a further boost this season with the opening of 'Pearls' at the Victoria and Albert Museum in London. Running until January 19th, it has over 200 exhibits and its remit is to show "how pearls have been employed over the centuries in both East and West as a symbol of status and wealth, how tastes vary in different cultures, and the changing designs of jewellery with pearls."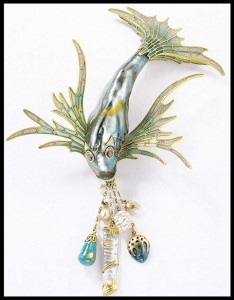 This beautiful Bodice Adornment by George Fouquet c1900-1 illustrates perfectly the versatility and subtlety of pearls and this new exhibition is sure to inspire all who visit it.
I'm sure I have mentioned in previous articles how most trends inspire counter trends and this season is no exception.  I for one have become a little brow beaten by the severity of fashion jewellery this year.  I have seen enough spikes to last me a lifetime, so I was really pleased to see the return of some of the more pretty and delicate pieces in some of the fine jewellery stores. I love Shaun Leane's beautiful 'Cherry Blossom' range with its subtle pink enamel, set with rhodolites and pearls. The silver versions have freshness about them whilst the rose gold pieces have lovely warmth. Pink stones set in rose gold are now a classic combination and surprisingly, blush pink is beginning to come through in fashion too. Not an obvious choice for Autumn/Winter, but again it comes as a reaction to the neon brights and bold prints of the summer. (Apparently the 'must have' item this Autumn is a Dusky Pink Oversized Duster Coat as worn by Kate Middleton and many notable others!)
I have also been enjoying the dainty 'Olive Leaf' collection by Paloma Picasso at Tiffany. Lovely open work which lends itself particularly well to wide rings and cuffs. It's great to see some bigger pieces that are more subtle and naturalistic in design. It's also worth checking out Lalique, Marco Bicego and strangely some selected pieces of Stephen Webster if you are looking for more muted and stylish inspiration. It makes a refreshing change from the high street!