There are few sights as captivating as the brilliant red leaves of a Japanese Maple on a crisp autumn day. When lit by the sun they exude a luminosity which is just stunning making them visible from miles around. By comparison the other trees seem to recede into the background as the greens and browns merge into a blanket of mediocrity.
The visual impact and draw of red is universal the world over and is thus used to great effect in both social and cultural applications without us even realizing it. How many national flags contain the colour red? The answer is more than you might first imagine! In Heraldic terms Gules (red) is synonymous with military excellence and fortitude and becomes particularly poignant in November as we remember our War Heroes with the image of the red poppy. There are few more powerful or hugely symbolic images than this.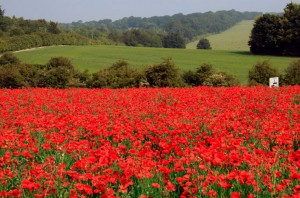 Power is absolutely key when you start to analyze the use of red in our everyday lives. Red brings images and text to the foreground, making it perfect for anything that demands attention quickly e.g. traffic lights, speed limits, fire extinguishers etc. It is also useful as an accent colour to stimulate a quick decision in the form of 'Buy it Now', 'Sale' or 'Click Here' buttons used on websites.
But what of the more sleazy associations with red?  Red is a very emotionally intense colour which is often used in advertising to evoke erotic feelings (red lips, red nails, and red light districts). This is where red starts to become a little more edgy and dangerous and perhaps why some people steer clear of it all together!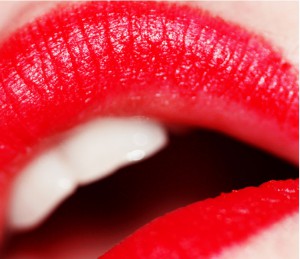 We have established that red is a strong and powerful colour, so In terms of design, it is important to use it to its best advantage and to do this we need to understand and appreciate some basic colour theory.
'Compare the contrast effects of different colour backgrounds for the same red square.
©Colour Voodoo Publications
Red appears more brilliant against a black background and somewhat duller against the white background. In contrast with orange, the red appears lifeless; in contrast with blue-green, it exhibits brilliance. Notice that the red square appears larger on black than on other background colours.'
You would not imagine that one colour could appear so different simply because it's positioning on a black background but this exercise clearly shows otherwise. Colour context and harmony allow our brains to make sense of things. Put simply, harmonious colours are pleasing to the eye; they create balance and logic which make us receptive to them. When something is not harmonious, it's either boring or chaotic, making it too dull to look at, or at the other extreme too confusing to look at. So you can see how important it is to get it right!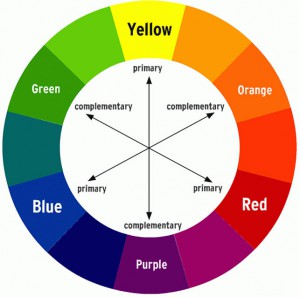 The simplest way to reference basic colour theory is to look at a colour wheel. The first example was attributed to Sir Isaac Newton and was first published in his book 'Opticks' in 1704, but today they come in all shapes and sizes and vary enormously in their complexity. This basic example above illustrates perfectly how to create a harmonious 'complementary' colour scheme by simply choosing colours that are opposite each other on the wheel. Van Gogh used complementary colours to great effect in his paintings, creating perfect balance and beautiful contrast with bold, bright hues.
Balance is the key with complementary colours, one stabilises the other showing it to its best advantage and providing maximum contrast. You can see that green is the complementary colour of red which is particularly apt as we move into the Christmas season. It is no coincidence that certain colour schemes are returned to again and again, there is always a logical reason why this happens.
Another basic formula for a harmonious colour scheme is to use analogous colours which are simply any three colours that are side by side on a 12 part colour wheel. The example below illustrates yellow, yellow-green and green. So by applying the same formula to red you can see that red, red-orange and orange would work or alternatively red, red-purple and purple. Ideally one colour is predominant so the red/orange scheme is the more successful as the purple and red can fight a little!
Once you begin to understand how a colour works and functions against others, it becomes much easier to apply it successfully to our homes, our clothing and more importantly our work. Red is such a wonderful, warm colour with impact and presence like few others.  If you don't already use it in your work or wear it about your person, try it and see for yourself the effect it will have.