Designer Gosia Niedzwiedzka speaks to us about her inspirations, her techniques and her designs.
Since I remember I have always been creative and passionate about crafts, art and tradition.
I like to keep my hands busy. Creating little objects like handbags, clay sculptures, lampshades and jewellery is something I love and enjoy doing. Seeing another unique piece of jewellery coming out of my hands makes me happy, this is why it is very rare to see me sitting idle.
I am a jewellery designer and maker with a prior background as an architect. I found architecture very interesting and inspiring although personally I think architecture per se is a long process! – so in the meantime I create my jewellery pieces.
It all started a few years ago after I attended a jewellery classes for beginners. After soldering my first copper ring I just felt in love with the process and I wanted to explore and learn new skills and techniques.
Silver has been and continues to be my favourite material to work with. Most of my designs are in this precious metal. I found it very amazing how many different finishes of silver you can get! I do love the black, mysterious look of silver after oxidizing it and at the same time I love the shiny pieces of it. It all depends on my mood – colour beads, natural stones or transparent Perspex will sometimes find their way into my creations. Perspex – adds a bit of colour, felt – softer touch and beads or stones make jewellery more fun.
I truly like to experiment and combine the beauty of tradition with contemporary culture.
My inspiration comes from everywhere, from things surrounding me in everyday life. I have always loved architecture with its curves and lines – I love simplicity. Nature provides me with beautiful colour combinations and freshness, as well as beautiful shapes.
The technique that I find the most wonderful is crocheting! It is wonderful technique that creates more possibilities with wire. I knew crocheting since I was a little girl and my grandma taught me how to crochet and knit, but I never thought about crocheting wire. One day the idea came to my mind and since that time I just can't stop.
Silver wire is the main material I use for crocheting my jewellery creations.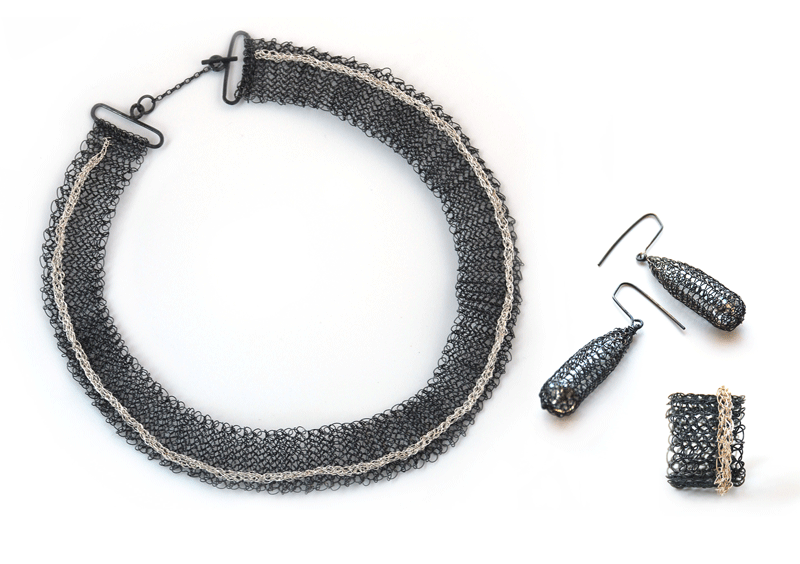 Because I crochet with wire I do find that many crochet stitches are not very rewarding so most of the time I tend to work with basic crochet stitches. Also the wires I crochet with need to be quite thin, my favourite thickness is 0.3mm.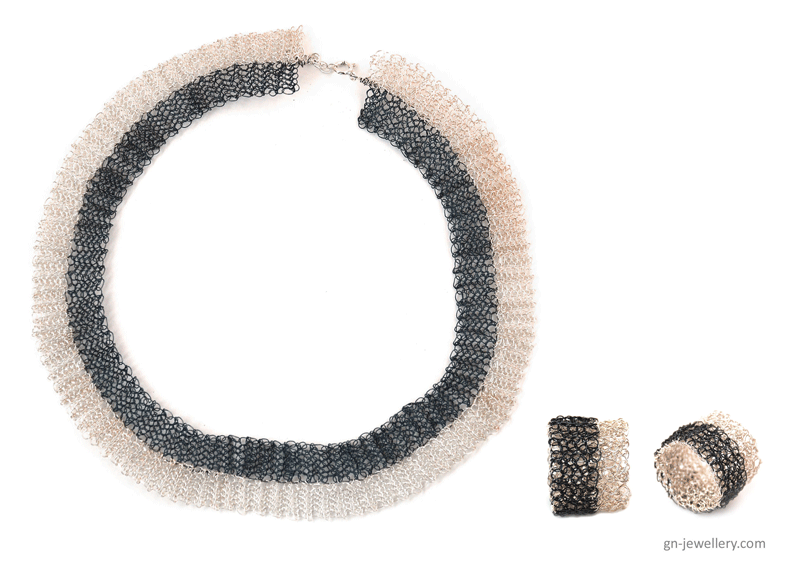 A few months ago I did a handmade felt course. I found the process of felt making very fun – it gives me a lot of possibilities to gain unique shapes.
I decided to combine felt making technique with crocheted wire. That's how my newest collection came to life. I gave it a funny name – Black Sheep Project as I mainly use black wool.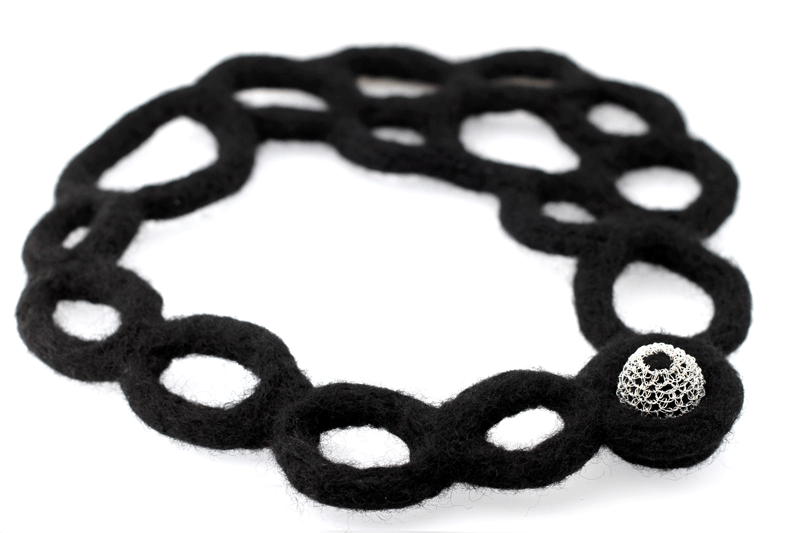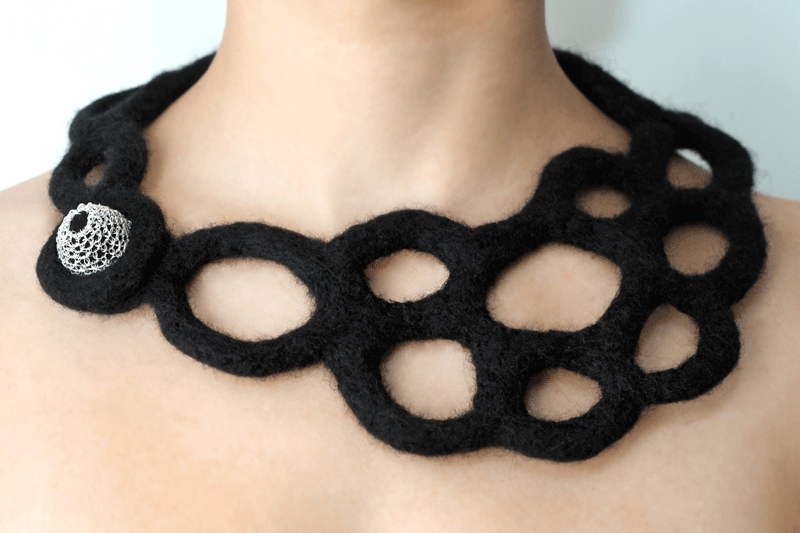 I hand felt the wool myself using wet method of felt making together with dry one using special needles.
I love the combination of cold silver wire with very soft and cozy feeling of warm felt. All my felt necklaces are very comfortable to wear. They all adjust to the body shape and they give nice and soft feeling. My unique black and silver jewellery can be worn as an every day necklace or on special occasions.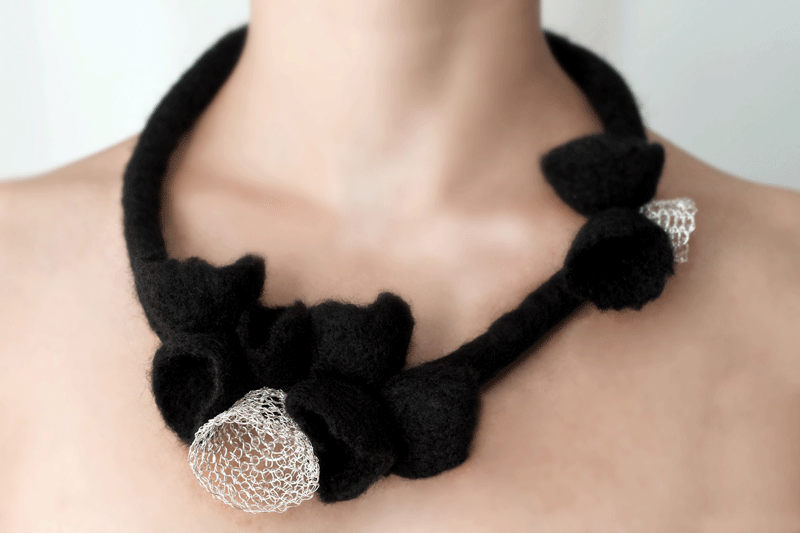 Every piece of my jewellery is unique, individually designed and handcrafted by myself.
I established a little studio at home and that is my favourite place to work, explore new techniques and fine-tuning my skills.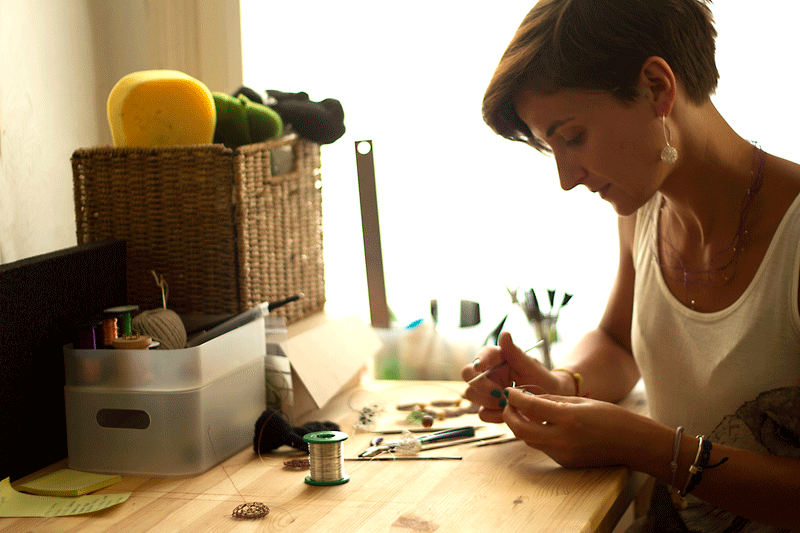 I have a wonderful Facebook fan page full of great people who share their work and admire mine too!
If you would like to see some more of my creations please visit my website or my Etsy shop if you wish to purchase something.
Facebook Page: https://www.facebook.com/pages/gn-jewellery/219895984692809?fref=ts
Etsy Shop: http://www.etsy.com/uk/shop/GNjewellery
Website: www.gn-jewellery.com