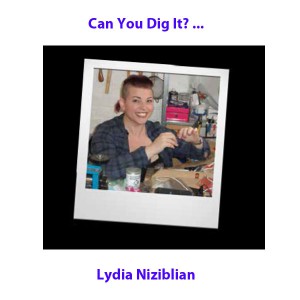 Lydia Niziblian tells us how digging up dad's garden inspired this exciting young jewellery maker from Wales.
Lydia, We've Heard You talk about your childhood digging up shards of china, old coins and bits of metal in your parents' back garden. Is this what first inspired you? And how did your dad take to you digging up his dahlias?
 Some of my earliest memories are of visiting the National Museum of Wales and I remember being very excited by the idea of finding treasure or fossils. But when it came to digging things up, it wasn't a problem because I had my
own little patch of garden! I think my mum thought I would catch her love of gardening but I was more interested in
what I could find when digging. I kept any 'treasure' in an egg box.
You came to jewellery making by a roundabout route. What finally convinced you to 'take the plunge' and go for it?
 I first tried working with silver when taking a City & Guilds at night school. I was working in television production
and missed doing something arts related. I totally fell in love. After I'd left my job, moved back to Wales and had
my children I was left with a fair bit of free time. I dug out my tools (digging obviously being my thing!), started experimenting with silver clay and then more traditional silversmithing. I soon realised I couldn't stop if I wanted to!
Within 8 weeks of dusting off my torch was registered as self-employed, and was renting a local studio to work in.
We see you're back in your home town now. Is that sense of place important to your work?
 I love Cardiff. Physically, how the City, the coast and the mountains are all so close. There's no lack of inspiration here! My three favourite places when I want to clear my head ready for a new project are still places I loved as a child: the Museum, Forest Farm Nature Reserve and Llandaf Cathedral. I love the community in the workshops
where my studio is (The Printhaus) and the markets and open studio days we have there mean meeting plenty of
locals. Cardiff has a thriving creative community, and working next to people who are working in different disciplines
has always been inspirational to me. In our workshops alone we have painters, sculptors, print makers, graffiti artists
and textile designers – it's fab!
Your pieces often have the look of 'found objects', like treasures from an archaeological dig in some lost
Continent. Is that the feeling you're aiming for?
 Absolutely! Ultimately I want them to be artefacts to be discovered by the wearer. To look like they have a past and a story. We're back to that word 'treasure' again, but that's what I want them to be: little treasures.
There's also a science fiction dimension to your work (the 'Your Satellite' pin for example). Where did that come from?
 Ooh… nicely spotted! I love science fiction – books and films… and being an astronaut is another of my thwarted early ambitions. I'm still fairly disappointed that we're in 2014 and the hover-cars and robots are a bit thin on the ground. Space is an incredible inspiration. I can easily lose a day looking at photographs from the Hubble site. Literally aweinspiring stuff. The satellite pin is an easy one: I really enjoy reticulating silver and have a day of it every now and again as a treat! Reticulated silver always looks like topography to me, and reticulated discs always remind me of little moons – hence the satellite reference.
One of my favourite
And a subversive streak? The 'Keep your Diamonds' cocktail ring for example looks like it's thumbing its
nose at the 'establishment'!
 I do use simple, traditional techniques but sometimes the finished pieces don't look very traditional! I really enjoy
crystals and minerals, and have used both in jewellery, as well as uncut gemstones. Nature doesn't get it wrong and some of the crystal forms are beautiful enough to include with minimal preparation. The KYD ring was made
around a natural iridescent apophyllite crystal, which is beautiful in its own right. You don't necessarily need diamonds!
We love some of the poetic names you give your pieces, 'Rolling with the Small Gods' being our favourite. Do you like to give your pieces a story?
 I'm constantly torn between not naming pieces at all, and giving them a fifteen page back story! So, one piece
might have a title like the 'small gods' necklace, another might be simply 'uvavorite ring'. It depends on my
mood – I should be more consistent! Incidentally, the necklace got its name as the piece of prehnite I used looked
like a green eye which reminded me of the title of the Rudyard Kipling poem 'The Green Eye of the Little Yellow God'. The titles are usually a bit tongue in cheek. If you're going to name something, it might as well be a bit full-on!
What hints and tips could you give our readers for building a successful jewellery making business from
scratch?
Well, all mine come from finding confidence in what you do. Don't be afraid to make mistakes. Find your own path and your own style and don't be afraid that you're doing it 'wrong' or asking for advice.
Finally, how has Cooksongold helped you get established?
Well, I've recently started using the Cooksongold forum. It is absolutely invaluable. People are very generous with their time, advice and experience. Being able to talk with other people in a similar position is just great. And, in practical terms, Cooksongold means I get the materials and tools I need as quickly as I need them!
Sounds like you're on your way to the top… and 'rolling with the big gods'!
 I hope so… my work seems to be attracting a lot of attention in all the right places these days.