Our blogger Jo was sent one of our Beginners Toolkits to review. Find out what she thought of it below.

Beginners Toolkit
Contents:  adjustable saw frame,  144, 2/0 saw blades, 3 x needle files, scriber, steel  ruler, flat nose pliers, chain nose pliers, 2 x emery sticks and a 1oz jobbing hammer.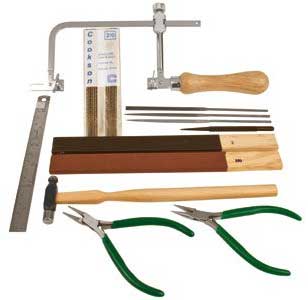 This is a good basic starter kit for those wanting an inexpensive introduction to jewellery making. It will equip you with all that you need for those first steps and will form a solid foundation for your toolkit for years to come, which makes this an ideal kit for students.
As a jeweller, there are certain tools which essentially become your best friends and your saw frame and pliers are some of the most invaluable pieces of equipment you will ever buy. You will use them day in and day out so it is vital that they are comfortable and efficient. The saw frame in this particular kit is adjustable which allows you to use broken saw blades as well as new ones which will save a few pennies whilst you are perfecting your sawing skills. It is worth mentioning at this point that you get a gross (144) of saw blades included, so you will have plenty to practice with! The wooden handle is beautifully smooth and comfortable to hold which you will come to appreciate as you spend more and more hours sawing.

You get two pairs of pliers in the kit, flat nose and chain nose. They are quite small and fine, making them ideal for more delicate wire work. They are both sprung, which makes them easier to use and have rubber grips on the handles for added comfort. I like the fact that the rubber grips are a bright green colour as it makes them easier to spot on a crowded workbench. (My pliers are stainless steel with no coloured grips and I am forever losing them amongst my other tools!)
Next on the list of essentials has to be a steel ruler and scriber, both of which are included. The ruler is 6" in length which is great as the 12" ones tend to be heavy and slightly cumbersome for small work. It also has some handy conversion tables on the reverse. To go with it, you will get a little scriber (approx 4") which is nicely finished with an engine turned handle for grip. I particularly like the small scale of these two items. They are extremely portable and could easily be stored in a pencil case should you not have a toolbox.
The jobbing hammer or 'Ball Peen' hammer is a tiny 1oz size and you could be forgiven for thinking it was exclusively for toffee! However, don't be put off. Good things can come in small packages and you will soon find this to be an extremely hardworking little tool. With its distinctive domed/flat head, this hammer can be used for all manner of tasks including doming, shaping and chasing to name but a few.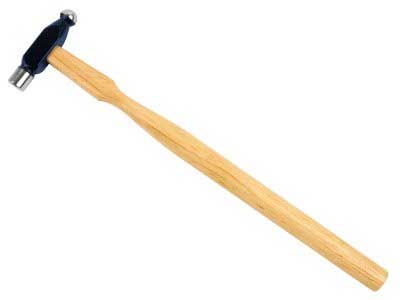 The remaining products in the kit are all concerned with the finishing and refining of surfaces. Needle files are a godsend when trying to clean up intricate pieces of jewellery and you get three in this kit: Flat, half round, and triangular (simple description).  You won't remove huge amounts of excess material with these, but they are perfect for smoothing, gentle shaping and refining along with your two buff sticks, which are the final two items in the kit.
In terms of value for money, this kit is unbeatable.  If you were to buy each item separately you would pay twice the price, so that in itself is a great reason to purchase this toolkit. But aside from this, if you just want to simplify the process of choosing your first tools, which can be a little daunting considering the huge range available, this is the answer.