January is a great time for sorting and organising, ready for the year ahead. If you are one of the many trying to rearrange a workshop at the moment, I suggest you stop for a break and read this post before you go any further.
If you are looking to invest in a new system of bench organisation then Foredom is a brand definitely worth considering. When you need so many different tools to hand, (or certainly within arm's reach), it is vital that you have some form of storage system which allows you to do this easily. Foredom have achieved this via a multi-purpose support arm, onto which can be attached a range of accessories including: A tray arm, a magnetic arm (ideal for tools), a jar arm (ideal for findings, solder, beads, enamel etc), a pegs arm (ideal for pliers, polishing mops, sieves etc), a burr arm, a shelf arm, a handpiece rest and an Led light bar arm. Each arm can be moved into grabbing distance as required and then simply pushed out of the way once you are finished. Then can easily be adapted to suit any number of workshop layouts and requirements.
If you have two workstations alongside one another, the support arm can be positioned in an area convenient to both, meaning it can easily facilitate numerous activities simultaneously, which is really worth considering if you are trying to get the best out of a small space. It might be an idea to sketch out a quick floor plan to help determine which activities happen where, this will help to determine which arms you will use most and where best to position the stand.
Foredom Support Rod Large Workbench System – 999 FD55 and Foredom Tray Arm Workbench System – 999 FD56
 If you are looking to make small tweaks rather than bigger changes, it may just be improved storage that is required.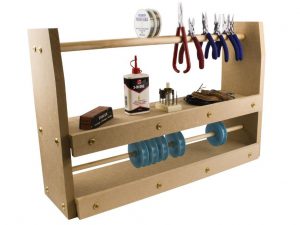 Our wooden tools station is a very reasonably priced way of storing a lot of items in a small space and is going to really help to free up your working area. We would advise fixing it to a wall behind or alongside the bench if possible, to maximise space. Used in multiples, this sort of storage system will easily house a good variety of tools and consumables whilst keeping them in sight and within easy reach. This is going to help organise your workspace without costing a fortune making it a super quick and economical fix.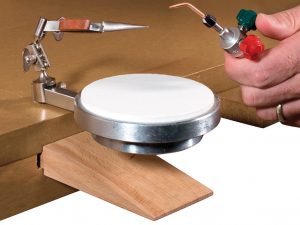 Heetrix Soldering Platform with Tweezer – 999 SAF1
 Having a designated space for soldering can be a problem if your space is limited. Many people simply have a heat brick covered corner on top of the workbench but it can become very cluttered if you are not a neat and tidy worker. The ingenious Heetrix Soldering Platform provides a portable solution, which can be used as required and then easily moved out of the way. It is held in place with a g-clamp and incorporates a useful third hand attachment along with a removable heat resistant solderite disc to keep things clean and contained. This is such a clever and practical way of creating a soldering surface that can be utilised almost anywhere. Placed on a surface, alongside a bowl of water or with access to a tap means that soldering becomes possible no matter where you are.
'Really handy soldering platform. Great for bringing the work nearer to you and simple to move aside, love it!' – Bob, 22 June 2019
Good lighting is essential for a great working environment so it's not something that should be skimped on. The correct lighting will reduce eye fatigue thereby increasing your effective working hours so it's another simple fix which makes a lot of sense. It is also important to maximise your exposure to simulated daylight if natural light is not available to you. At this time of year, the days can be extremely long and gloomy so it's important to keep your spirits up and your working environment as nice as possible and a daylight bulb might just help. There are many bench lights available priced from as little as £30 (excl. VAT) and some come with a built-in magnifying lens potentially solving two problems in one. Others (like the Durston LED Workbench Lamp) give you the option of altering the light depending on the task you are doing for example; warm lighting for general use, cool lighting for normal tasks and a brighter light for more intricate jobs, so the choice is really down to personal preference and budget. (Lamps with a G-Clamp fitting provide greater flexibility if they are compatible with your workstation).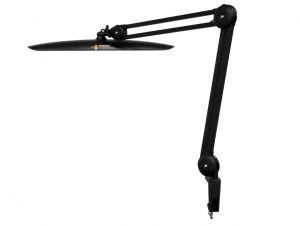 Durston LED Workbench Lamp – 997 1423
More quick fixes for a nicer workspace include:
Rubber mats on the floor to minimise the bounce when you drop something. (They are also water resistant and will help to dull noise etc)
Painting walls white will reflect light to make a lighter and brighter workshop.
Create a notice board area to house reminders, invoices etc. This will minimise scraps of paper lying around as well as the time spent hunting for lost information! (Use either a whiteboard with magnets or a corkboard with pins)
If you find you have bags of things cluttering up the workshop, (particularly random pieces of emery paper), attach a series of hooks or even nails to the side of your workbench to provide some instant hanging space.
Finally, many tools require power, which in turn means you are likely to have power cables running in all directions. Take some time to group them together neatly with cable ties and/or secure to surfaces with clips which will make your tools both safer and neater with much less chance of becoming a tripping or pulling hazard.
A few hours spent rethinking and reorganising will help to ensure your workshop runs more smoothly and is simply a nicer place to spend your time.
Written by Joanna Varney
Joanna has worked in and around the jewellery industry for well over 20 years. She has designed and created her own pieces as a designer maker, as well as working in jewellery retail on a much larger scale, producing designs and NPD for some of the UK's largest high street retailers