Whether you specialised in silversmithing or you work primarily with beads, there's one thing that unites us all as jewellery makers. We're always on the hunt for inspiration. So, here's a little inspiration for your next project idea – our top ocean themed jewellery pieces for you to try out for yourself and adapt to your own signature style.
1. The nautical necklace
Nautical jewellery remains popular with customers across the UK. With seaside themes touching almost every element of fashion over the years, it still stands that the vast amount of inspiration we can get from the seaside can give us countless amounts of ocean themed jewellery ideas! And one of our favourite pieces of nautical themed jewellery is the nautical necklace.
One way that you could cleverly produce a nautical themed necklace is by using rope knotting techniques.
All you would need to get started with is:
Your choice of rope (approx. 2 metres)
Scissors or flush cutters
Round nose pliers
Crimp ends large enough for use with rope
Large jump rings
Large clasp
Choose your preferred knot for your nautical necklaces. Whether it's a square knot or a Josephine knot, it may be worth doing some research before you start working on this. A little practice goes a long way, and even then, some experimentation with this kind of necklace could help you get your desired look. Play around with blues, whites and reds – typical colours you'd associate with a striking nautical knot necklace. Simple to make but effective, your customers will love your take on the nautical necklace.
We also stock a sterling silver anchor pendant to help create the classic nautical necklace.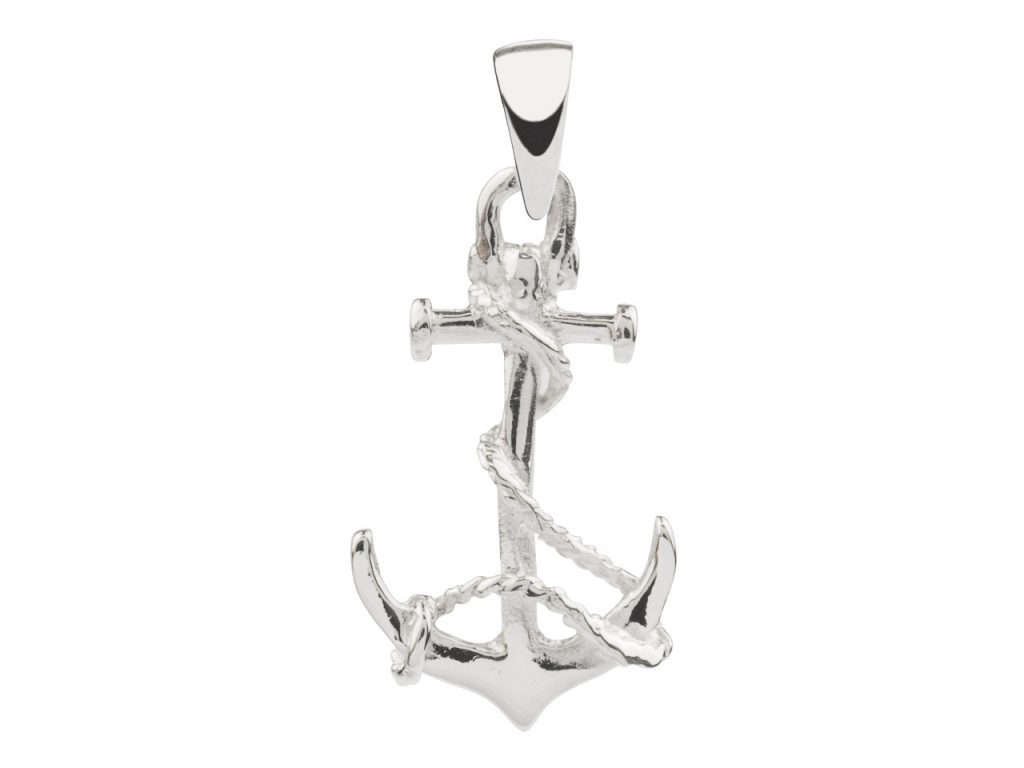 2. Nautical charms for bracelets or necklets
If the nautical knot doesn't quite fit into your jewellery aesthetic, there's always the option of producing your own nautical themed charms to add to delicate chain necklaces or bracelets. This can be effectively done with just a few basic tools.
All you'll need is:
Small metal blanks
Nautical themed metal stamps
Metal stamping hammer
Steel bench block
Your chosen bracelet or necklace chain
Metal stamping is an excellent way of creating a unique piece of ocean themed jewellery that your customers will love. If you're sticking with the nautical theme you can pick up metal stamps that are perfect.
Take a look at our current ImpressArt metal stamps range. It includes stamps with an anchor, a crashing wave, a starfish, a shell, sailboat, fishing hook, and much more. Depending on your client you may want to ask them for their choice of images on their nautical charms – this will add a unique element to your jewellery brand and keep your customers coming back for more.
Creating your nautical charms really couldn't be simpler. If you're not wholly familiar with the best way to use metal stamps along with a metal stamping hammer, check out our metal stamping shortcuts for some technical tips and tricks to get your nautical charms perfect each time.
If you want to add some variety to a nautical charm bracelet, you may also want to mix up your nautical charms to fill the piece, and give your customers a choice of which pieces that can add in themselves to personalise their piece. Add some variety with your own metal stamped charms as well as some pre-made charms such as seahorses, shells, and starfish. There's nothing more alluring for jewellery lovers than a bracelet twinkling with intricate charms.
3. Glistening pearl drop earrings
Looking for some ocean themed jewellery inspiration that's a little more subtle? Try adding a loose cultured pearl to your latest design – using just a few basic supplies and some more complex jewellery making methods you could create an entire range of ocean themed jewellery based on your favourite types of pearls. Choose from cultured pearls that are ready drilled for ease, including full round or teardrop shaped pearls depending on the look you want to create.
To make a basic drop pearl earring all you'll need is:
Your choice of pearl
Wire cutters
Round nose pliers
Head Pin (or create your own with wire)
Hook wire
Remember to buy similar shaped pearls if you would like a uniform pair of earrings. A good trick is to use your first earring as a guide from which to make your second one. This is to ensure that the wire you use is level and that any other intricacies you've added to the earring (such as wrapping wire around the top of the pearl) will be the same across the pair of earrings.
Depending on the style of your ocean themed jewellery you may want to expand your pearl earrings so that your customers have the option of choosing from long drop pearl earrings or a shorter style. You can easily adapt the length of wire or head pin that you use in order to do this. Equally, you can experiment with the earring findings you use to finish off your piece and give you the look you want to create for your customers.
We hope that's given you a little inspiration and some new techniques to try when it comes to creating seaside jewellery for your latest collections. Take a look at our current range of seaside themed products available across the site, from nautical charms to metal stamps.