Good tool storage is essential in any well organised work space regardless of size. It can save you time, as well as prolonging the life of the tools themselves, so is well worth the investment.
Keeping a clear working area can be tricky when you have a large number of tools that you frequently need to grab. The key to good bench storage is having items stored in such a way that they are; easy to see at a glance, within arms distance, yet out of the way, preferably away from your main working area.
Magnetic Wooden Tool Holder 45cm
Our magnetic tool holder ticks every box when it comes to practical storage solutions. It can be easily mounted onto any wall thanks to the pre-drilled holes and screws which come supplied. Measuring 45cm, it has two strong magnets which run the full length of the holder, which quite literally grab your hand tools as they get close. Tools are held securely and safely, with little, to no chance of any damage as they simply will not budge once up there, so they will not be scraping and bashing together (sharp edges and blades will last much longer if stored separately, with minimal contact with other tools). If you have a large number of tools to store, these magnetic tool holders can easily be layered up in 2s, 4s or even 6s to create a whole wall of storage.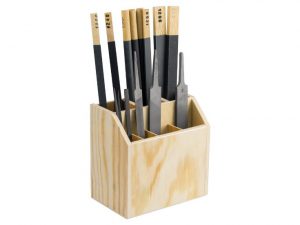 Our simple wooden file stand is another great way of keeping tools away from the main working area but still well within arm's reach. Measuring 13cm x 14cm x 8.5cm, it has a tiny footprint with seven upright compartments which will separate your files and buff sticks making them easy to see and quick to locate. At under £10 (Inc. VAT) this stand is an extremely cost-effective way to re-vamp a cluttered bench and can be easily used in multiples if required.
Wooden Plier Holder For 8 Pliers 
If you are working at the kitchen table or are not lucky enough to have a bench with in built sections for hand tools, our Wooden Plier Holder is going to make life so much easier! Yet another simple yet effective storage solution, which will keep the working surfaces of your tools separated, clean and easily identifiable. These holders (which are also available for 4 pliers) are small enough and light enough to be easily portable, so if you are working intermittently and need to tidy things away completely at the end of the day, this will easily fit into a tool box, ready to be popped onto your work surface when next required.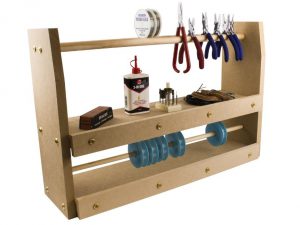 Another great idea for those without a traditional bench is the nifty Tool Station unit, providing you with hand tool storage as well as a shelf and a rod for spools of beading thread or wire. This works as a stationary, fixed item but is also beautifully portable if you need to move work from place to place. If your bench set up is more traditional this would also work well on a shelf or attached to a wall to free up space elsewhere. As one of our customers suggested, this can be painted and personalised if you want to brighten things up.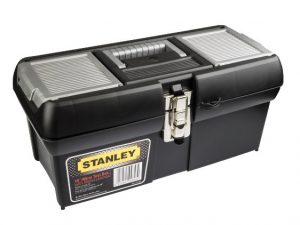 Stanley Plastic Tool Box, Student
Finally, if space is at an absolute premium and you really do have to work out of a box then consider buying the Stanley Plastic Toolbox which will to organise your tools as well as store them. It has a removable tray which can be placed on bench top and separate compartments in the lid for findings and solder. When working, pliers and other hand tools can be hung over the side of the box whilst files sit perfectly in the removable tray so it is perfectly possible to work out of a toolbox should you need to.
Tips for good tool storage:
Keep tools clean and dry
Where possible store tools separately so that working surfaces are not in contact with other items.
If rust develops gently wipe down with wire wool and apply a thin coating of clean, lightweight mineral or machine oil.
Regularly check the condition of your tools and re-grind or replace any damaged or blunt surfaces.
Apply lightweight oil regularly to maintain good functionality.
Written by Joanna Varney for Cooksongold
Joanna has worked in and around the jewellery industry for well over 20 years. She has designed and created her own pieces as a designer maker, as well as working in jewellery retail on a much larger scale, producing designs and NPD for some of the UK's largest high street retailers