The prospect of marriage and all that goes with it is no longer the pinnacle of achievement for aspiring young women today, who are increasingly ambitious about pursuing their own careers long before thinking about settling down. And, as the roles and lives of women have evolved, so too has the way in which they want to purchase fine jewellery which this has given rise to the now massive category that is the 'female self-purchase'.
It is an assumption drawn by many that if you are looking to purchase a diamond solitaire ring, a plain gold band or a multiple stone set ring that you are buying a wedding ring, an engagement ring or an eternity ring. However these assumptions can cause embarrassment and indignation from today's modern woman, so the jewellery industry has had to react accordingly and this is where the term 'right hand ring' has come about.
A right hand ring can contain the most fabulous diamonds and be as elaborate or plain as you wish, but the most important element of all is that it has no absolutely no reference to your relationship status whatsoever. So whether you are single, married or divorced is irrelevant as this is a ring purchased by you for you. The significance of this change in buying patterns should not be underestimated, as it is representative of a whole new era of empowerment for women who are no longer bound by the ties of tradition and conformity. Increasingly, women who choose to wear fine jewellery on their right hand are being seen as strong, independent and confident which is an interesting shift from tradition, and quite the opposite association of an engagement ring.
So what are women looking for in a right hand ring?
There are really no rules when it comes to the female self-purchase but generally styling tends to be a little larger and more flamboyant than you would expect with more classic purchases, as it is a great opportunity to indulge your own tastes. Halo designs are popular, along with larger open work pieces which cover a broader area of the finger, thereby making a bold statement. You can see from the selection of right hand rings pictured below that many designs also have a strong element of fun and whimsy, despite their substantial price tag.
Right Hand Rings (images source: Hearts on Fire)
Stacking is also another great option for a female purchase, which comes with the added bonus of versatility. By simply changing one element, you can alternate the look according to the occasion. This not only makes stacking rings great value for money, but also ensures that your chosen item will get worn time after time which after all is what it is all about.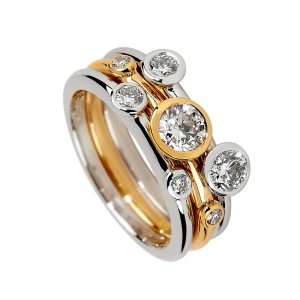 18ct Gold Stacking Rings (image source: Owen & Robinson)
There is no doubt in my mind that the right hand ring or female self-purchase sector is an exciting category to be in today, and in design terms it seems like a great opportunity to stretch the imagination and push the boundaries a little. Ensure your displays are tailored accordingly by clearly separating traditional engagement style rings from those more appropriate to the right hand, and this will guide your customer to the right product more effectively and help to prevent any awkward misunderstandings.
So, why not take advantage of this growing trend and give a right hand ring a try in your workshop next? We would love to see what you make – feel free to submit your finished designs to our Design of the Week competition!