Looking for more information about eternity rings? Would you like to know more about the meaning of eternity rings and why they are given as gifts? Discover more about eternity rings with our guide below, from what finger it traditionally goes on, to the difference between half and full eternity rings.
What is an eternity ring?
An eternity ring is also sometimes known as an infinity ring and is traditionally made with precious metal (silver or gold). The origins of the eternity ring can be traced back as far as Egyptian times. In most cases the eternity ring is set with several gemstones – these can be rubies, emeralds or diamonds. The eternity ring can be given instead of an engagement ring or wedding ring, yet, it can also be worn as well as your engagement ring.
What is the meaning of an eternity ring?
The symbolic meaning of an eternity ring relates to eternal love. The eternity ring's circular shape refers to a lasting love that will continue forever and is usually given to mark a special occasion or simply as a romantic gift. Eternity rings are a popular way of showing appreciation and devotion to another person.
When do you give an eternity ring?
This circular form of adornment, with its unbroken line of stones is the ultimate symbol of eternal love, and is given to mark important events in a relationship such as the birth of a baby or a wedding anniversary. Increasingly, eternity rings are also being used as wedding bands and thanks to a series of male celebrity role models, are being worn by both women and men, so the rules regarding these rings are by no means set in stone (excuse the pun…).
How to wear an eternity ring
Perhaps you're wondering; what finger does an eternity ring go on? This is a common question, and often is misconceived. However, traditionally, the eternity ring is worn on the fourth finger on the left hand. Thanks to Egyptian philosophy of 'the vein of love' running directly from that finger to the heart, an eternity ring can be worn instead of a wedding and engagement ring or in addition to them. Wondering 'where do you wear an eternity ring?' is common, but really, there is no set answer. It can be a choice made between the giver and receiver of the ring, and generally what feels best for both of you.
The eternity ring is intended to be worn every day so practicality plays as big a part as the aesthetics do in the choice of ring. This leads many people to opt for channel set eternity ring designs which can offer the full protection of stones that standard claw settings simply can't. Interestingly, and probably due to the popularity of channel setting, princess cuts and emerald cuts are prevalent when it comes to eternity rings.
9ct Yellow Half Eternity Diamond Ring (VRA 2121)
Half Eternity Rings
Cost, as ever, also has a huge part to play when it comes to eternity ring designs and this is really where the half eternity ring comes into its own. With stones set only along the top face of the ring, there is a considerable cost saving if you choose a half eternity ring. This aside, rings set with stones on the underside are always more prone to catching and quite serious wear and tear, as well as being a little more challenging to wear – so if you can bear to adjust the sentimental aspect slightly, half eternity rings are a great choice. Less stones also mean you may be able to go slightly larger in scale, and achieve a greater carat weight thanks to the reduced cost which is always a bonus when talking gemstones. Purchasing this style means you can personalise and design your own eternity ring, putting your own stones in yourself and tailoring it to suit specific people.
Designer Eternity Rings
Without a doubt, diamonds are by far the most popular stone choice for eternity rings. You will see an array of other eternity ring options, usually alternate emerald cut eternity rings or ruby and sapphire. And you can, of course, commission a ring to be created with your own particular stone of choice. However for most customers, diamonds are really the only choice.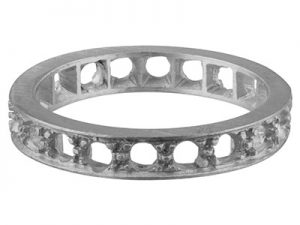 Sterling Silver K11 Full Eternity Ring (FSK 011)
Eternity Ring Ideas
Due to the enclosed setting involved with eternity rings, it is always best to buy the best quality Diamonds you can afford to achieve the greatest sparkle. The 'whiter' the diamond, the brighter it will shine, regardless of light, and given that the popular princess cut has far less facets than a round brilliant cut (developed for maximum refraction), it will pay the greatest dividends if you can go for superior quality stones.
The ever popular princess cut, channel set design offers practicalities along with a beautiful and seamless run of Diamonds, yet, whatever design you choose, jewellery still has the power to evoke a sense of anticipation and excitement like nothing else.
Eternity Rings make an excellent sentimental gift, and whether you are looking for one to give to a loved one or would like to create your own, Cooksongold offers a stunning range of both finished Eternity Rings as well as Full and Half Cast Eternity Rings to set your own stones into.