Father's Day is celebrated on the third Sunday of June. Traditionally it is a day to honour Fathers as well as Father figures such as Granddads and Father-in-Laws, and originated in the USA in the 1900s. It was subsequently adopted in the UK and has been celebrated since with ever increasing momentum!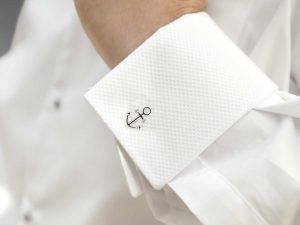 Gifts for Father's Day tend to be of a practical nature, as presents with a purpose are what generally appeal to a male mind. But in recent years, there has been a growing trend of customising those practical gifts with slogans or pictures of loved ones, thus making them unique to the recipient and much more personal. Mugs are a classic example of this: a functional item which will get used on a daily basis made all the more interesting by the addition of family photos of happy memories. It then also serves a dual purpose, as it can get taken to the office in place of a photo on the desk, so it really is a great multi-functional gift.
As far as jewellery related gifts go, there are many options that can make fantastic, personalised Father's Day gifts. If the men in your life have to dress formally for work, then tie pins and cufflinks could work well. These are easily personalised, with initials or motifs based on a favourite hobby or some witty reference to the recipients attitude to life.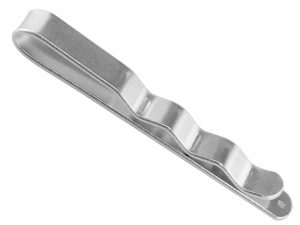 Sterling Silver Tie Slide (NVU A01)
If, on the other hand your Dad/Granddad/Father-in-Law prefers to be more casual and would never dream of wearing jewellery, then a personalised keyring might be just the thing. There are some great chunky keyring fittings available which can be personalised with found or constructed objects, and then simply attached with jump rings and a heavy chain. It's a nice way to involve children in the actual making of a gift, as almost anything can be attached to a key ring fob e.g. PMC, FIMO, beads, braided items as well as more complex fabricated objects. The possibilities are truly endless with keyrings, and given their practicality will be well received.
Sterling silver keyring fittings available from Cooksongold (NVG 951 and NVG 965)
If your Dad is not averse to wearing the odd bit of jewellery, then a simple wooden beaded or leather bracelet might hit the spot. Again these can be personalised with the addition of a bead or charm, and tailored to suit most tastes. A hand woven friendship bracelet is another option that any dad would feel blessed to receive, given the sentiment attached to these particular gifts.
Finally, although a little clichéd, given the resurgence of script based jewellery this year, it would be remiss not to mention the classic 'Dad' rings and bracelets that seem to have a constant presence in our jewellery stores. Although not to everyone's taste, there are some updated and fresher designs available this year that would appeal to younger, on-trend dads who would appreciate the fun element of this style of jewellery.
I think it's fair to say that Dads are generally not the easiest people to buy for, but if you take the time to consider what is personal to them, it will ultimately translate into the perfect gift.
So, why not create something special for the Father figure in your life? At Cooksongold we have a great selection of Cufflink Fittings, Cufflink Blanks and Keyring Findings for you to create your own gifts – plus don't forget to check out our extensive range of Finished Cufflinks available in a number of styles!