By Jo Varney
Yes, it's that time of year again. Christmas has well and truly begun now that December is here and I'm sure I'm not alone in a creeping sense of slight panic which is beginning to wash over me. With so much choice at our fingertips, finding great gifts can sometimes be a bit of a daunting task. So, I have scoured the web pages on your behalf and unearthed a few little gems from Cooksongold which may just add a few ticks to that shopping list.
Connoisseurs Diamond Dazzle Stick (998 CN2)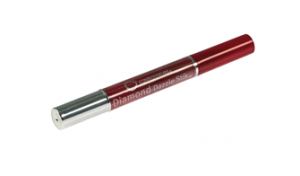 The Connoisseurs Diamond Dazzle Stick is new to Cooksongold from the established Connoisseurs range, and has to be one of the most user friendly methods of cleaning your jewellery yet. It is small enough to fit into any bag, making it easily portable for those on the move. It is also currently recommended by most major high street jewellers, which is no surprise. It consists of a gel like cleaning formula which is delivered via a brush, and simply applied to diamonds, semi-precious stones, platinum and gold to produce a brilliant shine in literally seconds. The product can be washed off wherever you happen to be as it is a non-toxic formula, and it even smells pleasant which is a bonus! I think anyone who loves their jewellery would appreciate the convenience of a gift like this.
Artisan Assorted Shape Disc Cutter, 9 Shapes (997 1634)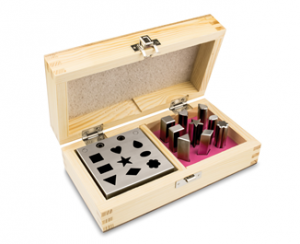 If you are looking for a larger gift for a budding jeweller, then this Assorted Shape Disc Cutter is likely to be well received. It comes beautifully packaged in a wooden box, which also doubles up as a storage unit to keep everything in tip top condition. The set consists of nine different shaped cutters, (square, rectangle, triangle, heart, star, diamond, teardrop, oval and flower), which are used with the block to cleanly cut shapes from sheet metal saving hours of sawing time. This really is a great gift which contains everything you need to get started.
9ct Wishbone Pendant (VPA 2048)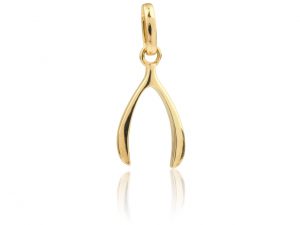 A wishbone motif has a lovely enduring sentiment about it which transcends all trends, fads and fashions, and this 9ct version will not disappoint. Fully modelled and three-dimensional, it hangs beautifully from a good sized bail which will accommodate a range of chains, and at well under £30 it represents great value for money. Pendants are a safe bet when it comes to gifts as there is no sizing involved, so this little wishbone is a great choice.
The Jewellers Directory of Gemstones by Judith Crowe (999 A129)
This is a beautiful book which will be appreciated by not only jewellers, but collectors and enthusiasts alike. It covers all aspects of gemstones including the mining and purchasing and the cut and colour, to the best ways in which to use them in jewellery and also has great cover appeal. It has been in print since 2006 and consistently receives rave reviews, which are testament to the comprehensive writing from Judith Crowe. If you buy one book on gemstones, make sure it's this one as it is a sure fire winner.
Swarovski Crystal Dome Crystal Bead Bracelet Kit (62SW K01)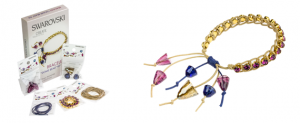 My final pick is this lovely bracelet kit brought to you by the household name of Swarovski. It contains everything you need to make the pretty bracelet pictured (right), and would be ideal for younger members of the family who are showing some creative flair. Coming in at under £30, it won't tax the budget too much and with the Swarovski name, is bound to earn a few brownie points with even the pickiest of teenagers.
Need a little more Christmas gift inspiration for jewellery makers? Take a look at our previous article 'What To Buy The Jewellery Maker In Your Life', plus look out for Jo Varney's 'Fabulous and Under a Fiver' article soon which will shine a spotlight on some of the best stocking fillers from Cooksongold. Until then, happy shopping!