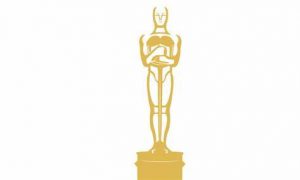 When Winter comes around, we know to expect award ceremonies. This year's condensed events were dominated by some expected big names, such Joaquin Phoenix for Joker, Brad Pitt for Once Upon a Time in Hollywood and Renee Zellweger for Judy. This is as well as some notable wild cards, such as Bong Joon-Ho for Parasite. But who were the stars of the red carpet, what did they choose to wear and, most importantly, what were the top jewellery trends? Read on to discover which accessories took centre stage this season.
A 'black tie' formal dress code dictates that attendees to many awards ceremonies must wear evening gowns and tuxedos. This then also calls for suitably formal accessories. Many ladies choose to wear their hair up for these occasions and this means that much of the emphasis is on earrings.
Long, linear and chandelier designs were very much in evidence at both the Oscars and the Baftas. Saoirse Ronan (Gucci) and Scarlett Johansson (Forevermark) were wearing some of the most eye-catching designs. Generally speaking, white metal and diamonds were the order of the day but there were some notable pops of colour namely Emerald Green, Amethyst Purple (Asprey worn by Emilia Clarke), a scattering of creamy white pearls and of course that rainbow of gems worn by Saoirse Ronan at the Baftas. Many of these designs were simply elegance personified and with the earrings coming in so strongly, it's no surprise that countless celebrities chose not to wear neck pieces at all.
Of course, there are always those who choose to buck the trend and the 62nd annual Grammy Awards showcased a much more eclectic mix of outfits and accessories. This year, the awards were largely dominated by 18-year-old American singer/songwriter Billy Eilish, who won no less than five awards. Her eye-catching green Gucci suit with matching accessories, hair and nails ensured that she stole the limelight in her own, very individual style. She showcased both the Lions Head earrings and the Fly earrings pictured below which are part of Gucci's fine jewellery range with prices available on request.
Lions Head Earrings with Double G – Gucci costume jewellery range
Those that did opt for neckwear did so in fine style. Jennifer Lopez wore an estimated $9 million worth of diamonds at the recent Screen Actors Guild Awards. This included the amazing Cascading Diamond Drop Necklace, very similar in design to the Emerald version pictured below. Designed by renowned jeweller to the stars, Harry Winston, it was made from Platinum and contained 73.5 carats of Diamonds! Harry Winston designs are a popular choice amongst the rich and famous and were scattered quite liberally around the red carpets this year.
 Emerald and Diamond Cascading Necklace by Harry Winston
Another necklace which made the headlines was that worn by the Duchess of Cambridge at the Bafta awards. After urging nominees to wear sustainable or recycled clothing to the ceremony, the Duchess showed no such restraint with her jewellery opting for a selection of pieces from Van Cleef and Arpels Magic Alhambra Collection. Her necklace pictured below, bucked the trend for white metal and was fashioned from yellow gold and Mother of Pearl, retailing for around £8,000. In comparison to some, this was a less flashy and more demure choice befitting of someone very aware of their position, but still a jewel of considerable value to the likes of you and me.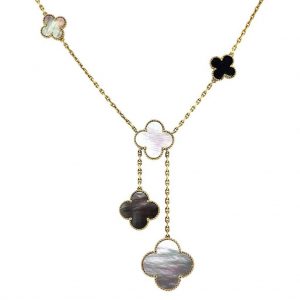 Van Cleef and Arpels Magic Alhambra Necklace in yellow gold and Mother of Pearl
Although the men are not the main focus when it comes to red carpet accessories, there were a few this year who opted to wear brooches, which made a refreshing change. Timothee Chalamet wore a Vintage Cartier Diamond and Ruby brooch . It's fair to say it caused a bit of a stir! Never one to be outdone, Elton John also wore a brooch in the shape of a rocket, which was made by Theo Fennel.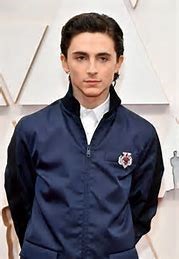 1955 Vintage Cartier Diamond and Ruby Brooch
I'm not sure how many men will be rushing out to purchase a brooch following last night's Oscars, but the glitz and glamour of the award season is compelling and has certainly got people talking, which is what it is all about.
What was your stand out piece from this year's Award Season? Tweet us and let us know by using @cooksongold
Written by Joanna Varney
Joanna has worked in and around the jewellery industry for well over 20 years. She has designed and created her own pieces as a designer maker, as well as working in jewellery retail on a much larger scale, producing designs and NPD for some of the UK's largest high street retailers