By Jo Varney
I recently wrote an article based on some experiments I completed, based around setting Swarovski Gemstones™ into PMC.  The results were mixed but essentially successful, however during my research I read much on the general consensus that CZs (Cubic Zirconia) are safe to set directly into precious metal clay, so I have now put this to the test. Read on for the results…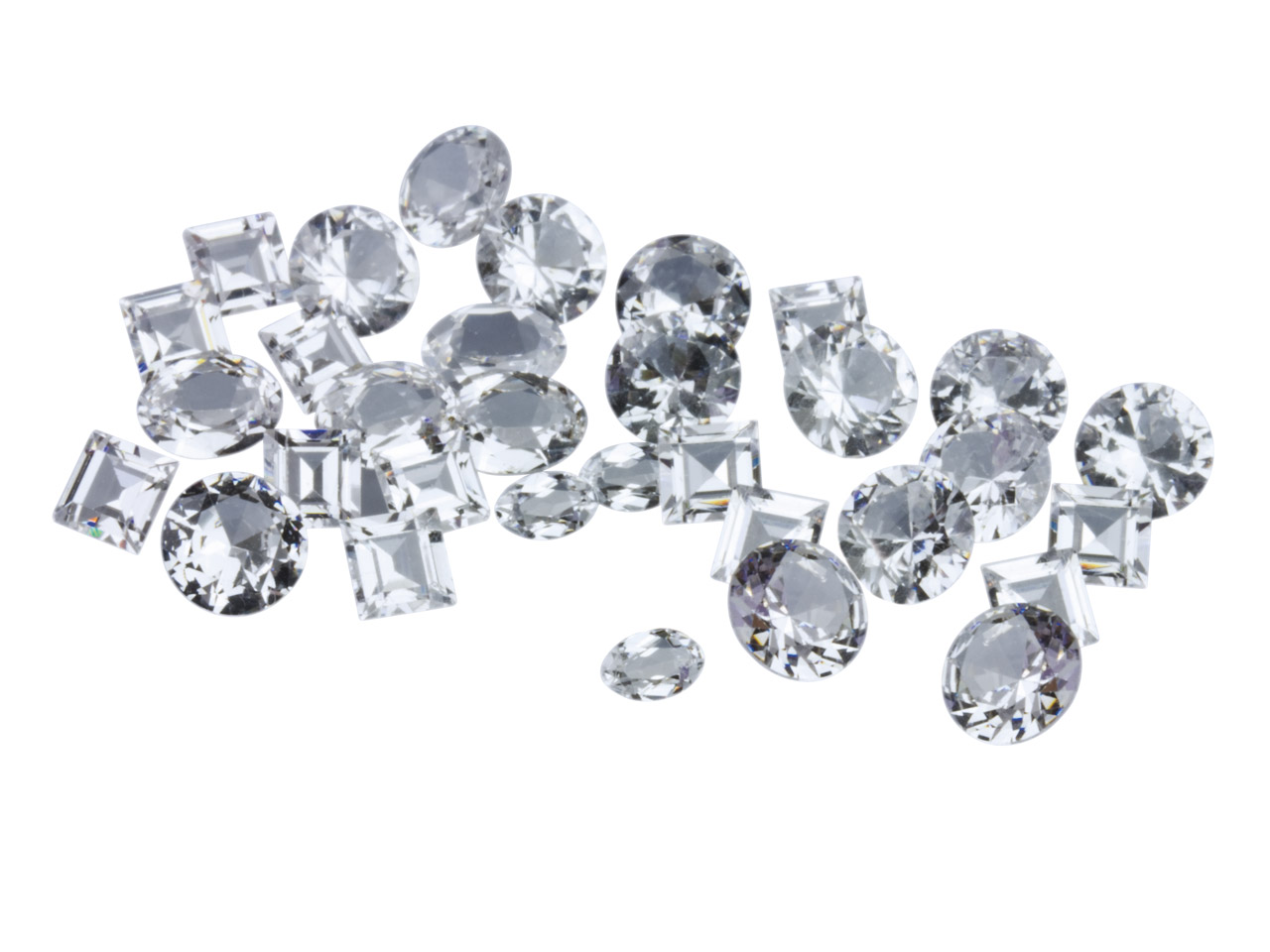 Pack of 25 White CZ, Mixed Shapes, PMC Safe (61CZ P022)
I tested two different types of CZs, firstly the PMC safe variety which come in a mixed pack of 25 (61CZ P022, shown above). The contents of each pack will vary, but mine contained round, square, baguette and oval cut stones all white in colour and all 5mm and under in size, which is the recommended limit for setting directly into PMC (although I have successfully set larger stones). My second pack of stones contained standard CZs (61CZ P006, shown below), and consisted of 20 assorted round stones in a range of colours and sizes. Mine were all 5mm and under again, and contained blue, lilac, violet, yellow, green and purple stones.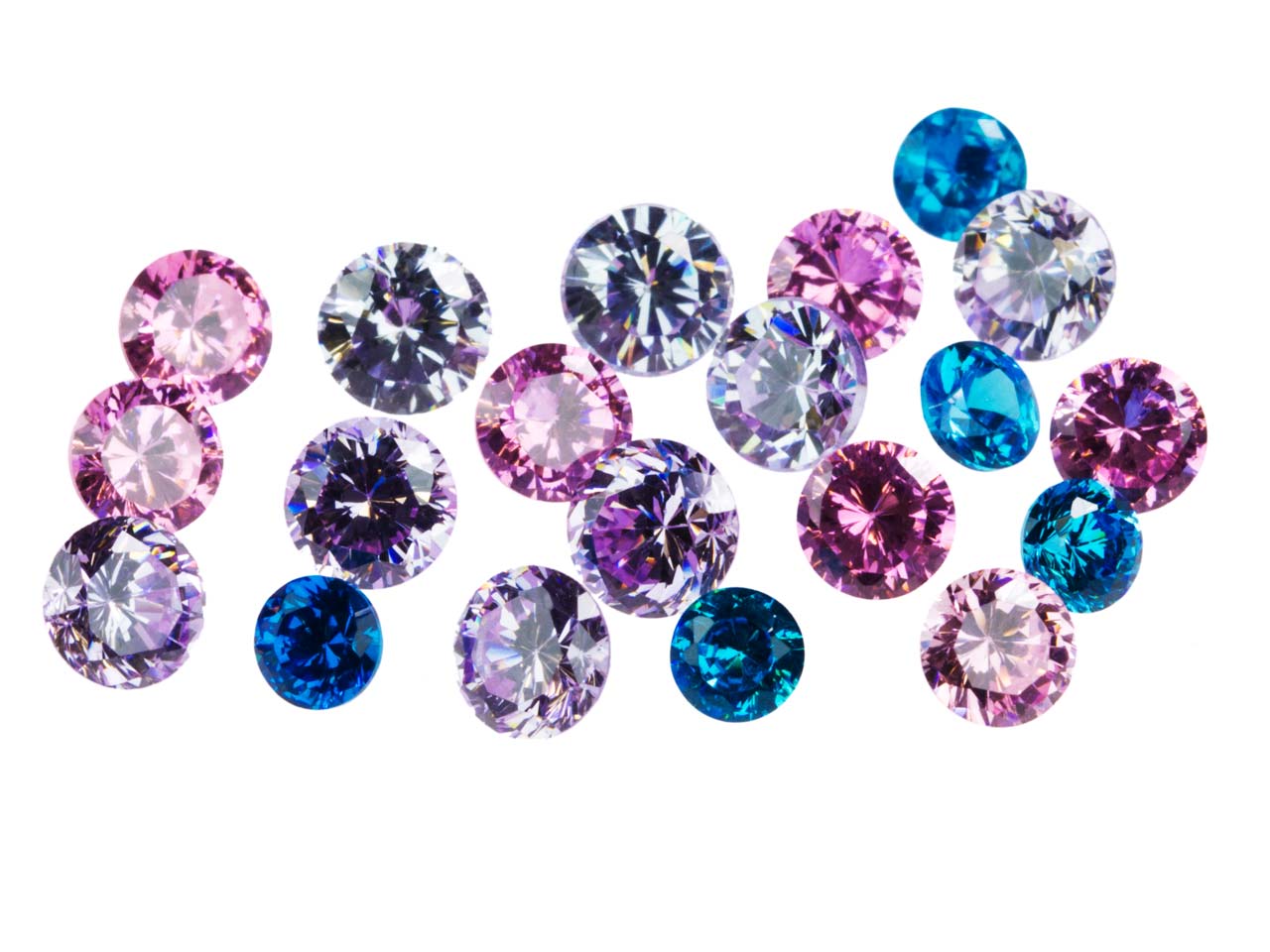 Pack of 20 Mixed Colour CZ, Round, Various Sizes (61CZ P006)
To set the CZs I used PMC3 (855 023), which is a good all-purpose clay, by constructing a series of basic pendants which I then set the stones into. These were pushed into the surface, and then secured by piping a bezel around the edge of each stone using PMC3 in a syringe (855 020). This can be a little tricky but you can tidy things up using a little water and a paintbrush, and as long as you cover the girdle of each stone it should be enough to secure it in place once fired.
N.B. – do remember that PMC3 has a 10% shrinkage rate, so it's better to be over generous with your bezel and clean it up afterwards to allow for this.
Below are my pendants pre-firing, and you can see that I made three pieces using PMC safe white CZs, and two pieces using standard coloured CZs in yellow, green, violet, purple, lilac and blue. These were allowed to dry for 24 hours before firing, and then refined using an emery board and some old needle files.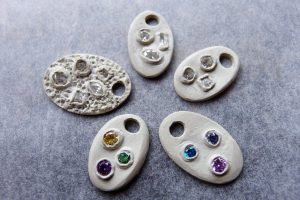 Once dry, each piece was placed face down on a heat proof brick and heated using a hand held torch. Once the binder had burnt away, I heated each pendant for 3 minutes maintaining a pale orange colour and moving the flame constantly, approximately 5cm away from the surface.
After allowing them to cool, I finished the pendants using a steel scratch brush and a texturing burr before adding a jump ring. And the results……?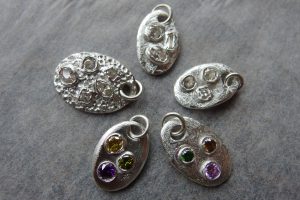 Well, as you can see the heat did affect the colour of some of the coloured CZs. It is widely documented that emerald green CZs will not withstand direct heat, and this was indeed the case with my example as it turned a dull olive green. The blue also changed colour to a lovely emerald green surprisingly, but the yellow, purple and lilac remained unchanged. However, the colour which experienced the most dramatic change was the violet which went a rather disappointing brown.
As expected, the PMC safe CZs remained unchanged and had as much sparkle after heating as before, which is reassuring to know but comes as no surprise.
I think the lesson to be learned from these experiments is if you are after a predictable and repeatable result, then play it safe with the PMC safe CZs. If on the other hand you don't mind surprises and a little inconsistency then try the coloured CZs. It's great fun experimenting with these stones either way, so if you have yet to try PMC with stones why not give it a go? You won't be disappointed!
If you want to learn more about setting stones into precious metal clay, why not take a look at our guide to setting Swarovski Gemstones™ into PMC? You never know, you might just discover a new technique to practice in your workshop!
For more information on Precious Metal Clay, download your FREE PMC Guide today.