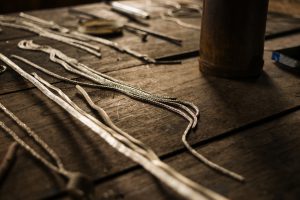 It's hard to beat precious metal clay for its simplicity and ease of use. What's more, the finished results can be striking, all of which makes it a very satisfying material to work with. Whether you're trying this technique for the first time, or looking for some fresh inspiration, this cross pendant tutorial will show you how to use art clay silver to create a simple but stunningly effective metal clay jewellery design.
When making clay pendants you will need:
Before you learn how to make a cross pendant using silver clay, you'll need to make sure you have the following items. Most are staple crafting and jewellery making supplies, so you'll likely already have them:
Texture mat in your chosen design
Teflon sheet
Clay roller
Work mat
Metal burnisher
Cutting tool
Hairdryer
File
Rubber block
Torch
Wire brush
Playing cards (or similar) for use in the rolling out process
Find everything you need to make your own pendant with art clay silver in our collection of Precious Metal Clay Tools and Accessories.
How to make a cross pendant using silver clay
Follow these steps to create your own cross pendant using silver clay:
Knead your silver clay in preparation for rolling it out.
Take your texture mat and apply some oil to it using a cotton bud.
Place the silver clay onto the mat and cover with a Teflon sheet to prevent sticking, placing three stacked playing cards either side of the Teflon sheet. Use the roller to roll the clay out flat, pressing it into the texture mat.
Remove the clay from the texture mat. You should now have a small, textured piece of clay, ready to cut into your desired shape.
Place the clay on the work mat and, using the grids as a guide, cut into a cross shape. This will leave you with a roughly formed cross. It doesn't need to be perfect at this stage, as you will be filing and polishing it later.
Using a hairdryer, dry out the clay cross to make it stronger, then place on a rubber block ready for filing. (Note: it's important to dry out your clay, otherwise it won't be firm enough for filing).
Using a file, tidy up the edges of the cross. Remember to file on both sides for a neat, professional finish.
Use a damp cotton wool bud to clean the edges of the cross pendant; this removes any remaining rough edges, leaving you with a smooth finish.
Pierce a hole for attaching a jump ring later. Your cross pendant is now ready for firing.
Using a torch, fire your cross pendant on both sides. As it heats, you will see the clay turn from grey to a metallic silver. Follow the firing times set out on the packaging for your chosen type of art clay. Top Tip: For small pieces, use a torch to fire your design. However, for pieces larger than 2.5cm in diameter, you will need to use a kiln.
Once the heating process is complete, quench the pendant in water.
Next, use a wire brush to brush the surface of the cross. This will really bring out the metallic sheen of the silver clay.
Use the metal burnisher to highlight the design on the cross by rubbing it across the textured surface. You can also use it along the edges of the pendant to make sure that the finished piece will catch the light.
To finish, attach your jump ring and chain – you now have a finished cross pendant necklace ready for wear.
Now that you've learnt how to make a cross pendant using art clay silver, you can use this technique to create a wide range of pendant designs of your own.
Get started making clay pendants
Feeling inspired? Discover how to make clay pendants in your own styles and designs today. Browse and buy from Cooksongold's full range of precious metal clay supplies online or pick up one of our precious metal clay kits to help you get started.