By Lorraine Sanderson, Burning Gecko
Advertised as a bracelet bending tool, these little pliers are so much more!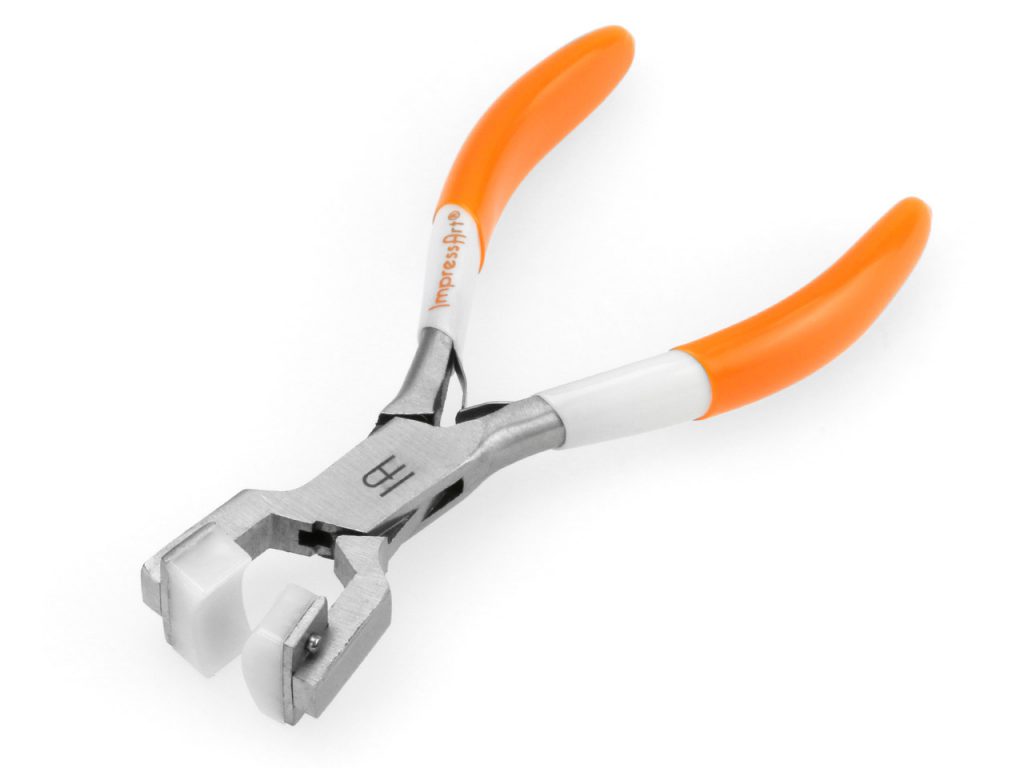 I used the ImpressArt Bracelet Bending Pliers (product code 999 I123) as designed, to bend a sterling silver bracelet bar and they produce an extremely smooth and gentle bend, resulting in a cuff that fits an average size wrist. The handles of the pliers have a double layer of padding, but it is not thick and squishy as foam would be as this is rubbery. It is very comfortable to hold, and does not feel uncomfortable when squeezing the plier jaws closed.
Unless you are sliding rough or metal through the jaws, the hard plastic should last a very long time. They are smooth on the inside and do not leave any marks whatsoever. I think the best feature of these pliers are the tiny bevelled edges, which means that you will not get an 'end' impression when using them; it allows for a continuous smooth curve.
To see what other uses I could find for the pliers, I tried them on a flat washer. Placing the centre hole of the washer in the centre of the jaws, it gently curved both sides equally. When rotating around the washer was complete, I had a gently domed shape washer (useful if you do not have a doming punch). I also used them on a short strip of metal the length of the jaws, which produced a very sophisticated curve for dangle earrings.
To summarise, I think these bracelet bending pliers will become a favourite in your tool arsenal for more than just the original purpose they were made for.
ImpressArt's bracelet bending pliers are part of our extensive selection of metal stamping tools, which includes even more stamping essentials to help you create a range of personalised jewellery designs. Why not explore our selection of blanks and washers too, and start getting creative?