By Jo Varney
Let's face it; any well organised workshop needs good storage. We have all experienced (I'm sure) those frustrating situations when you can't find your favourite pair of pliers or that carefully sourced stone, so take control of your work area and get prepared with some of our fabulous new storage solutions which are new this month.
Magnetic Tool Holder 45cm (999 099C)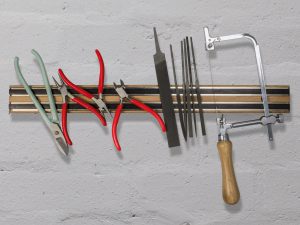 I absolutely love, love, love, this product! Not being the most organised of people, I relish the idea of a storage solution that you can literally just throw your tools at (please don't actually throw your tools around!), and added to that is the fact that everything is off your bench surface yet still clearly visible and accessible which is brilliant. Two strong magnetic strips are mounted in a wooden block made of beech, which comes pre-drilled with two holes ready to attach to your wall. Fixings are supplied, but I would suggest using longer screws for additional security.
Wooden Pliers Holder for 4 Pliers (999 099B)
I envisage this little wooden unit working best for those who are maybe not using a conventional jewellers bench with existing built in tool storage. This sturdy holder is modular in design, and can be used individually or in multiples to build up a storage solution tailored to your own specific needs. A row of them across the back of a kitchen worktop would work well, or even along a shelf or table edge if that suits you better. The unit is much heavier than it looks and will hold tools securely even if knocked. Believe me, I have given this item a good shake and all my tools remained in place! Better still by keeping the working edges of your tools separate, you will prolong the life of them ensuring they are kept scratch free for as long as possible.
Set of 25 Bead Storage Stack Jars in A Clear Box (997 1113)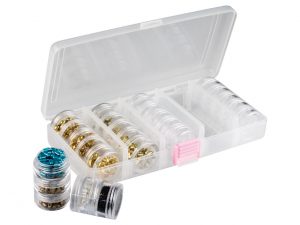 Beads require a 'belt and braces' approach to storage, which is what this set of stack jars will essentially provide. It consists of 25 individual jars which screw together, plus five lids, effectively meaning the base of one jar provides the lid for the one underneath. They all fit neatly into the plastic carrying case (measuring 18.5cm x 9cm) which can be fastened securely with the pink catch, making them extremely portable. The jars themselves measure 3.1cm diameter so are best suited to small scale beads and findings, but would also be ideal for solder pallions.
Wham Workshop Organiser with Removable Tray, Black (997 710A)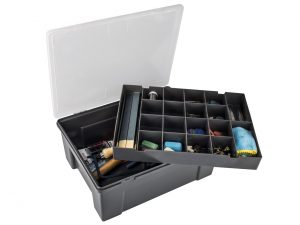 Make no mistake, this is a big storage box that you will get loads in! It is deep as well as wide, so even with the tray in place you still have an additional 9cm (approximately) of storage space in the base to hold larger items. The tray has fixed compartments which again are generous in size, making them suitable for so many different things and the clear lid ensures items are easy to find. There is no handle so it is not intended as a portable item, but is ideal for the workshop or craft studio.
Wham Desktop Handy Drawers (997 745A – 745E)
Aside from being unbelievably cute, these handy storage drawers from Wham are a really practical storage idea for your desk or bench top. Measuring 20cm x 24.5cm and 20cm in height, the depth of the drawers (each approximately 8cm) makes them so much more useful than other shallower examples on the market. They have an ergonomic finger hole positioned at the front, making them easy to open even with wet or dirty hands and the drawers can be removed completely should you want to carry one elsewhere. The units themselves are modular and can be stacked in whatever configuration pleases you best, and the icing on the cake is that they come in a range of fab colours so you can colour code your storage – woo hoo!
Forget going out and battling the elements this month, why not stay in and get organised with some of our great new storage; I guarantee it will be more fun and won't cost you a King's ransom.
At Cooksongold we now have a storage option for everything in our brand new range, from large workshop units to stackable boxes and more – discover the brand new collection here and start organising!