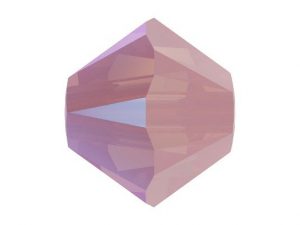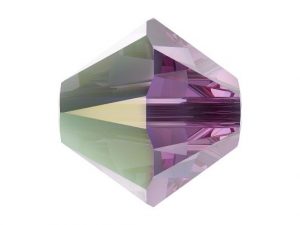 Rose Water Opal Shimmer, Pacific Opal Shimmer and Iris AB – New Swarovski Colours for S/S 2021
The new Swarovski Innovations range for Spring/Summer 2021 is all about capturing moments in time. It aims to look forward, embracing all that is new whilst also celebrating and incorporating the past. Confused…well don't be. In simple terms, Swarovski create new cuts and colours which reflect the feelings and thoughts of people right now, which in turn, transcend into trends. They work ahead of time, anticipating and predicting the things that affect us most and dominate our lives on a daily basis to create collections which fulfil a need, reflect a mood or fill a void. This year we have a mixture of bright, opulent colours and quieter, calmer tones, many with luxurious, almost futuristic finishes and we have added three of these brand-new gorgeous Swarovski colourways to our range which are all pictured above;
Iris AB – Lighter than Amethyst but darker than Light Amethyst. A moody, brooding purple with a smattering of classic AB coating, giving it an iridescent glimmer of pink, yellow/green and blue tones as the light hits. Available in 4mm and 6mm bicone beads, team with lighter neutrals and earth tones for daytime or add darker tones of metallic, grey and black for full on, evening glamour with an edge.
Rose Water Opal Shimmer – The lightest, most subtle, milky pale pink with a shimmer coating which reflects blues and darker tones of pink in little bursts of colour. These stones have a luminescent quality about them which makes them really quite fascinating; almost as though they are lit from within! Available in both round and bicone beads in 4mm and 6mm, this delicate shade would work well to contrast with stronger tones of pink and burgundy. Equally it would look amazing teamed with contrasting pastels with the same shimmer finish to create a fresh Spring/Summer splash of bold, yet gentle colour.
Pacific Opal Shimmer – The opposite counterpart to its pink cousin, Pacific Opal Shimmer is a delicate blue/green shade with added shimmer to add that extra element of rainbow iridescence. This is another really interesting shade from Swarovski which feels very luxurious and quite different.  This particular tone would work well with both blues and greens thanks to its dual colouring but don't be afraid to mix it up with bold yellows, reds and purples to create something really vibrant and exciting. Again, available in 4mm and 6mm round and bicone beads.
Another new addition to our range this season is the fabulous Princess Cut Pendant from Swarovski now available in a rather lovely Aquamarine Shimmer. The blue toned shimmer works brilliantly on the Aquamarine to create a multi-toned blue effect incorporating shades of turquoise, sapphire and lilac. This combination works extremely well together and gives the stone great depth. The strong geometric shape is bold but also pretty.
Swarovski Pack of 2 Princess Cut Pendant, 6431, 11.5mm, Aquamarine Shimmer – 62SWPC8X
Swarovski are masters at bringing together opposing elements as we have already seen and their new Pear Cut Pendant is a key component of the Innovations range for 2021 and yet another great example of this.
Swarovski Pack of 2 Pear Cut Pendant, 6433, 11.5mm Crystal Silver Night – 62SWEC2X
Incorporating new, but classic styling the Pear Cut Pendant contains 44 facets and a centred culet from which the cutting radiates. With a substantial 1.3mm drilled hole at the top, these stones are good to go as drop earrings or pendants with the addition of a simple chain or ear wire. Measuring 11.5mm x 7.9mm, this particular pear cut pendant is sold in packs of two and is available in Crystal Silver Night (pictured, which would look great teamed with Iris), Crystal AB and Aquamarine, all classic, universal colours which are easy to wear. Pear cuts can often seem quite slight and delicate, but this one has strong, rounded proportions which give it a little more attitude.
Swarovski Pack of 2 Heart Cut Pendant, 6432, 10.5mm Crystal Shimmer – 62SWHC1X
Our final new addition from Swarovski is a pretty Heart Cut pendant which we are bringing to you in two more shimmer shades; Crystal Shimmer and Aquamarine Shimmer which are again perfect universal colours which will go with practically anything. Again, they have a fabulous luminescent quality to them which is really going to get you noticed. At 10.5mm these are a perfect earring size and are by no coincidence sold in a pack of 2. A good-sized drill hole (1.3) makes these easy to work with and quick to transform into beautiful jewellery.
Whichever one of our new Swarovski products you choose, you are guaranteed consistency and quality as well as beauty and unrivalled sparkle every time you purchase, you really can't go wrong.
Written by Joanna Varney
Joanna has worked in and around the jewellery industry for well over 20 years. She has designed and created her own pieces as a designer maker, as well as working in jewellery retail on a much larger scale, producing designs and NPD for some of the UK's largest high street retailers