Genuine gemstones are not something one normally associates with Swarovski, but it may surprise you to learn that Swarovski have applied their expertise to genuine gemstones and offer a range which boasts all the precision and quality that you would expect from the brand. The selection of Swarovski® Genuine Gemstones includes Ruby, Sapphire, Topaz, Spinel and Marcasite, and Cooksongold are now very proud to add both Rubies and Sapphires to our existing collection of Swarovski Gemstones™.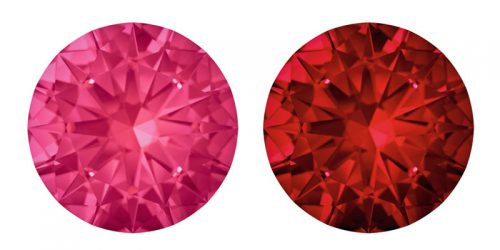 Swarovski® Genuine Rubies
Purchasing gemstones online can come with much trepidation as an image on a screen can appear very different to seeing the object first hand, in the flesh. However, this is where Swarovski's attention to detail really comes to the fore. Swarovski know that the cutting of any stone is crucial to achieve maximum colour and brilliance, and consequently apply these principles to all of their products:
"We use only the highest quality rough and apply the most precise cutting techniques to each of our Genuine Gemstones, guaranteeing the maximum brilliance, fire, and color intensity." – Swarovski Gemstones™
Swarovski® Genuine Ruby
Because of this you are guaranteed consistency throughout the range of Swarovski® Genuine Gemstones, which is an absolute godsend for jewellers trying to colour match stones within suites of products. It is also useful when trying to manage customer expectations, as a stone will always appear in a specific tone as expected. So for example, if you order a Swarovski® Genuine Ruby in Top Red and then realise a few months later you require another stone to match it, you can order it with confidence knowing that proportionally and tonally the stones will be the same. This is a massive plus point for this range of gemstones, and one I'm sure many will welcome.
Swarovski® Genuine Sapphire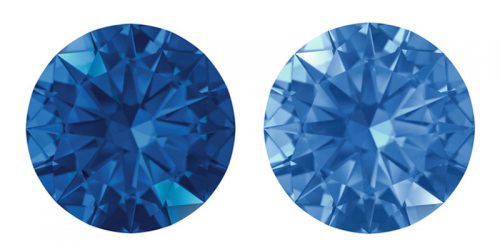 Swarovski® Genuine Sapphires
If red isn't your colour then the impressive selection of Swarovski® Genuine Sapphires will not disappoint as it offers over 50 different options in both blue and pink tones, which should please even the pickiest of people. Again, Swarovski's expertise in colour precision has taken the hard work out of buying Sapphires and means that the beautiful graduated tonal change so synonymous with the stone is now much more attainable.
Swarovski® Zirconia
Never ones to stand still for too long, Swarovski have also been developing new colour innovations within their Created Stones category and we are happy to share some stunning new choices within our Swarovski Zirconia range.
Swarovski® Zirconia Round Pure Brilliance Cut in Fancy Morganite and Fancy Purple 
One colour causing a particular stir is the Fancy Morganite shade, which is a delicate cross between peach and pink and fits nicely in to the Millennial Pinks trend which has been building in momentum; a confident yet feminine colour which is ideal for summer weddings, but equally at home in a statement piece accompanying a tailored look for the office. If pink is not your preference then perhaps another shade might be more your style? The gorgeous Fancy Purple colour shown above ties in perfectly with the trending colour of the year and is a guaranteed attention grabber and focal point for any display.
As with all Swarovski® Genuine Gemstones and Created Stones, these Zirconias are guaranteed to have a superior, but standard cut throughout the range, making them easier and more predictable to work with – causing fewer headaches for those of us who use them!
To find out more about the range and explore our full selection of precision cut Swarovski Gemstones™, click here.