So Halloween isn't for everyone, and for those of you who don't have children wanting to dress up and partake in pumpkin carving and all the general 'spookery' associated with October the 31st, it might just be something that you can't wait to be over. However, year on year Halloween seems to grow in momentum to the extent where it is now difficult to ignore. If you are looking for a slightly more understated way to get involved in the fun and don't fancy dressing up, then some Halloween inspired products from Cooksongold might just be the perfect thing. So, to help you with your celebrations, here's my pick of some of the hottest and newest pieces available right here at Cooksongold!
Beadalon Artistic Wire Halloween Findings Forms Halloween Bat Jig (999 CB71 – CB73)
My first pick is for those of you who fancy making something yourself and comes in the form of these fantastic Halloween inspired jigs for wirework which are made by Beadalon. There are three to choose from – a cat, a ghost and the bat (pictured), and they all comprise of a nylon guide along with sturdy steel pins which will ensure consistent findings every time. These jigs are intended to be used with wire ranging from 0.5mm to 0.8mm, and the bat measures approximately 38mm at its widest point. Once finished these findings would be great as a centre piece to any Halloween necklace, or even as drops for earrings.
Sterling Silver Pumpkin Charm Bead (NVQ1 B024)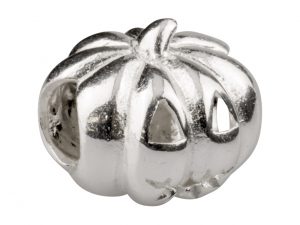 For anyone looking for more of an instant and altogether more subtle fix, then our 'charming' silver pumpkin charm bead could be an ideal choice. Measuring 11mm across and with a generous internal threading hole of 5.1mm, this little pumpkin can either be popped onto an existing charm bracelet or incorporated into your own design as a centrepiece. Personally, I would team it with some orange and black beads, (such as Cooksongold's 6mm Miracle Beads which come as a mixed bag of 200), and thread it onto a length of black rubber to create an impactful Halloween bracelet.
Sterling Silver Ghost Enamel Stud Earrings (XSS 2128)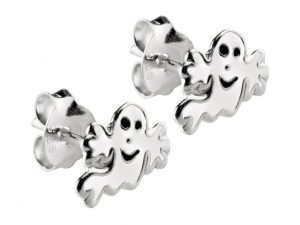 Themed earrings can be a great option if you work in an environment that allows a little seasonal fun. These ghost themed earrings are small enough to be unobtrusive, but still guaranteed to raise a smile from all who see them. Despite their small size, the enamel detail depicts each detail very clearly making the earrings instantly recognisable and the sterling silver fittings ensures their suitability for most people. In total there are six different designs to choose from in Cooksongold's Halloween Finished Jewellery range, including vampires, pumpkins, witches, bats, ghosts (above) and spiders.
Polymer Clay Spider Beads, 10mm (67SY FI24)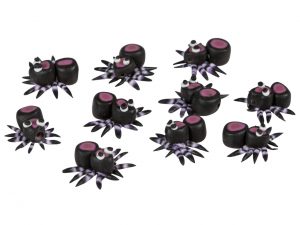 Finally we come to my favourite; these fabulous polymer clay spider beads are not for the shrinking violets amongst you, but are sure to delight some of the younger members of the family! They are supplied in a pack of 10 and each will come with its own little personality, thanks to their handmade construction. Either used individually or strung all together, there are infinite numbers of ways these spiders can be used to make pieces with personality.
So, with products like these at your fingertips, you can let your imagination run wild and create some truly individual Halloween accessories this year which won't damage your bank balance. They all come in well under £10; in fact most are under £5 so there really is no excuse!
If you want to add a spooktacular touch to your jewellery designs or treat someone special to our fang-tastic finished jewellery, shop our Halloween products for 2016 here and see what magic you can discover…