PMC Aqua is one of the newest and most exciting innovations to come out of Mitsubishi Materials Trading Corporation, and it will revolutionise the way you work with all types of PMC. As the name suggests, PMC Aqua is a liquid which can actually rehydrate PMC back to its original working state. Typically, water can be used to revive semi-dried PMC to give it a slightly longer working time – however PMC Aqua takes your clay to the next level, restoring it completely and in some cases (such as PMC Flex), actually enhancing it by considerably increasing the working time and improving its flexibility.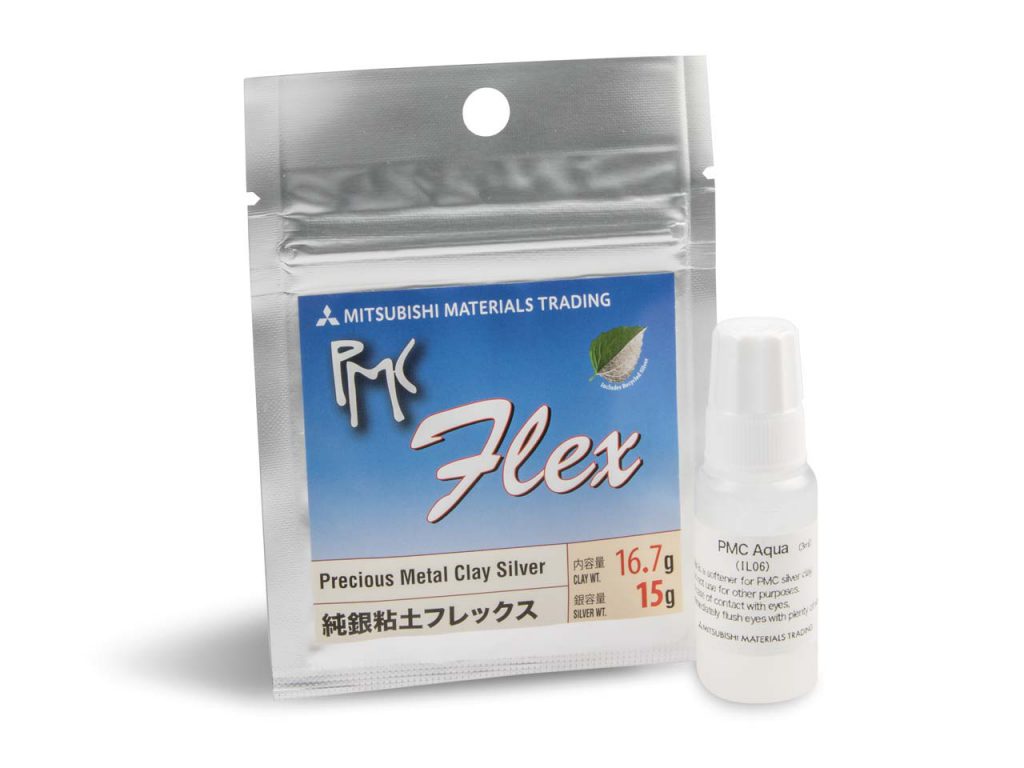 Precious Metal Clay Flex and PMC Aqua (855 031)
PMC Aqua can be used in a number of different ways, and the makers suggest a ratio of 1:1 if you are looking to revive a piece of semi-dried PMC. For example, if you have a 5g piece of semi-dried PMC, you would add 5 drops of PMC Aqua to it, knead it in and then wait for approximately 10 minutes for the process to work.
However, if you want to revive multiple pieces of PMC which have completely dried out you would need to add approximately 15 drops of PMC Aqua, mix it all together, cover and wait for around 6 hours. Adding too much PMC Aqua will result in the clay becoming too sticky, so it's best to work cautiously and add gradually rather than going in all guns blazing!
My tests were carried out using both PMC Flex and PMC3, and I found the Aqua solution worked equally as well on both. I tried restoring semi-dried PMC to its original state and found that just a few drops worked remarkably well, effectively bringing the product back to life with just a small amount of resting time and a little kneading.
The most dramatic transformation however, was my test using completely dried out pieces of PMC which normally would be put to one side and forgotten about. The pieces were placed in a small plastic pot with a screw lid, to which I added the suggested 15 drops of PMC Aqua.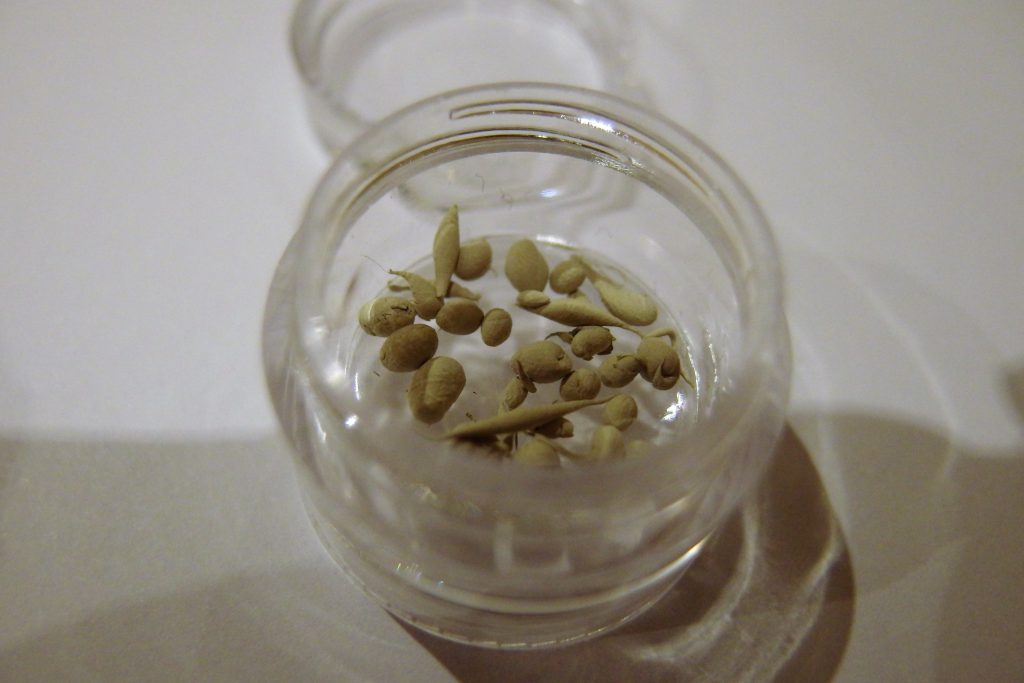 I then screwed on the lid and put the pot on one side to rest. The suggested time period for this is 6 hours, but I left my tests for 12 hours overnight to see what would happen.
When I returned the next day the clay had absorbed most, but not all of the liquid, so when it was mixed it transformed into a sticky slip like consistency that I was really pleased with (below). In hindsight, I can see that the amount of dried clay I started off with probably weighed no more than 2g, so the 15 drops of PMC Aqua added (suggested for 5g) was more than was really required to rehydrate it. But, this can be rectified by simply exposing the clay to the air to allow it to firm up a little.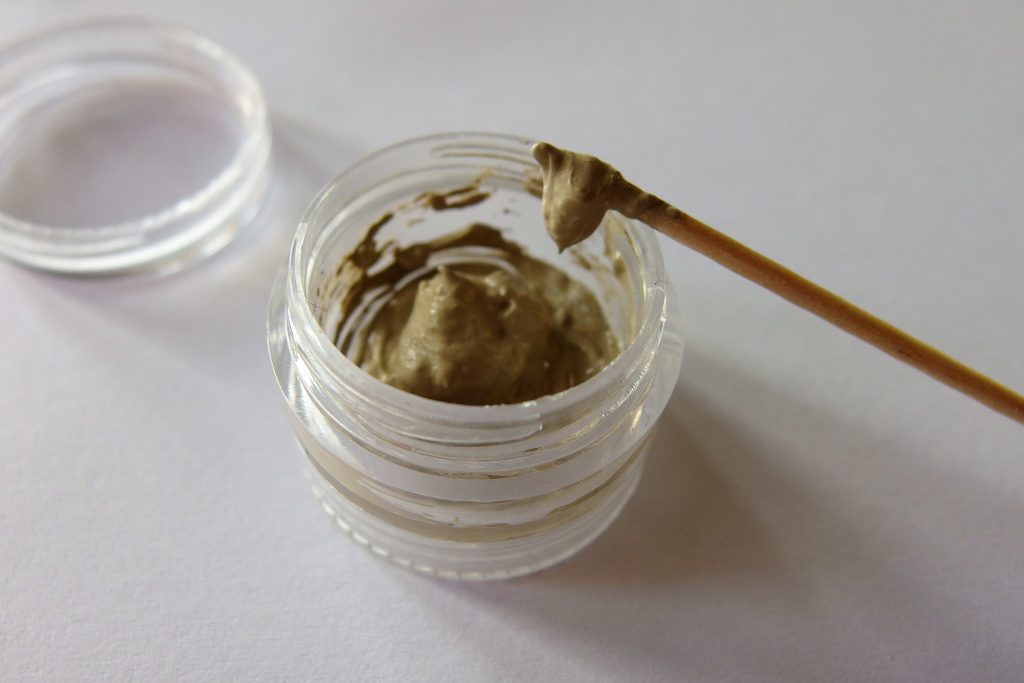 What I love about this product is that by using it, you will have the ability to utilise every last scrap of PMC from now on, leaving no waste thus making it fully cost effective which is brilliant. The added bonus of increased flexibility when used in conjunction with PMC Flex is an additional benefit, and one which I'm sure many will welcome but that would not be my primary reason for using it if I'm honest.
Here are a few key points to remember when using PMC Aqua:
Shake the product well before use (it should be milky in colour, not clear).
After using PMC Aqua, allow sufficient drying time before firing to avoid any blistering on the surface of the clay.
Remember to rest the clay once PMC Aqua has been added, to allow the product to work fully.
If you use too much PMC Aqua, simply expose the clay to the air until the required consistency is achieved.
If you work with PMC on a regular basis you will not want to be without this product – it's a brilliant idea and it actually works! 
So, why not get your sample of PMC Aqua and try it out for yourself? Don't forget to order the PMC you need to create your next intricate jewellery design too.
For more information on Precious Metal Clay, download your FREE PMC Guide today.