Swarovski have always been great innovators and our range is constantly being updated to reflect this with new designs, colours and cuts frequently popping up online and instore.
Swarovski's newest collections for Spring/Summer 2020 are based around the 'Power of Emotions' and focus principally on helping the consumer to reconnect with their inner calm, creativity and individuality in our busy digital age. Swarovski's newest cuts and effects incorporate the essence of four main themes which are: The Serenity of Being, The Joy of Expression, The Surprise of the Unexpected and The Excitement of Creativity. We are lucky enough to have some of these stunning pieces available to buy right now.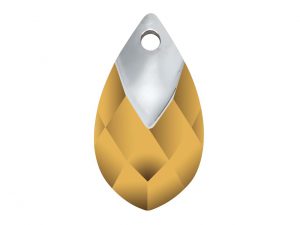 62SWMC2 – Swarovski Pack of 1, Metallic Cap Pear Shaped Pendant, 6565, 18mm, Light Colorado Topaz
We have a number of new pendant designs including the fabulous Metallic Cap and Pear Shaped Pendant, which is an interesting interpretation of the classic pear drop shape. Although technically part of Fall/Winter 2019/2020 collection, these beautiful earth tones slot neatly into the ethos underlying 'The Serenity of Being' using simple lines to create quiet and calm, which is perfect as we move into Autumn. Measuring 18mm, the innovative metallic cap appears on just one side of the pendant, so you can choose to show it or hide it giving you two options within one stone which is great. These crystals would make elegant and beautiful drop earrings or work equally well as a stand alone pendant with the addition of a few simple findings.
If you are looking for something a little more classic and less modern in design, you may like the new Princess Cut Pendants which come in some classic Swarovski colours including; Crystal AB, Sapphire, Aquamarine, Light Amethyst and Emerald amongst others. If you are a long-time fan of Swarovski, your favourite is bound to be here!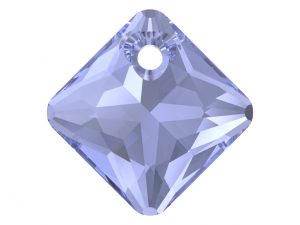 62SWPC6X – Swarovski Pack of 2 Princess Cut Pendant, 6431, 11.5mm Sapphire
This new twist on a classic, is a substantial little stone which has great presence thanks to its depth. It has a relatively wide girdle and slightly rounded corners so you don't need to worry too much about damaging this one when you use it, unlike a traditional princess cut stone. They are also beautifully balanced so they hang vertically without tipping forward making them the perfect choice for earring designs as they also happen to come in packs of two for your convenience!
N.B. Please note the Crystal AB option has the effect applied to the front face only.
62SW182X – Swarovski Pack of 12, Bicone, 5328, 6mm, Aquamarine Shimmer and 62SW183X – Swarovski Pack of 12, Bicone, 5328, 6mm, Rose Shimmer
Everyone who knows Swarovski, knows the colourway Crystal AB. The iridescent shimmer of Aurora Borealis (after which it is named) is universally recognisable as Swarovski and has to be one of their most successful colours to date thanks to the clever technology that made it possible. Applied as a coating to a plain colour crystal, it transforms the finish into a shimmering rainbow of colour elevating it to something rather special. The effect is at its best when applied to a clear crystal, creating a display of yellows, blues and pinks but takes on a completely different and darker twist when applied to a crystal of a different colour.
Aquamarine Shimmer and Rose Shimmer have been created with the same blueprint as Crystal AB. They have been designed to have a slightly more subtle shimmer effect, which appears as a light sheen, with a leaning towards blue when it catches the light. As you can see from the pictures above, the shimmer finish looks rather dramatic on coloured crystals and is emphasized by the fact that it covers only half of the stone. Many Swarovski finishes cover only half of the stone. The name of the stone is followed by 2x if it is fully coated for example; Crystal AB 2x.
Both Aquamarine and Rose Shimmer effects are available in round and bicone beads, in 4mm and 6mm and come in packs of either 12 or 24. These perennial favourites have been updated and elevated once again and are sure to become customer favourites I'm certain.
View the full range of new designs from Swarovski 
Written by Joanna Varney
Joanna has worked in and around the jewellery industry for well over 20 years. She has designed and created her own pieces as a designer maker, as well as working in jewellery retail on a much larger scale, producing designs and NPD for some of the UK's largest high street retailers