Good, functional storage is so essential for anyone working with numerous small components regardless of your profession. So when you consider the value of many of the items us jewellers and crafts people use on a daily basis, safe storage is an absolute must! It's all too easy to put that precious piece of 18ct solder 'safely' to one side, only to lose it later underneath a pile of pliers and files after a day at the bench (it's not only me is it??).
The good news is that storage has come a long way. You no longer have to make do with clumsy plastic containers or empty jam jars as there are a whole host of purpose made, small scale storage containers to serve the needs of every budding crafts person. You only need to part with a few pounds to ensure you never mislay any of your precious materials ever again.
Beadalon Medium and Large Bead Storage Stackable Containers
The stackable containers pictured above are produced by Beadalon, obviously with the beading enthusiast in mind. However they are perfect for so much more than simply beads. They come in small, medium and large and when you consider that even the largest one is priced very reasonably, I can't think of a reason why you wouldn't buy them really! I love the fact that they are so secure once screwed together, as the last thing you want is your storage container to come open in your bag or toolbox, thereby scattering the contents everywhere! My top uses for these containers would be: storing different grades of solder, scrap precious metal and dust, stones, most findings and of course beads.
If you tend to stay rooted to your bench or workstation and are lucky enough to have a large workshop, then it is likely that you can make use of some of the larger storage systems available. There are a huge number of plastic drawer units on the market but most of those contain drawers which can't be removed which I find frustrating. Instead I prefer to go for larger individual compartmentalised boxes which are easily transported from room to room as required.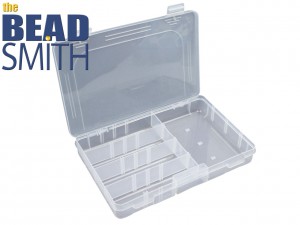 Beadsmith Organiser Box
This sturdy organiser box produced by Beadsmith measures a substantial 27.3cm x 17.8cm, and has an adaptable interior which can be tailored specifically to your individual requirements. It comes with 15 plastic dividers which can be used to create a maximum of 20 compartments, but you also have the option of having just 4 larger ones if that suits you better which is extremely useful. What is really excellent about this particular storage box is the added security you have with the two snap-lock closures, which will ensure it will never come open of its own accord (as other more flimsy examples have a habit of doing!). Again don't be mis-led into thinking this is solely for those working with beads – personally I think this box is ideal for metal and wire storage, but would also be perfect for findings and chain.
Stanley Tool Box
My final favourite piece of storage kit has to be this sturdy toolbox which is new in the Cooksongold range, and is made by that well trusted household brand of Stanley. I have owned the slightly bigger version of this toolbox for many years and have found the two clear mini-compartments in the lid to be so useful! It is really handy to have a place for small items incorporated into the design, leaving the main body of the box free for bigger items. This toolbox is a good size, measuring 40cm x 20cm, but being made of plastic it is light enough to be carried easily if required, which is why I think this is the perfect choice for students or in fact anyone who needs to transport their tools around frequently.
Whatever your requirements, good storage is the key to great organisation so don't put it off. Spending as little as a fiver could make a substantial difference to your working day by turning wasted time and frustration into success!
So, what are you waiting for? Explore Cooksongold's full range of Storage now here and keep your jewellery making supplies safe.