This is a tutorial on how to use the moulding compound; at the end you will string as desired to obtain a finished piece of jewellery! Perfect to wear whilst you are on holiday this summer!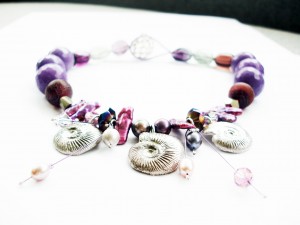 You will need:
STEP 1
Take equal parts of the Moulding Compound and work the 2 parts together until the Moulding Compound is a uniform colour.
STEP 2
Press your Fossil into the compound and leave it to set.
STEP 3
Once the Compound has set, press your PMC into the mould making sure it is pressed into all the edges. Carefully pop the clay out of the mould, if you re not happy with the result you can work the clay till reformed and press in again. Avoid doing this too much as the clay will start to dry and crack.
STEP 4
Once your PMC piece is dry, sand and refine your edges and back.
STEP 5
Drill a hole for your Jump ring using a hand drill or make a bail from any remaining clay.
STEP 6
The Fossil can be torch or Kiln fired. Torch fire for a minimum of 2 minutes, time this from after the binder has burnt off and the piece starts to glow orange.
STEP 7
Once fired use a stainless steel brush, agate burnisher or tumbler to make your fossil shine. String as desired.
This is a project designed in association with the PMC Studio in Coventry. For similar projects go here! As always if you have any thoughts or suggestions, let us know in the box below.