We gave our Cooksongold blogger, Jo Varney, a PMC Super Starter Kit to have a play with. Take a look at what she made and how she made it!
Precious Metal Clay (PMC) is a material made up of tiny particles of metal which is combined with water and a binding agent. The resulting clay can be manipulated using basic tools and then fired using a blowtorch or kiln. During this process the water and binder are burnt away allowing the metal particles to fuse together to form a solid metal object. This can then be finished as you would any piece of jewellery made in the conventional way.
The main benefit of PMC is its moulding capability allowing you to create patterns and forms which would be highly labour intensive using traditional techniques. The clay itself can be a little tricky to use at first. But by following a few golden rules you will find your results will improve quite quickly.
How to Create a Pendant With PMC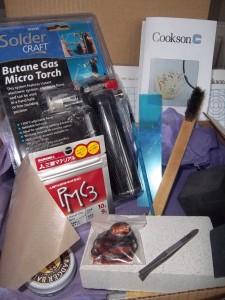 You will need: 1 x PMC Super Starter Kit (containing 9g PMC3, Instructions, Badger Balm, Butane torch, Circle Cutter, Jump Rings, Metal Burnisher, Necklace Cord, Paintbrush, Roller and Spacer Set, Rubber Block, Stainless Steel Brush, Straw, Sand Paper, Teflon Sheet, Texture Mats, Rubber Shaping Tool, Torch Firing Block, Tweezers,  3 x fireproof gems and a work mat.
You will also need Butane Fuel for your torch, pliers and a timing device (a watch or phone will suffice)
Lay out your Teflon sheet, roller and Texture Mats and rub each with a layer of Badger Balm. (Use your rubber shaping tool to push the balm into the crevices in the texture mats to ensure the clay can be easily released).

Place your mat on top of the grid and roll out the clay. Try to ensure your clay has a smooth surface as any cracks will be difficult to remove afterwards. Don't roll the clay too thinly as it will become difficult to handle. (You can place the two spacer sheets either side of your clay to act as a level guide).
Take your texture mat, position on the clay and press down firmly and evenly. Pull the mat upwards in a swift movement and check that your imprint is clear and defined. (If it doesn't look too great simply re-roll the clay and try again, but you will need to work relatively quickly)

Take your circle cutter and apply a layer of Badger balm to the leading edge. Position on your patterned clay and again press down firmly and evenly, twist and pull out. Replace any excess clay back in the packet and seal. Gently remove the clay from the cutter (the rubber shaping tool is good for this).
Take your straw and apply Badger Balm to the cutting edge. Position on the clay where you would like your hole for the jump ring to be and push down firmly, twist and pull out. (You will need to leave at least 3mm clearance from the edge of the piece and remember the material will shrink during firing)

Then you need to position your stones. Pick them up using either the tweezers provided or a piece of blue tack and place onto your design. Push them down gently so that the edges are just below the surface of the clay.
At this point your pendant is essentially complete. But take some time to touch up any marks or cracks using a little water with the paintbrush provided. This has a fantastic smoothing effect and can reduce the time you have to spend sanding.
Allow the pendant to dry. This will take a few hours but use a hairdryer to speed the process up.. Once dry, sand any rough edges as well as the back. Make sure the stones are clean. (At this stage the piece is still quite delicate, so you will need to take care.)
If your piece is smaller than a fifty pence piece it can be torch fired. Otherwise, it will need to be heated in a kiln at 700 degrees celcius for 10 minutes. Place the pendant onto the heat resistant block and gently heat using the torch. Take care to keep the torch moving evenly across the piece to maintain a pale orange glow and don't allow it to get too hot. If this happens move the torch away. You will see a flame appear at first which is the binder burning away. This will then subside to reveal the orange glow you are after. Maintain this heat for a minimum of two minutes; this will need to be timed rather than estimated
After heating, allow to cool naturally or quench in water.
Once cooled your pendant can now be polished using either the Stainless Steel brush on the rubber block or the burnishing tool. The brush will give a dull, quite subtle polish and is relatively quick. Whereas the burnisher will achieve a much brighter, whiter finish but takes more time. If you have a barrel polisher you could also use this. 
Finally open a jump ring with some pliers, thread though the hole in the pendant and close again. Your pendant can then be suspended onto a chain or the cord provided and is ready to wear.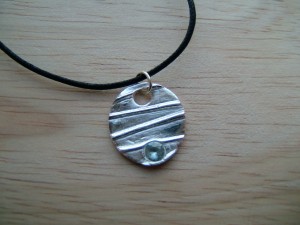 I will be honest, I didn't find using PMC as easy as I imagined it to be. The clay is extremely sticky and because of this it shows every mark and line, plus it will also distort very easily. For beginners, I would recommend starting with polymer clay such as FIMO to help build up your skill. However the finish you can achieve using texture is fascinating and this is where it really comes into its own. You will definitely want to purchase extra clay in addition to what's in the kit, because once you start, you will not want to stop!!