Fashion Week's around the world have now been and gone but what were the key jewellery trends? We delved into the archives to find out!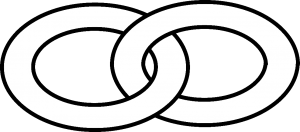 Chain
Chain looks set to be big for 2020 in every sense of the word! Chain has always been an integral part of jewellery design, but this year it will enjoy the limelight incorporating oversized links into strong, statement pieces which are unapologetically bold. Bottega Veneta showcased this look perfectly at Milan Fashion Week
Sterling Silver & Tiger Eye Earrings (top) and Gourmette Chain Necklace (middle) – both Bottega Veneta. Gold Colour Diamante Bracelet from River Island (bottom)
High street stores are hot on the tails of this trend as you can see by the similarly styled chunky gold coloured bracelet pictured in the bottom image, retailing at only £12. If you look closely, the ripple effect of this particularly trend is already clearly visible with many people in the public eye opting for large chain necklaces.
If bold pieces aren't for you, why not try layering with a series of finer chains to achieve a more casual look.
Vintage
The term 'Vintage' is used frequently and can encompass a wide and eclectic mix of styles and motifs. In this instance, it refers to pieces which have an antique, heirloom quality to them. Things that you might expect to find in your mum or Grandmas jewellery box! Fashion Week saw designers pulling jewellery classics from the archives and mixing them together to create a melee of texture and colour. Think lockets, cameos, oversized coloured gems and classic signet rings and you won't go far wrong.
Wedgewood Ceramic and Gold Ring by Ferian (top) and Tribute Metal Charm Bracelet by Versace (bottom image)
This sort of look is easy to replicate regardless of budget. Why not try upcycling or recycling previously unwanted items? Charity shops make a rich hunting ground for all manner of interesting and unique objects such as these and won't cost the earth……literally.
Hoops
Now, we are not talking your average, day to day hoops here. No. We are talking, bold, oversized and often irregular and not for the shy and retiring amongst us! Like much of the jewellery on show during fashion week, these hoops are statement pieces, head turners and talking points.
Silver toned crystal hoop earrings by Balenciaga (top) and Tiffany & Co. Elsa Peretti Wave Hoop Earrings (bottom)
Balenciaga showed some great chunky, twisted examples which also tap into the chain link trend, thereby killing two birds with one stone, or should I say one pair of earrings.
Collars
For a few years now, earrings have taken the limelight with necklaces firmly on the back burner when it comes to high fashion. Finally, this spring, necklaces are making a comeback in the form of dramatic, bejewelled collars.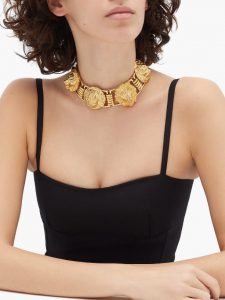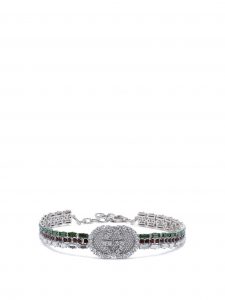 Lion Head Choker necklace (top) and Crystal Embellished Tennis Choker (bottom), both by Gucci
Gucci showed some of the most elaborate examples featuring their trademark initials as well as their renowned lions head emblem. Swarovski also have some beautiful examples this season if you are looking to splash out. If I could choose just one, the beautiful Tigris Choker pictured below would be my choice. On trend but slightly more pared back to go with any outfit – simply stunning.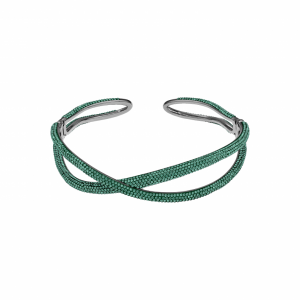 Tigris Choker in Emerald Green by Atelier Swarovski
The overriding jewellery theme to come out of Fashion Week, whether it is London, Paris, New York or Milan is to go big, be daring and be prepared to stand out and make a statement if you want to stay on trend!
What was your stand out piece from this year's Fashion Week shows? Tweet us and let us know by using @cooksongold
Written by Joanna Varney
Joanna has worked in and around the jewellery industry for well over 20 years. She has designed and created her own pieces as a designer maker, as well as working in jewellery retail on a much larger scale, producing designs and NPD for some of the UK's largest high street retailers