Tanja Dobroslavic won our Design of the Month Competition back in September 2020. We liked the way she used the oxidised effect. We wanted to know more about her, what inspires her, what drove her to jewellery making and more.
Tell us a bit about yourself – your background, education and training in jewellery making
I was born and raised in Dubrovnik, a beautiful city on the Adriatic Sea in southern Croatia. Surrounded by the beauty, I've been drawing and painting since my age was in single digits. My jewellery journey started much later though, like 15 yrs ago and I don't have any training in jewellery making, everything I've learned I've learned by myself.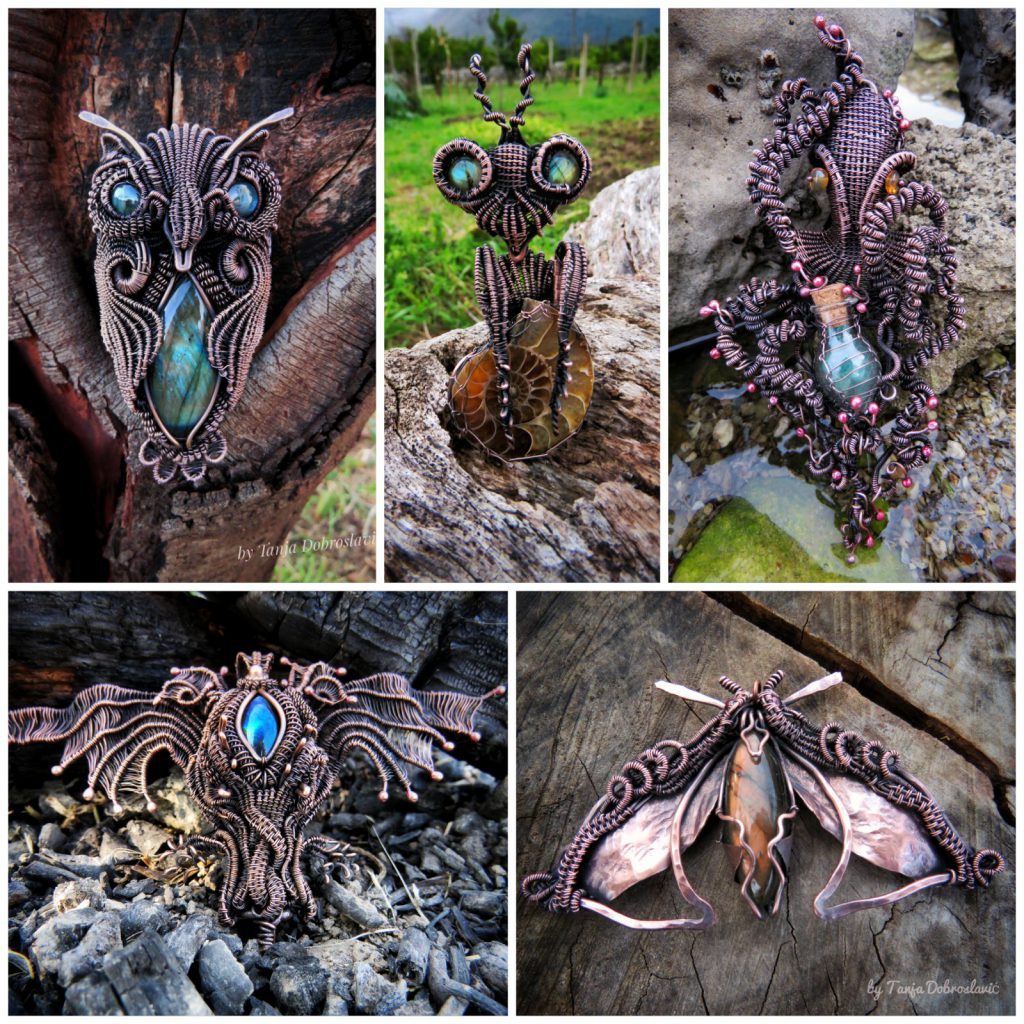 When did you discover your love of jewellery?
To be completely honest I have always been drawn to rocks and gemstones and their colours and energy more than jewellery itself. Stone has always been something that i notice first.
How my jewellery making journey started is a kinda funny story.
One day I walked by a local shop with my husband and noticed a very simple single strand tiger eye necklace that I really liked so we went inside to buy it. However, the necklace was so ridiculously expensive that I remember saying to myself no way I'll ever spend that much on something I can do myself. So later that evening I went to the garage and took a couple of pliers that were quite huge and old, but good enough. My husband found an old electrical cable and pulled some copper wire from it.
And that is how's all started.
Basically because I was annoyed with the price tag on one necklace 🙂
Tell us a bit more about your work. Are there any particular materials or techniques that you favour?
Mostly wire wrapping and metalsmithing but lately I am exploring metal clay as well.
I've started with wire wrapping and will always be my favourite, simply because I am still amazed with endless possibilities and what you can make with just some wire and your hands. I love to work with silver, copper and bronze.
How would you best describe your design style?
Lots of dragons, wolfs, marine and other beautiful creatures but lots of flowers too so i would say mostly fantasy, elvish/ romantic style
As a jewellery maker, where do you get your inspiration from for your pieces?
Can be anything… song, sound of waves, chirping birds, flowers in my garden, endless shapes of leaves, moon through the clouds, fragrance after rain etc
But it's usually stone itself. It happened to me many times so far, some idea will cross my mind and I will start to work but stone simply refusing to be what I had in mind and wants to be something else. Might sound bit crazish but I'll let the stone to lead me.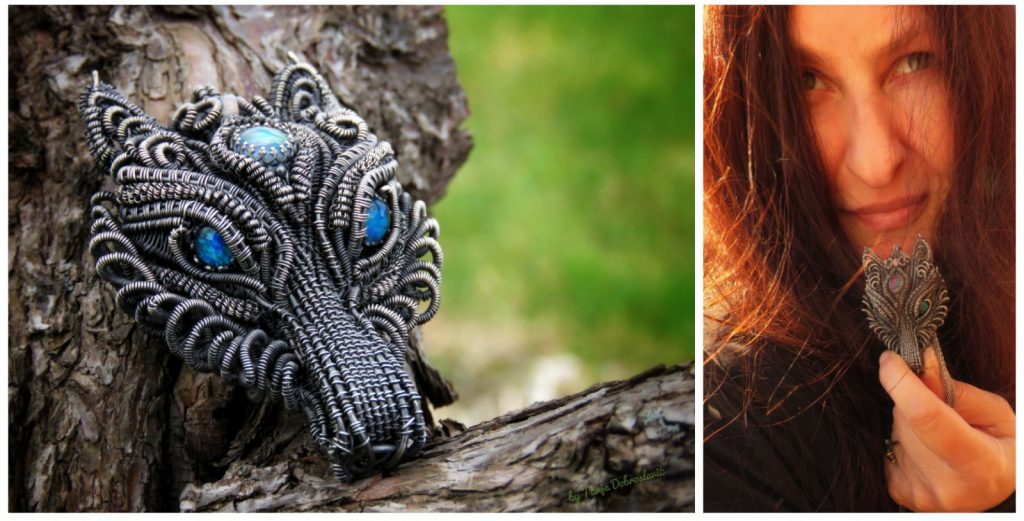 Do you have a piece that you are particularly proud of?
That would be my wolf pendant.
There was a time when we roamed freely with the wolves, when we respected nature and time that has been given to us. It's some sort of reminder of those times to me.
What is the one item in your workshop that you couldn't live without?
Definitely my pliers, as long as I can cut and shape some wire I am fine. Everything else is a bonus.
What upcoming trends do you see being popular soon?
I honestly don't know because I don't follow trends. But I would love to see more appreciation for handmade pieces.
People tend to think that we have some sort of magical wand and poof, it's done.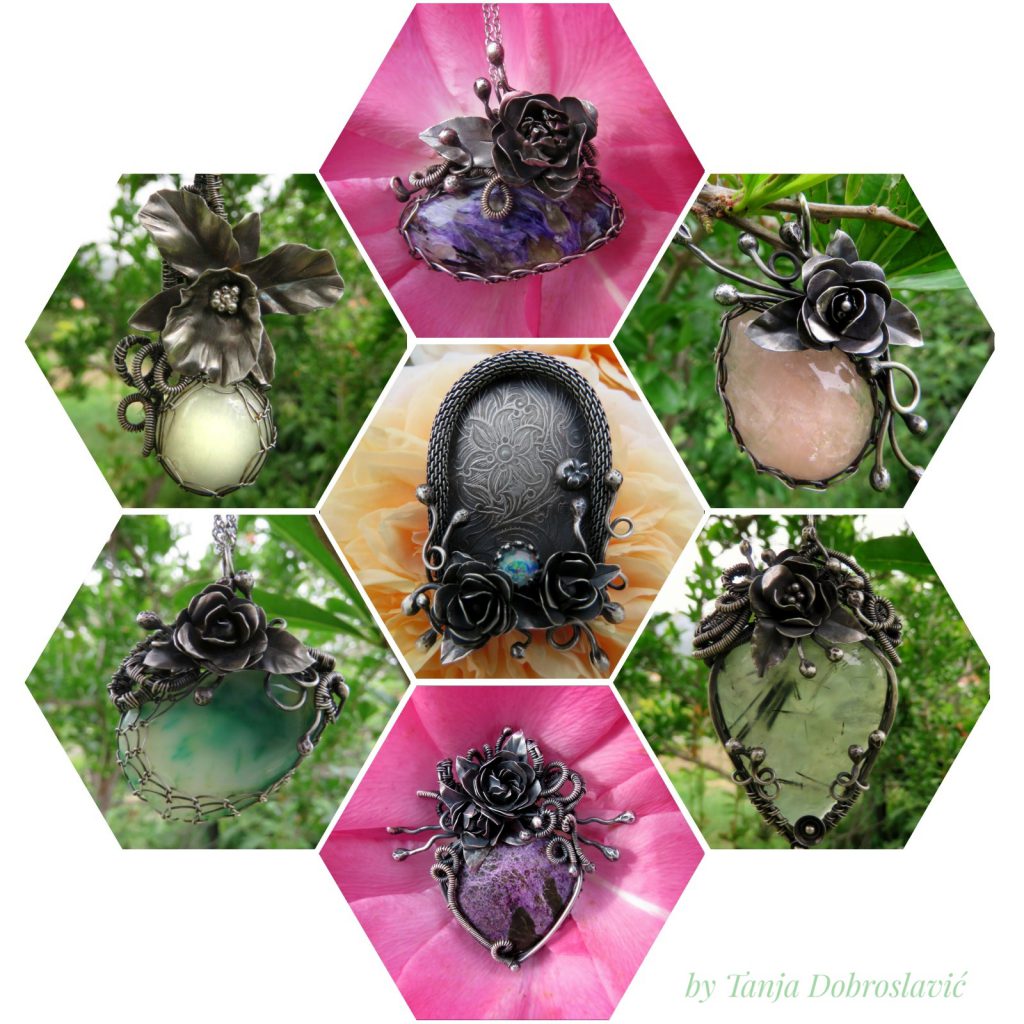 What is the most valuable lesson you have learnt from your time in jewellery making?
Patience is the key word when it comes to jewellery making and jewellery selling as well.
Do you have any particular advice that you would give to up and coming jewellery designers, or someone interested in getting into jewellery making?
• Be yourself, don't try to copy others.
• Learn from your own mistakes and don't be discouraged if you make them a lot. They are all valuable lessons.
• Doesn't have to be a perfect but always try to do the best you can at that point.
• Finishing and polishing is important part of the process.
If It's not finished properly it won't look good. So take your time.
• Don't go crazy trying to buy every tool you can find.
Most of them you won't need (especially at the start)
Many times lack of tools will force you to be even more creative.
Jewellery making is a never ending learning process but very enjoyable at the same time.
So don't rush, have fun 🙂
Finally, time for a bit of fun in our quick-fire round!
Tell us your favourite…

Colour? – Aubergine purple, pomegranate and grass green (can't pick just one)
Biscuit? – Rustic apple pie
Coffee or tea? – " There is coffee in that nebula" perfectly describes me
Place? – By the sea
Animal? – Orcinus Orca and my cats
Gemstone? – Ammolite
Food? – Mediterranean
Film? – The Lord of the Rings trilogy (two towers especially)
City? – Dubrovnik
Book? – The Name of the Rose by Umberto Eco and The Lord of the Rings trilogy by J. R. R Tolkien
Song? – Any song by Wardruna
Describe yourself in a hashtag? – #idontusehashtags
What is the one thing that people don't know about you? – I am ambidextrous. I write with my right hand but I can write with my left as well. During my school days I would sometimes write notes with both hands at the same time, to myself and to someone who could not be in the class that day. I can also write normal or mirror. I like and prefer mirror writing, especially for personal notes.
Style Icon? – No idea tbh…………after some thinking, Lauren Bacall crossed my mind.
Many thanks to Tanja for talking to us and for being part of our Cooksongold Meets series
Find out more about Tanja's designs via her Pinterest page