We all love them let's be honest, but just what are the most popular, cuts, sizes and grades of diamonds? With so many to choose from I thought it would be interesting to find out.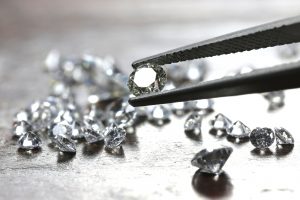 Cuts
The cut of a diamond represents one of the famous four Cs on which they are assessed. Cut, Clarity, Carat and Colour. They each individually affect the quality and in turn, the value and cost of a stone, so each one needs due consideration when purchasing diamonds.
The cut of a diamond is probably the thing which strikes us first, after all, it is integral to the overall design and most potential purchasers will have a preference towards the styles they prefer. Round, square or heart shaped, everyone has a favourite. However, the most popular cut of diamond, by a country mile, remains the round, Brilliant Cut which has dominated all sales since its development in 1919 by Marcel Tolkowsky. It was the first time that a cut had been mathematically calculated to achieve maximum sparkle and light dispersion and it is widely reported that today, 75% of all diamond sales are Brilliant Cut which is really quite astounding.
Clarity
Clarity refers to the lack of internal blemishes and inclusions visible within a stone and has been largely standardised across the industry thanks to GIA or Gemmological Institute of America. It was founded in 1931 and as well as a centre for study and research aimed to educate and standardise the way we look and buy gems. Here is their mission statement:
"Ensure the public trust in gems and jewellery by upholding the highest standards of integrity, academics, science and professionalism through education, research, laboratory services and instrument development."
You can see from the GIA chart that there is a total of 11 clarity grades for diamonds ranging from 'Included', (inclusions are obvious under 10x magnification and will affect the brilliance of the stone) to 'Flawless', (no inclusions or blemishes under 10x magnification).

The clarity of a diamond contributes massively to the value of a stone, as it affects the brightness and ability to disperse light, but that is not the only aspect to consider. Here at Cooksongold we sell a range of qualities from VS to P2 and interestingly P2 (I2) in a 1.5mm stone is our most popular selling diamond. It is worth remembering that sometimes to reach an appropriate price point and level of quality, you can go down on the clarity and up on the colour chart (see below), which will still result in a nice diamond, particularly with smaller stones.
Colour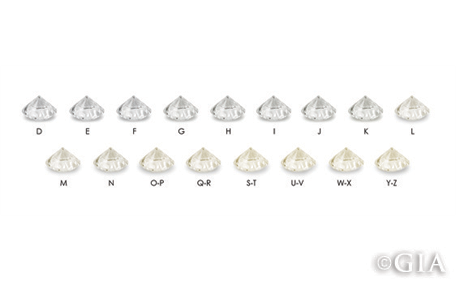 Colour grading of diamonds is extremely difficult with the naked eye and again the GIA have developed industry standard guidelines which act as a framework for retailers but also diamond certification purposes. Colour, when referring to Diamonds actually refers to the lack of colour and the ultimate is graded as 'D' which is classed as colourless. Grades go right down to Z although you are unlikely to ever see that advertised. D, E and F are all in the 'Colourless' category and command extremely high price tags, so many retailers will stock the next best thing which is 'Near Colourless' namely G, H, I and J, with G being the most desirable of the group. E.G. Tiffany only sell diamonds in the D – I colour range.
Size
Unfortunately for many, the size of a diamond is the most important aspect and I think we have already established that quality is not determined by size! Diamond carat weight (and in turn size) is measured in points which each equate to 2mg therefore: 1 carat = 100 points = 200mg. For example; 25 points can also be written as 0.25 or quarter of a carat and it is the latter which retailers tend to focus on as consumers can relate to this more easily. You won't often hear people talking about an engagement ring containing 24 points of diamonds but you may well hear them speaking about a diamond that is ¼ carat or ½ carat – we all understand these terms and know that they refer to a stone of a good size. Consequently, and for this reason, 0.25, 0.5 and 1 carat stones are consistently popular sizes, regardless of quality. The fact of the matter is that you may well get better value for money if you buy a stone just under one of these benchmarks e.g. 0.24, 0.49 or 0.98 carats.
Each one of the four Cs, (colour, cut, clarity and carat) determines the value of a diamond, so it is important not to get drawn in by only one of them. It's also worth remembering that the most popular options are not always the best value for money, so do your homework and shop around.
Written by Joanna Varney
Joanna has worked in and around the jewellery industry for well over 20 years. She has designed and created her own pieces as a designer maker, as well as working in jewellery retail on a much larger scale, producing designs and NPD for some of the UK's largest high street retailers