By Joanna Varney
Anyone who reads this blog regularly will know that I am a big fan of Fimo, so I positively leapt at the opportunity to review the new Fimo Kids range which is new to Cooksongold this year. The range consists of standard individual blocks plus a series of kits all designed with children in mind and made from an extra soft Fimo formula suitable for small hands to mould with ease. (For anyone who doesn't know, Fimo is polymer clay which only dries when baked in a low oven. It doesn't air dry and so has an infinite working time which is ideal for children.)
Handily enough I just happen to have two perfect guinea pigs to try out Fimo Kids in the form of my daughters aged 6 and 8 who were more than happy to get stuck in! We chose a Butterfly kit with a difficulty rating of Level 1 and a Unicorn Kit with a difficulty rating of Level 2 which I thought would be suitable for their skill levels. Fimo have provided a very useful skill level guide for their kits which is indicated on the front of each pack with a red star rating. (By choosing the easiest level, my 6yr old was able to enjoy the activity with adult supervision despite the suggested age for the product being 8+.)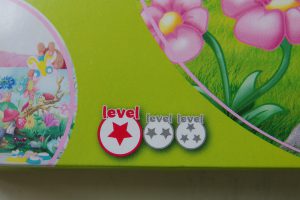 Once you open up the packs, my kids were delighted to find the colourful backdrop, (which also doubles as the packaging), 4 colourful packs of clay and a moulding tool, all contained in a practical plastic case which can also be used as your work surface. Everything you need (apart from a baking tray and oven) is contained within the pack which will come as a relief to most parents!
The instructions are clearly laid out in pictorial form and show you how to complete three different models.  My eldest was able to follow the instructions on her own and needed no help to get on with the first task. Each kit has enough clay to complete the three different models illustrated plus a little to spare and baring in mind the first model took just over an hour to complete, at £6.26 these represent great value for money.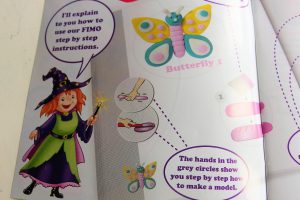 The new formula is lovely and pliable without being too sticky, which meant both children were able to mould all the shapes themselves without me having to intervene. They even managed to open the packets without assistance but that did result in some getting ripped, unfortunately.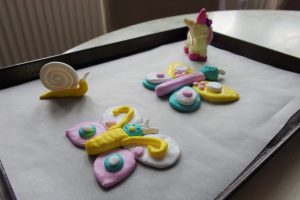 Once complete the models were placed onto a baking tray which was covered in a layer of greaseproof paper. They were then baked at 110° C which equates to ¼ gas mark for the designated 30mins to harden off. All of the models held together well during baking and retained their crisp, bright colours I'm happy to say.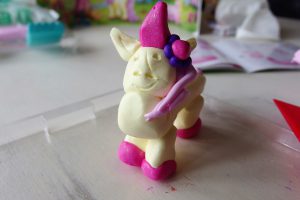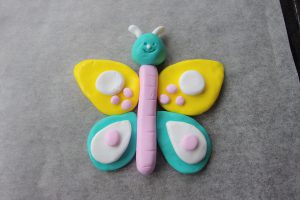 All in all I have been really impressed with Fimo Kids clay. The product itself performs excellently and the kits are brilliant and have been exceptionally well thought out. They are perfect for the specified age group 8+ but can also be used successfully with younger children providing there is adult supervision. These kits would make ideal party presents; the price is spot on and there is a wide range of themes to choose from to suit even the most particular child. (E.g. mermaids, robots, space monsters, snow princess, sea world, pirates, fairies etc).  My advice would definitely be to stock up while we have them. There not many gifts for children at that price point able to provide the amount of enjoyment and entertainment that these kits most certainly did. Now if you excuse me, I'm off to place my order…