I can remember (some time ago) being given a tool list when I first went to University, which filled me with bewilderment and a good degree of trepidation! Of course I can look back now with some amusement as experience has taught me about the type of tools which are essential to my work, but also more importantly which ones I prefer to use. The tools of your trade will become very personal to you and only as your work evolves will you discover which ones you can't manage without.
However that said, there are certain pieces of equipment which form the cornerstones of any jeweller's tool kit and that I can help with. Here is my list of top tools for beginners:
1. Stanley Toolbox, Student (997 1200)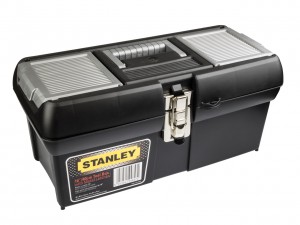 You will not get far without a toolbox and this one from Stanley is a great buy. It measures 40cm x 20.9cm x 18.3cm, so can easily accommodate a hammer and large files in the bottom. It also has a removable tray insert for smaller items, plus two clear compartments in the lid to store all those tiny findings, solder and stones. It is always worth considering the weight of any tool box you buy because as a student as you will be carrying it around a lot.
2. Adjustable 3" Saw Frame (999 735)
A saw frame is one of the first tools you will learn how to use, and will come to rely on as you progress. This 3" adjustable frame is an ideal first purchase. It has an ergonomically designed handle for comfort, and an adjustable frame which basically means you can use broken saw blades in it as well as new. Although it's tempting, you should try to resist tightening your saw frame with pliers as this will ultimately ruin the threads on the securing nuts.
3. Saw Blade Set, 72 Blades (999 096W)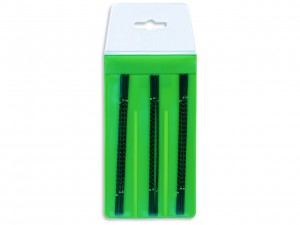 Saw blades are a workshop essential and you will need lots of them, particularly when you are a beginner. Blades are graded according to their coarseness, with a fine blade more suited for intricate curves on finer metal and a thicker, coarser blade better for straighter cuts on thicker material. They are graded from size 4 = coarsest to size 8/0 = finest, with size 2/0 being the most commonly used. This set of blades is an ideal starter pack as it contains 24 each of size 1 suitable for cutting 0.8mm – 1mm metal, size 2/0 suitable for 0.6mm – 0.8mm and size 4/0 suitable for 0.5mm – 0.6mm.
When it comes to pliers, there are so many to choose from that it can become quite overwhelming. When you start off you basically need 3 types for shaping; round nose, flat nose and parallel, and two types for cutting; shears (for sheet and solder) and side cutters (for wire). Sprung pliers are easier to use and a cushioned grip will protect your hands to some degree. Numbers 4 and 5 on this list are the recommended ones to use as a beginner:
4. 7" Straight Shears (999 658) and Maun Flat 5.5" Parallel Pliers (999 644)
Once purchased, these shears and parallel pliers will last a lifetime. Don't be put off by the slightly higher price as they are worth every penny!
5. Jewellery Pliers Set in Canvas Wallet, Value Range (999 3058)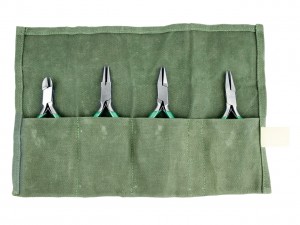 As far as the other pliers on my list are concerned, as a beginner I would definitely recommend taking the easy option by choosing one of the sets on offer. They represent fantastic value for money and will take away some of the guesswork involved in choosing your first tools.
6. Vallorbe 16cm Assorted Needle Files, Set of 6 (999 529)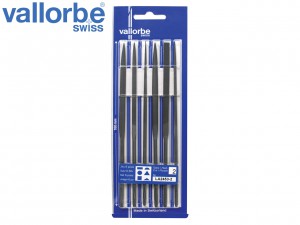 Filing (and I don't mean paperwork) is an everyday occurrence for the jeweller, whether you like it or not. I am fortunate enough to be one of those people who enjoys it and whilst you are undoubtedly going to need a couple of larger files for the removal of heavier material (a half round, medium cut will stand you in good stead), it is my trusty needle files that I simply could not do without. I love my needle files and would be absolutely lost without them so consequently they are on my list of top tools for beginners. They don't have to be expensive but I would recommend you buy the best you can afford at the time.
This is a beautiful set of files produced by the Swiss brand Vallorbe. The shapes you will receive are: flat, round, half round, 3-square, square and warding, which will cover just about every filing function you are likely to need. The brand of Vallorbe is synonymous with quality so if you can invest in one of their products you know you won't need to buy it again.
7. Reverse Action Tweezers, Set of 2 (999 987A)
Tweezers are an essential item in any toolbox and these reverse action tweezers are simply brilliant! I guarantee once you try these you will never, never, never want to be without them! They are absolutely invaluable for soldering and positioning, and the fact that they have insulated handles is an added bonus (although I must admit I have managed to set fire to mine on more than one occasion).
8. Jeweller's Hand Torch (999 955)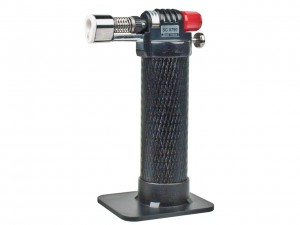 Finally I must mention torches. When you first start to dabble in the world of jewellery making, the notion of working with large gas torches can seem somewhat terrifying. Consequently, when our course tutor introduced us to the concept of a small, portable handheld torch which could sit on a table top, we all immediately rushed out and bought one and frankly I have never looked back. Obviously if your area of specialisation turns out to be large scale smithing as opposed to smaller scale jewellery work, this size of torch is not going to work for you.
These handy little torches run off of Butane lighter fuel which is widely available and easy to obtain. They are also compact enough to fit comfortably in the bottom of a regular sized toolbox. This particular example can reach temperatures up to 1300 degrees, making it suitable for soldering silver, 9ct and 18ct gold.
So there you have it, my top tools for beginners which also just happens to include some of my very favourite tools of all time! Please be aware that this is by no means a comprehensive list of everything you are going to need, it is my personal selection of items I consider to be invaluable.
Do you fancy adding one of these products to your jewellery making tool kit? Shop this full list of top tools for beginners here on cooksongold.com.