Are you new to precision micro welding? As a professional jeweller, you may be looking for new ways to speed up your manufacturing process, or just a fresh take on soldering that is right for you and your work.
Here, we introduce you to the Aquaflame micro welder – an excellent, updated piece of soldering equipment that could completely change the way you work. Watch the video below and learn more about the process of precision micro welding, and see if the benefits of the Aquaflame micro welder could help you spend less time soldering, and more time creating.
Introducing the Aquaflame micro welder
What could I use precision micro welding equipment for?
Melting
Soldering
Re-sizing rings
Re-clawing
Re-tipping
Annealing sheet and wire
Recycling scrap metal
The Aquaflame micro welder is ideal for the soldering process. Whether you work with platinum, silver, gold, copper, or brass, it gets the job done quickly and accurately. An excellent tool for repairs, it makes re-clawing straightforward, and annealing wire and sheet metal is simple too. It's a great all-rounder for the professional metalsmith, speeding up your entire manufacturing process.
What are the benefits of using micro welding equipment?
Specifically designed and developed for jewellers
Great for repairs on ring shanks without causing discolouration
Uses a high temperature flame in the range of 1200°C-3300°C
Supplied with several torch tips ranging in size from 0.31mm to 0.6mm
An excellent alternative to edge polishing
Safety features include flash backs to the torch and machine itself and only produces gas at a very low pressure which is produced on demand. Pressurised Gad Cylinders are not required
No need to purchase the electrolyte crystals separately – they're supplied with the machine – all you'll need is deionised water and methyl ethyl ketone (MEK)
Has low running costs
Environmentally friendly (the only by-product is water)
Light weight and portable
Interested in pulse arc welders too? Check out our blog on how to use a pulse arc welder and see if our Orion arc welder range could be the right fit for you.
How does the Aquaflame micro welder work?
When electrical current passes through the electrolyte solution in the micro welding machine, it produces hydrogen and oxygen. This then passes through the MEK solution creating a precision flame at a high temperature.
Why choose the Aquaflame micro welder?
The Aquaflame micro welder uses MEK (Methyl Ethyl Ketone) without additional flux to produce a blue flame that does not have any of the negative health or environmental effects that methanol has. The Aquaflame precision micro welding machine also has the added benefit of its flame having a high hydrogen content, meaning that oxidation of your jewellery pieces is less likely to occur.
With varied torch tips available with the machine, you can switch the purpose of the machine depending on what you're working on. For example, choose the number 17 torch tip when you're melting 25-30g of metal. Change the torch tip to a higher number (smaller tip) when you require a smaller, more precise flame – perfect for soldering chain or filigree.
With the Aquaflame precision micro welding machine, all other hand torches become obsolete. The micro welding machine provides you with a complete soldering solution for your jewellery making workshop.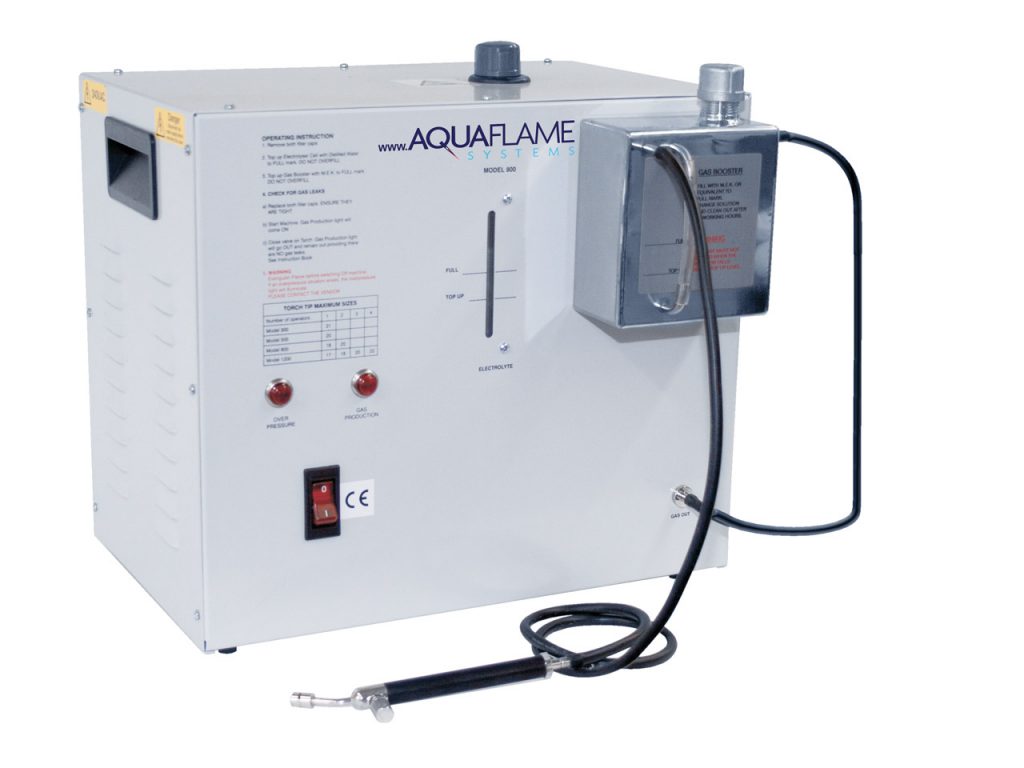 Invest in an Aquaflame micro welder
Invest in an Aquaflame micro welder at Cooksongold today. With a 2-year warranty, and by keeping up with regular servicing of your machine you can rely on your micro welding equipment for years to come, and speed up your manufacturing process considerably.