I am old school…I admit it, some would go so far as to say I have Luddite tendencies; As despite huge advancements in technology and the way we both receive and view information, I am still a firm believer in looking and gathering visual material first hand wherever possible.
I think it's fair to say that as artists we view the world differently. Our skill is often to see beyond the obvious and to pause and to question and in turn, invite others to do the same. Often inspiration can be just as much an emotional response as it is visual and it is our job to convey that through metal, or clay or whichever medium we choose to work in. For me, personally, I find an emotional response difficult to come by, via a screen.
I realise I am in a minority. Younger generations are hard wired to function almost incessantly alongside screens and there is nothing wrong with this, it is the future and the way the world is headed. But, just for a change, I implore you to look up, breath in, smell, taste, feel and truly experience the world around you as I believe this is where you will find pure and unadulterated inspiration, good or bad, ugly or beautiful, it all counts.
Ok. Once you have peeled back the layers of indifference and found something beautiful or hideous that sets your heart beating just a little bit faster, you need to record it. Photography for many is instinctive, quick and efficient thanks to smartphone technology. However, if you actually enjoy drawing and painting and have the time, it can be quite a cathartic experience to go back to basics.
Faber Castell Goldfaber Aqua Watercolour Pencils X12 (997 BF1) and Staedtler Marsmicro Mechanical Pencil, 0.5mm, HB, Blistercard With Free Leads (997 462)
No artist or craftsman should be without a mechanical pencil. Once you try one you will never go back to a normal one…ever! Spare leads are stored in the body of the pencil and are released by simply pushing the end with your thumb to bring them down. An eraser is also housed under the metal end, so it is a great portable solution for taking notes, detailed design work or sketching.
Another useful addition to your bag when out and about is Watercolour Pencils (997 BF1), which work both wet and dry. These truly versatile pencils give you the option of sketching or painting so you are ready for anything which might capture your imagination.
Obviously, you can't sketch or paint without a surface to do so and we all have our preferred choice be it a ring bound or gummed pad. A heavy weight paper will be more adaptable to cope with water should you choose to paint and is more likely to withstand the rigours of being pulled in and out of a bag as you move around.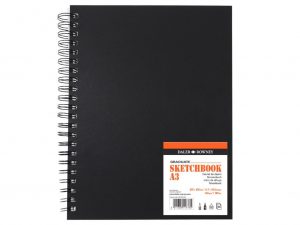 Daler Rowney Graduate Hardback Wired Sketchbook, A3, 45 Pages, 160gsm – 997 475
If you are able to physically gather information in the form of found objects e.g. natural materials or discarded items (and it is legal for you to remove them from the area in which they were found), storage boxes will form a vital part of your kit bag. Wham produce a wide and varied selection of storage boxes both large and small which will keep items safe, clean and contained until you get back to the workshop for closer inspection.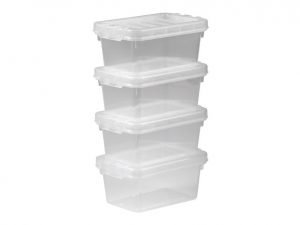 Wham Crystal Pack of 4 500ml Small Storage Boxes, 14.5 X 9.5 X 6.5cm – 997 723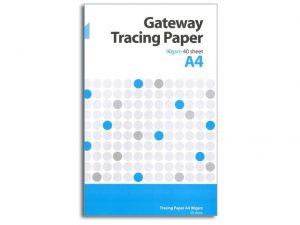 Gateway Natural Tracing Paper, A4 Pad, 40 Sheets, 90gsm – 997 476 and Daler Rowney Series A Layout Pad, A4, 80 Sheets, 45gsm – 997 477
Once you have captured your initial visual information it's time to examine, extract, design and manipulate that imagery into something new and exciting. Preliminary sketches can be overlaid with tracing or layout paper which will help you to quickly explore different options and shapes without having to redraw the whole idea over and over again. You can mirror, twist, rotate and repeat designs with ease which is great for building up a body of work to show customers as well as exploring ideas.
If you are working to commission, it's now time to add the bells and whistles and most people still prefer to do this by way of a good quality, presentation drawing. You will need to add some technical elements to the design e.g. stone options, sizes, price and metal options, so your customer can clearly understand what you are suggesting and make an informed decision.
A2 Lightweight Drawing Board – 997 485 and Jewellery Design Template Small Geometric Shapes – 997 511
A good drawing board is a vital tool when producing technical illustrations. It will quickly allow you to bring order and control to a design in terms of positioning, centring, accurate measurement and scale. Our version features a horizontal, sliding, clear ruler, which is invaluable for a neat and precise presentation drawing. It can be used either flat or slightly elevated for a more comfortable working position if you prefer.
Design templates are another vital tool for bringing accuracy and detail to a drawing. We have a huge selection available covering every conceivable shape you are likely to require including; stone shapes, sizes and carats, bezels and ring shanks and they have (not surprisingly) been extremely popular with customers.
Once your drawings are complete, they will need to be stored and presented in an appropriate manner and this is usually done by way of a portfolio of some sort. Prices and styles vary but a good quality, padded and secure portfolio is always going to look professional whilst fully protecting your work. Most will have a carrying handle or strap making them fully portable and ideal for attending client meetings or trade fairs. Work is displayed in individual clear plastic sleeves which are available to buy separately in packs of five. Choose from either A3 or A4 sizes.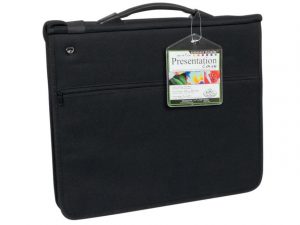 Royal and Langnickel Soft Padded A3 Portfolio, With 3 Sleeves – 997 489
The way you gather, design and present information is as much a part of creating an item, as the making itself. It's vital that it is given the due care and attention that it requires/deserves to help to produce a fantastic end result. Being a designer/maker is a multi-facetted process requiring many different skills, none of which should be underestimated.
Written by Joanna Varney
Joanna has worked in and around the jewellery industry for well over 20 years. She has designed and created her own pieces as a designer maker, as well as working in jewellery retail on a much larger scale, producing designs and NPD for some of the UK's largest high street retailers