Jewellery designer Wallace Regelous favours her saw frame among her other jewellery tools, using it to create a variety of pieces featuring ivy, the sea and animals – and sometimes even a kinetic element. Read on to learn more about Wallace's work, the lessons she has learnt from her time in the industry and more.
Let us know a bit about yourself, detailing your background, study and training in the jewellery making industry.
I am Wallace Regelous. I have been making jewellery for 15 years. It became a full time career following redundancy from a social care job.
Initially my work focussed on beads, woven and chain mail. I wanted to create designs, but still adding a splash of colour, so I switched to silver and attended a week long course with Tony Tigg to develop an understanding of stone setting the traditional way. My learning of everything else has been through the very supportive Cooksongold forum, books, trial and error, and sometimes video. I am currently undertaking a part-time 'Masters in Jewellery' at the University for the Creative Arts.
Tell us about your work – are there any particular materials or techniques that you favour?
I love working with silver and most gemstones. My favourite techniques are soldering, piercing, and stone setting – particularly flush and tube, although I can do many more.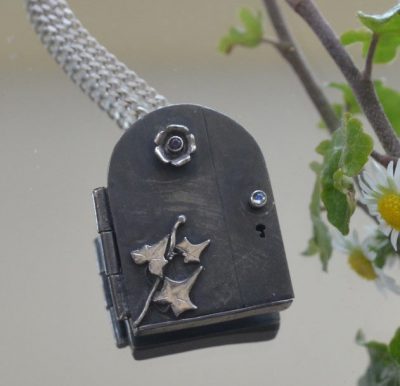 I like to use layers and rivets in my designs, which also means it is sometimes possible to add a little kinetic aspect too.
How would you best describe your design style?
My design style continues to evolve. However, it would come under contemporary, fun, and kinetic if I had to define it.
As a jewellery maker, where do you like to get your inspiration from for your pieces?
I enjoy designing and making wearable jewellery with ivy and insects. Although I am happy to also look for inspiration from architecture, the sea, animals, oh, and sometimes and science fiction.
Do you have a piece that you have made which you favour or are particularly proud of?
I think my one of my favourite pieces is the riveted and layered pendant based on the Great Wave at Kanagwa.  It was for a commission and took a long time to work out.  If I were to make it again, I think I would make the little boat bob up and down.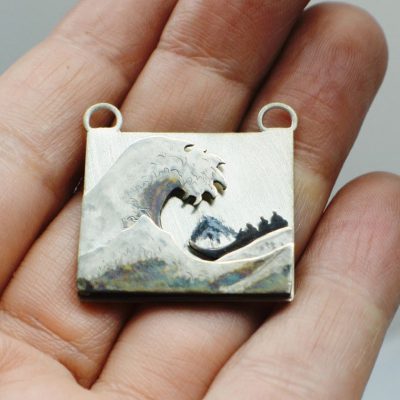 But it does compete with seahorse – this has soldering, stone setting and piercing throughout its design. It started off as a basic design, similar to ones I generally make, and then I saw a sea-dragon, and thought it would be fun to add a bit of colour.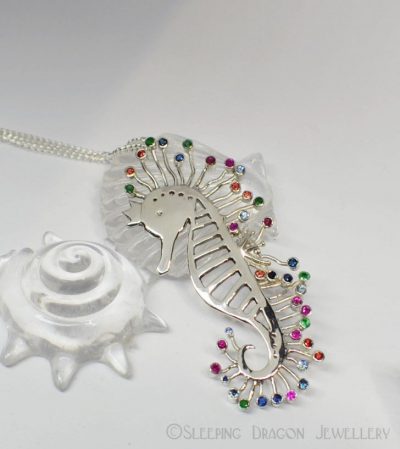 What is the one item in your jewellery making workshop that you could not live without?
Ooh only one?  I have two, my little Smiths torch and my saw frame. But in a power cut, I will always be able to use my frame, so will go with that beauty.
My saw frame is by Green Lion. It has changed the way I work. I have dyspraxia and sawing is a challenge in its own right. However, the weight and balance this frame provides has meant that what was once a frustration and hindrance has become a joy, and something I no longer need to avoid in my designs.
What upcoming trends do you see being popular soon?
It could be interchangeable jewellery. Something that has more than one use. It could be a pendant or it could be a brooch, or it could be earrings.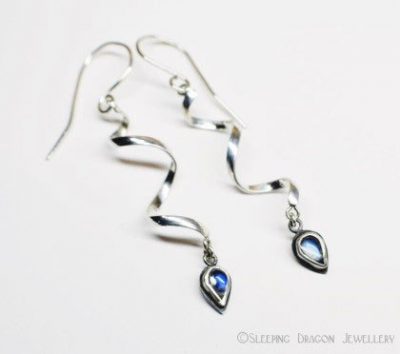 What is the most valuable lesson you have learnt from your time in the jewellery making industry?
There are many, but my top three are:
Buy the best tools you can afford and use a trusted, reputable supplier, like Cooksongold. When making a big purchase, you know they are behind you if something should ever go wrong.
I cannot understate the need for proper insurance if going to craft fairs or exhibitions.
General networking is important, but so are forums. They have a wealth of knowledge, experience and people who are willing to share their skills.
Do you have any particular advice that you would give to up and coming jewellery designers, or someone interested in getting into jewellery making?
Enjoy and learn from what you do, and share the knowledge.
It is okay to make mistakes, they help you to learn. Don't listen to the nay-sayers – try it, you might be happily surprised.
…and finally, time for a bit of fun in our quick fire round! Tell us your favourite…
…food – cherries
…gemstone – Ruby
…place – my home
…animal – cats
…colour – purple
For more details on Wallace's work, you can visit her website or feel free to check out her Facebook page, Twitter page or Instagram page.