With a background in blacksmithing, jewellery maker Samuel now uses a lot of traditional silversmithing techniques in his work, along with casting and forging, to make a range of simple yet stunning designs. Discover where he gets the inspiration for his pieces from and more in the following interview.
Let us know a bit about yourself, detailing your background, study and training in the jewellery making industry.
My name is Samuel Phillips, a silversmith, jeweller, designer craftsman. Growing up in a coastal village, I was always around my grandfather's boat building yard and encouraged to build and create, to craft objects from scrap and build things to keep myself entertained. At the age of 16, this was translated into a new medium of hot steel when I began a metalsmithing course at Plumpton College. This also introduced me to my first contact with jewellery making as a part of the course using silver, brass and copper to craft small earrings.
Finishing this course and moving onto university, I quickly found silversmithing and jewellery to be my true passion and managed to achieve a high grade BA (Hons) in Contemporary Design Crafts, specialising in jewellery/silversmithing at Hereford College of Arts in Herefordshire. I decided to head back to my home town to establish myself and start my journey in creating, and have been working for myself and a craftsman and silversmith for just over a year.
Constantly adapting to the requests of customers, I am a jack of all trades, creating one off pieces for private clients, supplying various galleries in the south east and recycling old pieces into new and interesting works for my clients. The joy of creating a wide range of interesting projects is what drives me, always looking for the next technical challenge and striving to achieve the vision of the customer whilst retaining my own aesthetic style.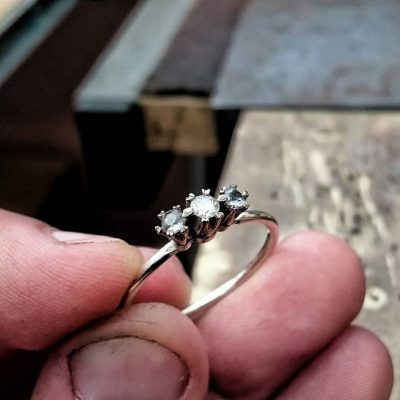 Tell us about your work – are there any particular materials or techniques that you favour?
I use a lot of traditional silversmithing techniques as a basis for my work, whilst mixing my varied skill sets in to create some more unique shortcuts and visual effects within my work. My experience as a blacksmith gives me more of a specialism in hot work, including casting and forging, which gives me a great advantage in recycling and creating custom silver stock.
My most commonly used techniques at the moment are a few varieties on the classic reticulation of silver. Using purely a torch, the force of the gas and gravity, I create a variety of reticulated earrings with a range of styles by manipulating the molten surface of the material. I've also developed a form of reticulation that works with brass from my days at university, creating intricate ridges and textures within the material. Using high heat at a constant temperature and a pick, I can carve gauges and ridges into the surface of the molten brass. It's a technique that although hard to grasp, is instantly satisfying to the eye.
My most commonly used material is sterling or recycled silver. Its versatility offers me so many possibilities to create with. For texture and tone, I often use an oxidising process combined with minimal cleaning to create visual contrast between blackened silver and a high polished surface. I have also started to work with more and more stones, setting them and creating my own cuts so this is a part of silversmithing I'm focusing on a lot at the moment!
How would you best describe your design style?
My design style is mostly minimalist with some elements of organic and industrial styling.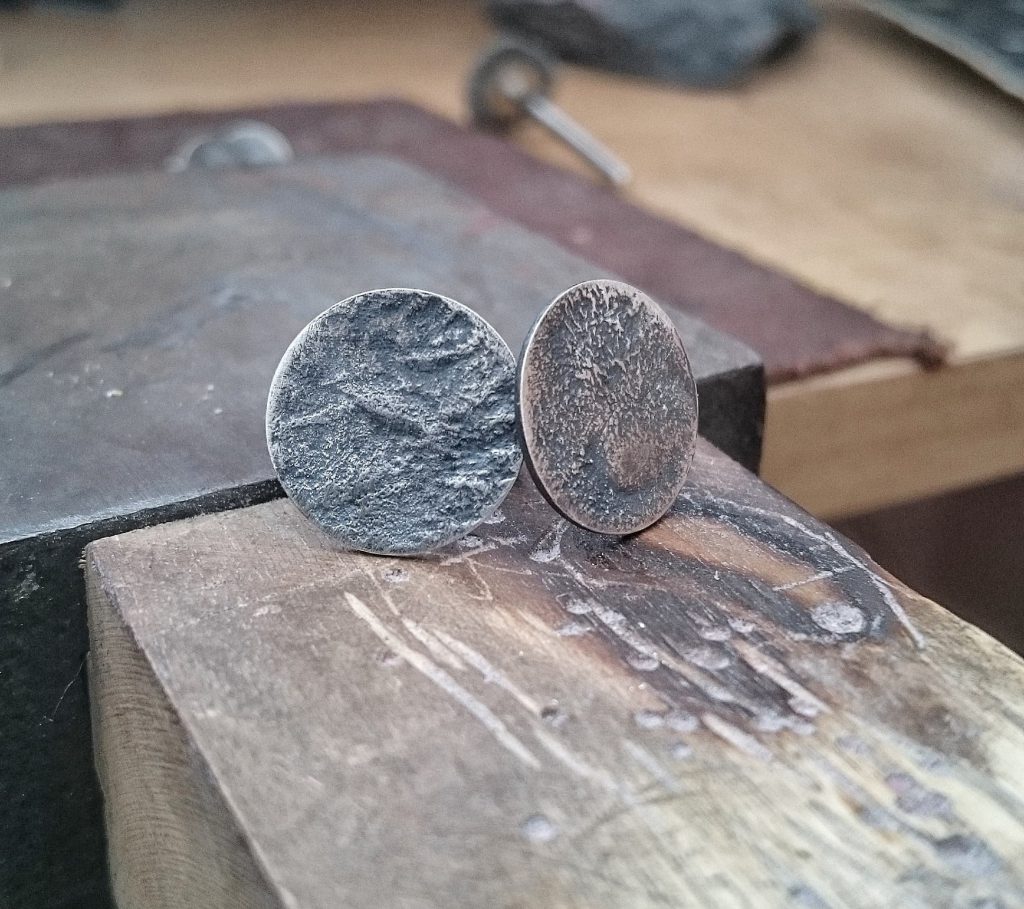 I tend to think less is more within my work, and by using contrast with finishes you can turn something really simple into a stunning everyday wear piece. My little reticulated studs are an example of this, using oxidised black silver against a polished area creates a really interesting visual. I also use elements of traditional jewellery construction, mainly for private ring commissions. A high polish with delicate stone setting and prongs is a classic look for any bride to be.
My main premise when designing is making something simple that is stunning. With something that has a bold look and a clean finish, every part of the piece matters. The little edges of a stud being polished makes all the difference to me.
As a jewellery maker, where do you like to get your inspiration from for your pieces?
Most of my inspiration comes from my surrounding environment. I live near the south east coast so my materials to draw from are beautiful and immense. I often use line drawing over images to pick out forms and shapes, as well as recreating unique textures from objects I find outside.
A lot of my work begins with an organic form or texture that I then transfer into a contemporary medium or edit to make it tangible. A few of my studs are based on the light gravel and sandy textures from the beaches of rye, others based on small leaves I have found around when walking. All these small objects and environments we walk through every day hold gems of beauty, I just enjoy transferring into something that will be worn and cherished.
I get the most inspiration from clients, each proposal is interesting and different and interpreting the customer's needs into my own style always creates something unique and interesting. It's the challenge of it all that is most inspiring!
Do you have a piece that you have made which you favour or are particularly proud of?
The piece I am most proud of is likely my fifth brooch from my university final project. I learnt so much through creating the series of brooches overall, and the smallest one of them was the accumulation of a lot of research and experimentation. This work has continued to inform me and develop my practice into what it is today. It's delicate and precise and forced me to consider every little bit of the process in depth.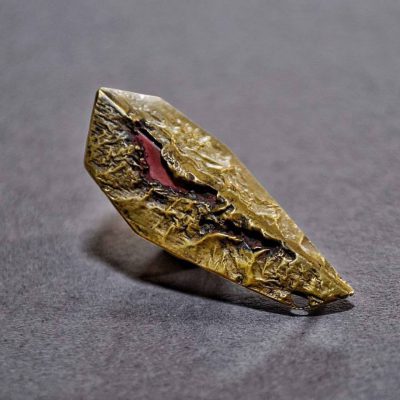 It also informed me of how to problem solve: reticulated brass is no easy task, it's fickle and likes disintegrate before your eyes. Learning an advanced form of molten carving combined with heat control was so important for me coming out of university. It has since been the bread and butter of my practice, helping me make a variety of products that fuel my craft.
It taught me a lot about myself too, these brooches were drawn from environments with significant emotional meaning and stories – translating these emotions into a physical object was a powerful and striking moment of clarity for me. A piece of jewellery with history and with a significant personal bond is the best kind: a literal interpretation of "wearing your heart on your sleeve".
What is the one item in your jewellery making workshop that you could not live without?
I couldn't live without my small hand torch from Cooksongold! I bought it when I first started out making little pendants and rings in my university room and have never had any regrets! Hot enough for most soldering jobs and some tiny castings, it's a versatile product that has a lovely focused flame perfect for the small details. I use it for making all my earrings and delicate solder joins on more intricate rings. It's a perfect tool for batch production and for keeping the heat focused in a tight spot.
I'd also say I wouldn't be much good without my Dremel tool. It's so multi-purpose and the perfect introduction before committing to a proper flexishaft drill. It does everything from classic drilling to delicate shelf cutting when setting stone and polishing. From start to finish, it's the go-to tool for rings and everything else!
What upcoming trends do you see being popular soon?
In terms of materials, I have noticed a lot more rose gold and opal going around. I think with the current financial market some people are willing to spend real money on a genuine piece of rose gold and opal, than continually replacing cheaper pieces. I think this is also due to a rise in more social acceptance with facial piercings, rose gold septum clickers and the like are in high demand.
Moissanite stones are also one of my most requested stones now. With its beautiful clarity that mimics a diamond for a fraction of the cost, many people are just as happy with its tone and quality. It also gives younger business a chance to get into more of the wedding/engagement ring market without placing all their money on a single stone.
What is the most valuable lesson you have learnt from your time in the jewellery making industry?
One of the most important lessons was to know when to stop. I had an awful habit of over tinkering with pieces or not leaving them alone. Knowing when to stop, taking a moment and reflect on the issue is key to being successful. Not everything goes perfectly, and when it fails it takes a little willpower to stop yourself for fiddling and tinkering with something best left alone.  To reflect and find new ways of dealing with the issue is always the best solution, and a practice that has helped me countless times.
Walk away, have a tea and just contemplate the issue, come back and try something different!
Do you have any particular advice that you would give to up and coming jewellery designers, or someone interested in getting into jewellery making?
I'd say don't be afraid to ask for what you think you deserve, one of my main problems when starting was not having the confidence to ask for the proper money for the job. Always ask for what you deserve, most customers understand and the ones that don't can be negotiated with. Part of your job as a jeweller is to explain why it costs what it costs, explain the care and quality of the work and the hard working hours you put into your pieces so they know exactly the level of quality they are paying for. Undercutting yourself is a sure fire way to knock your confidence, whereas completing a great job for a reasonable price fills you with so much pride and prompts you to keep going!
So in all, be confident, be brave with your craft and you'll do well!
…and finally, time for a bit of fun in our quick fire round! Tell us your favourite…
…biscuit – chocolate orange digestive
…food – apple
…sport – snowboarding
…city – Hereford
…film – Good Will Hunting
For more details on Samuel's work, you can visit his Etsy shop or feel free to check out his Facebook page or his Instagram page.