Enamel and precious metals feature a lot in the work of enamel artist and goldsmith Rudolf Molnar, who gets the inspiration for his unique pieces from mythology and nature among other things. Read on to learn about his background, his favourite piece and more…
Let us know a bit about yourself, detailing your background, study and training in the jewellery making industry.
I am an enamel artist and goldsmith. My love of medieval history brought me to the workshop of a blacksmith who taught me the art of metalsmithing – casting bronze and brass and making swords, daggers and other applied arts. Along the way, I had the good fortune of meeting and studying with a well-known goldsmith, learning techniques of granulation, stone setting, soldering and best of all enamelling in both silver and gold.
Tell us about your work – are there any particular materials or techniques that you favour?
The art of enamelling is a time consuming process of fusing glass on to metal to create a design. It is one of the oldest methods used to decorate metal. To master the technique, the craftsman must be patient and calm with steady hands.
The reward of working with transparent enamels on silver and gold is the beauty of brilliant reflective colours, produced by the refraction of light passing through the coloured enamel to the metal.
How would you best describe your design style?
I combine natural gemstones with enamel designs to create a union of earthly delights.
As a jewellery maker, where do you like to get your inspiration from for your pieces?
My collection of jewellery is inspired by mythology, folklore designs, symbols and nature.
Do you have a piece that you have made which you favour or are particularly proud of?
I recently made a cloak brooch for the British Society of Enamellers Enamoured exhibition, which is inspired by Anglo-Saxon brooches from 6th century. The inner enamelled piece can be worn as a small separate brooch.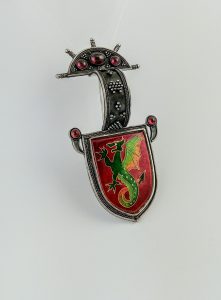 What is the one item in your jewellery making workshop that you could not live without?
I make jewellery for other people. I have drawer full of scrap items that will turn to new, better pieces one day. I have just one silver ring with Blue John Stone that my wife bought me in Castleton, and my wedding ring made by my friend.
What upcoming trends do you see being popular soon?
Modern CAD/CAM designs and 3D printing is pushing the boundaries of expression for every artist. This is the way that will lead in future.
What is the most valuable lesson you have learnt from your time in the jewellery making industry?
Every piece is waiting for the right client. Don´t be sad if you will not sell everything on the first show or exhibition.
Do you have any particular advice that you would give to up and coming jewellery designers, or someone interested in getting into jewellery making?
It looks like is it not hard work but in fact is it much harder than it looks on the first sight. All the stones and metals need skilled hands and good eye to become unique jewellery.
…and finally, time for a bit of fun in our quick fire round! Tell us your favourite…
…gemstone – sapphire
…city – Saint Malo
…sport – cycling
…animal – cat
…colour – blue
For more details on Rudolf's work you can visit his website, or feel free to visit his Facebook page.