Jewellery maker Nadège uses a variety of materials to create her designs, from traditional precious metals to plastic and other recycled components. View some of her work, read about where she gets her inspiration from and more in this Designer of the Month interview.
Let us know a bit about yourself, detailing your background, study and training in the jewellery making industry.
Based in Malta, I set up a small jeweller's workshop back in 2005, where I kicked off my jewellery designer/maker venture under the name Nadège Renée, right after I received my Higher National Diploma in 3D Design. For four years I used to design and produce contemporary silver jewellery in the evening, first as a hobby, then it soon became my part-time job. In 2009 I decided to broaden my horizons and enrolled for a top-up year to do the B.A (Hons) in 3D Design and Interior Design (specialising in jewellery).
After my studies, I decided that I wanted jewellery making as my career. I took the plunge in 2010, and since then I have been designing and creating my own limited edition collections, whilst mainly designing and producing bespoke pieces for my clients in gold, silver, palladium upon request and various precious or non-precious materials.
Tell us about your work – are there any particular materials or techniques that you favour?
Uniqueness is the underlying concept of Nadège Renée jewellery, and I enjoy working with anything that comes in hand, literally!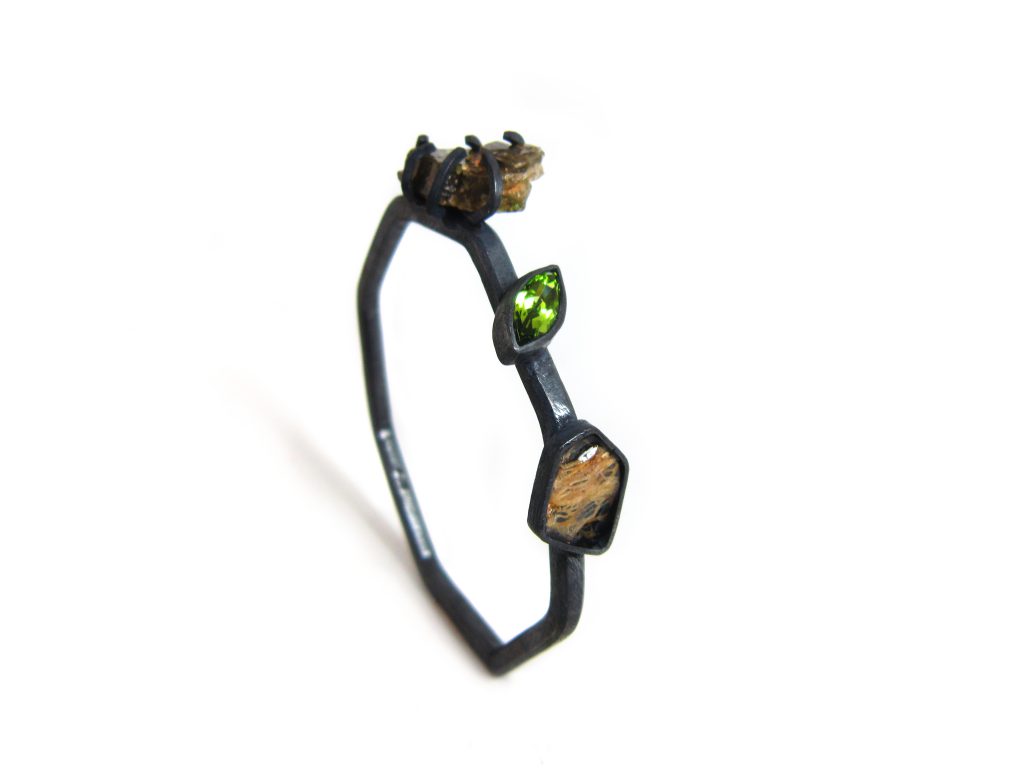 Quite recently I created two collections that make use of the dried leaf of the prickly pear and micro bleach plastics. I like to consider all materials that I might encounter for possible jewellery creations. I also enjoy creating bespoke jewellery by recycling my clients' precious metals and stones. Also, I like to apply the traditional Maltese filigree technique and combine it with unusual materials.
How would you best describe your design style?
My designs do not conform to a particular style. Although I make use of traditional techniques, I uplift their use into a contemporary style. My collections also vary in styles since during the design process I try to keep three things in mind: the type of person who will be wearing the particular piece, the occasion when it will be worn, and with which combination of apparel it will be worn. This line of thought makes up different models of wearers which can be defined by elegance, casual, playfulness, and so on, thus I define the particular design style of each and every collection to the model I create in my mind to be able to cater for wearers of different styles and tastes.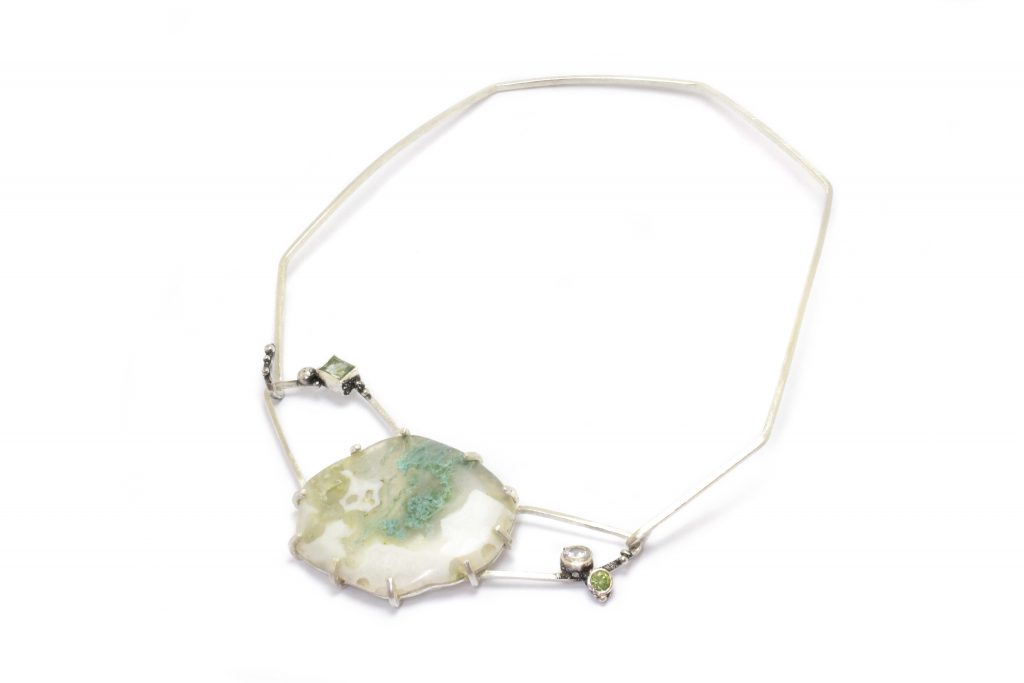 As a jewellery maker, where do you like to get your inspiration from for your pieces?
Inspiration is a strange thing! It can come literally from anything and I find that most of the times I cannot define the source of inspiration to most of my projects. Most of the time the design is already in my head, and I find myself fiddling with metal and sketching up dimensions.
Many times the inspiration also comes from the workability of the material itself. If I decide to include a particular material with metals, the workability of the material in question also plays a part of the design idea per se. Working in the creative field, one unknowingly may be inspired by daily things around us, be it from another functional object, patterns, architectural designs as well as inspiration from nature itself.
Do you have a piece that you have made which you favour or are particularly proud of?
One of my own favourite pieces is the Tentillum neck piece. This neckpiece is an analogy of the living tools of a designer/maker like myself – our hands. Being directly inspired from the fluidity and the beauty of octopus' tentacles, the word Tentillum literally means 'little tentacle'. Hand-fabricated from sterling silver, 18ct yellow gold and freshwater pearls, and the neck piece was made from 106 individual components made from domes and hemispheres on structures. The individual components of this piece are not static, they move, and when worn the 'cups' always find a different combination of fitting into each other.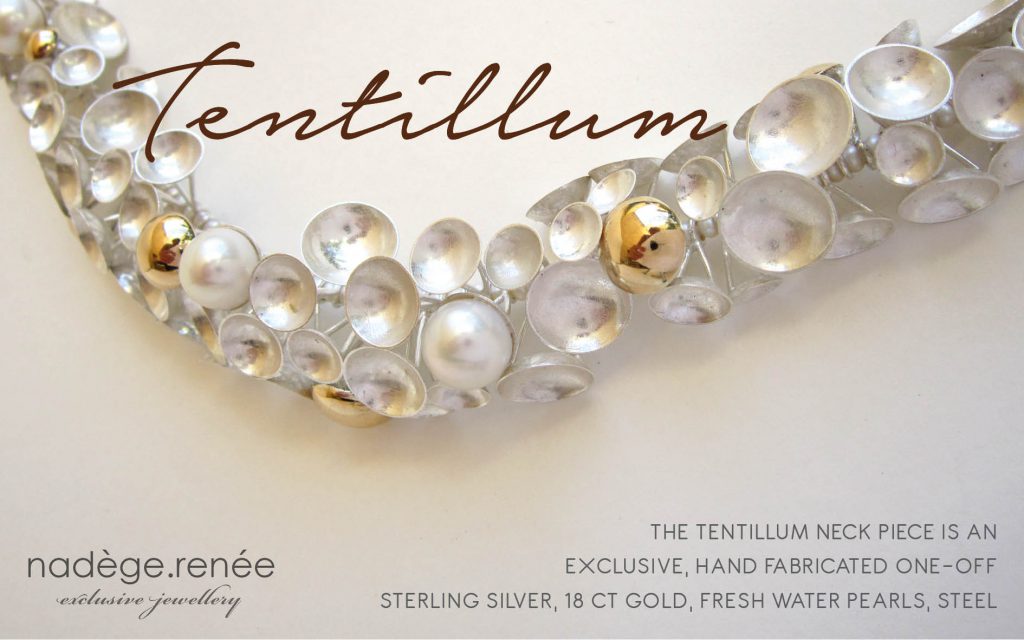 When handled, Tentillum delivers the delicate clicking sounds of silver, whilst it firmly holds its gold findings and the lustrous freshwater pearls. Launched at the Malta Design Week in 2014, in that year the neck piece was also awarded 1st Prize at the Premju Gieħ l-Artigjanat Malti in the Craft Products category, by the Malta Crafts Council.
What is the one item in your jewellery making workshop that you could not live without?
All the tools and equipment in my workshop are indispensable, but that one item that I just couldn't live (or work) without is my music speaker! Mainly I listen to rock music from the 60's and the 70's, but not just that. Music just puts me in the right mood. Being self-employed, having no colleagues and human interaction for many hours of the day, music keeps me company as I work along.
What upcoming trends do you see being popular soon?
In commercial jewellery, trends are always evolving, which could mainly be affected by fashion trends. In respect to jewellery designer/makers like myself, I think that in the past years there has been a popularity in the use of upcycled materials. Designers have been making use of materials that are not commonly associated with jewellery, and that would end up as trash. I feel that this is resulting in an upcoming and popular jewellery trend that I personally greatly welcome since it makes ethical use of materials.
What is the most valuable lesson you have learnt from your time in the jewellery making industry?
In this field I have learnt that one simply cannot know enough, there are always new things to learn, new techniques and materials to discover and to adapt to your own working ways. If one limits himself/herself to the comfort zone of the techniques already known and does not deviate and experiment with new things, it will simply limit oneself, creativity and consequently business growth. Also, by trying out new techniques, failing and re-trying, being able to find alternative solutions or succeeding in solving design problems is in itself the best morale boost a creative person can receive.
Do you have any particular advice that you would give to up and coming jewellery designers, or someone interested in getting into jewellery making?
To any aspiring jewellery designer/maker, I simply suggest going for it. Although no start is never easy, at the end of the day it's awesome to be able to evolve the passion of something that you love doing into your career. Also, collaborate with other designers, even if not in the same field – help each other, share ideas and create projects. I feel that it's one of the recipes for self-growth, knowledge and inspiration.
…and finally, time for a bit of fun in our quick-fire round! Tell us your favourite…
…colour – green
…drink – beer
…place – Koh Tonsay
…gemstone – rutilated quartz
…animal – dog
Want to discover the work of other jewellery makers? Take a look at our interviews with even more Designers of the Month to learn more about their designs, inspiration and more.