Goldsmith Michael Cartwright makes a wide range of beautiful jewellery designs, from one-off commissions to a range of stunning floral jewellery inspired by nature. Take a look at the following Designer of the Month interview to learn more about his pieces, design style and the tools he couldn't live without in his workspace…
Let us know a bit about yourself, detailing your background, study and training in the jewellery making industry.
My name is Michael Cartwright, I'm a Goldsmith who works for a small family run jewellers based in the heart of the South Wales valleys called Jeff's Jewellers. I did a foundations course in Art and Design in college with a plan to then go on to university to study jewellery making, I graduated with a distinction but turned down a place at university when I was offered an apprenticeship through Jeff's Jewellers with Jeff Jones.  I now make pieces of handmade jewellery for the shop and one-off commissions for the public, using and recycling their unwanted gold and silver. I'm still constantly learning after over 20 years at the bench, and although I didn't have the opportunity to go to university to study jewellery, I now use sites like YouTube, Instagram and forums like Cooksongold's to further develop my skills.
Tell us about your work – are there any particular materials or techniques that you favour?
I work with most precious metals from silver to platinum. I work mostly in 9ct yellow gold as we do a lot of work involving recycling customers' old or broken jewellery, 90% of which is usually 9ct. I do like working with rose gold and I've noticed in the last two years or so it has had a bit of a resurgence, and although it can be trying at times when trying to rework it, the finished piece made in this blushing precious metal is always rewarding. I also find it works well for accents for enhancing designs when using with other metals like Silver.
How would you best describe your design style?
I would describe my style as "varied". Although I do like to concentrate on my own designs, a large part of my work involves making bespoke designs and working to the client's specification and brief. So in the morning, I could be working on an elaborate 18ct and diamond brooch, then in the afternoon I could be working with precious metal clay making silver pendants, then spend the evening casting a solid gold spanner to make into a bangle. It is really that varied and that's what I love about my job.
As a jewellery maker, where do you like to get your inspiration from for your pieces?
If I'm working on my own designs, I do take a lot of inspiration from nature. I've recently done a range of concaves spinning bangles, rings and pendants.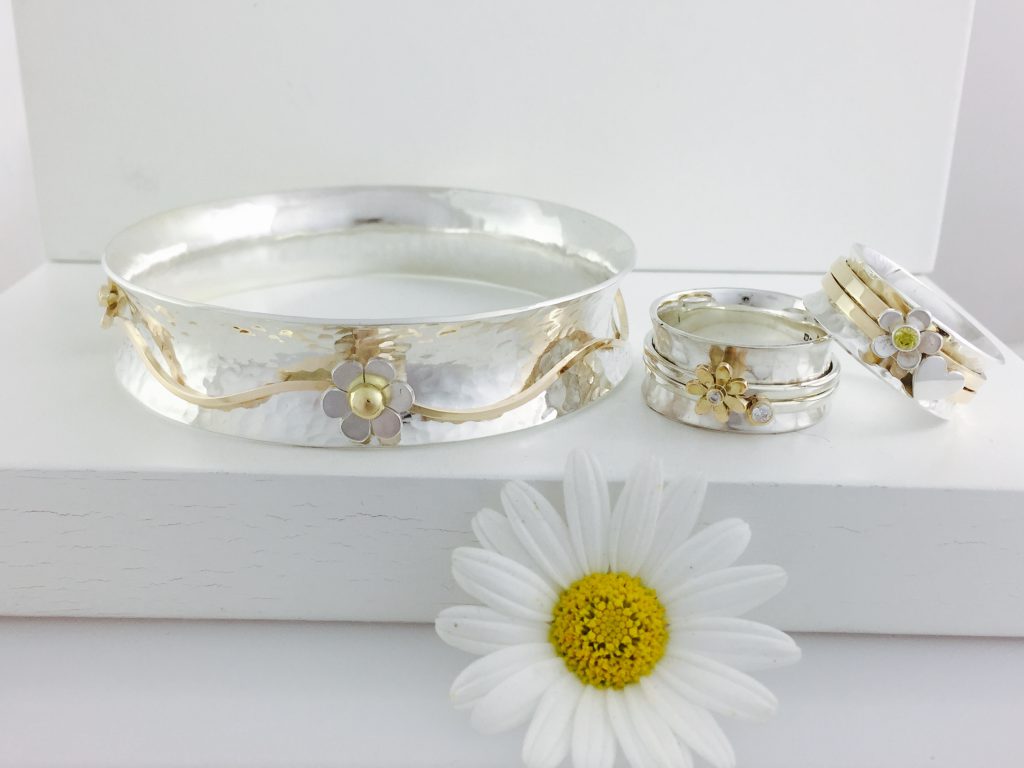 Floral Themed Rings and Bangle
I came up with the designs after visiting the Chelsea flower show in 2015. The designs are loosely based on the free-flowing vines and flowers that were on show. I also came up with the 'flower bud' ring after coming back from the show.
Do you have a piece that you have made which you favour or are particularly proud of?
Over the years there have been many pieces that I proudly look back on, but recently there are two pieces that really stick in my mind that I enjoyed making. One was a bird/owl cage I was commissioned to make using a client's own that was passed down from her mother. It was definitely a statement piece, it was quite large with an opening cage door with a cute little owl swinging on a perch inside and a hidden diamond set underneath the cage.
Another design I enjoyed making was the flower bud ring that I made with a large 5ct chequered cut Citrine, again with a secret diamond set underneath the setting.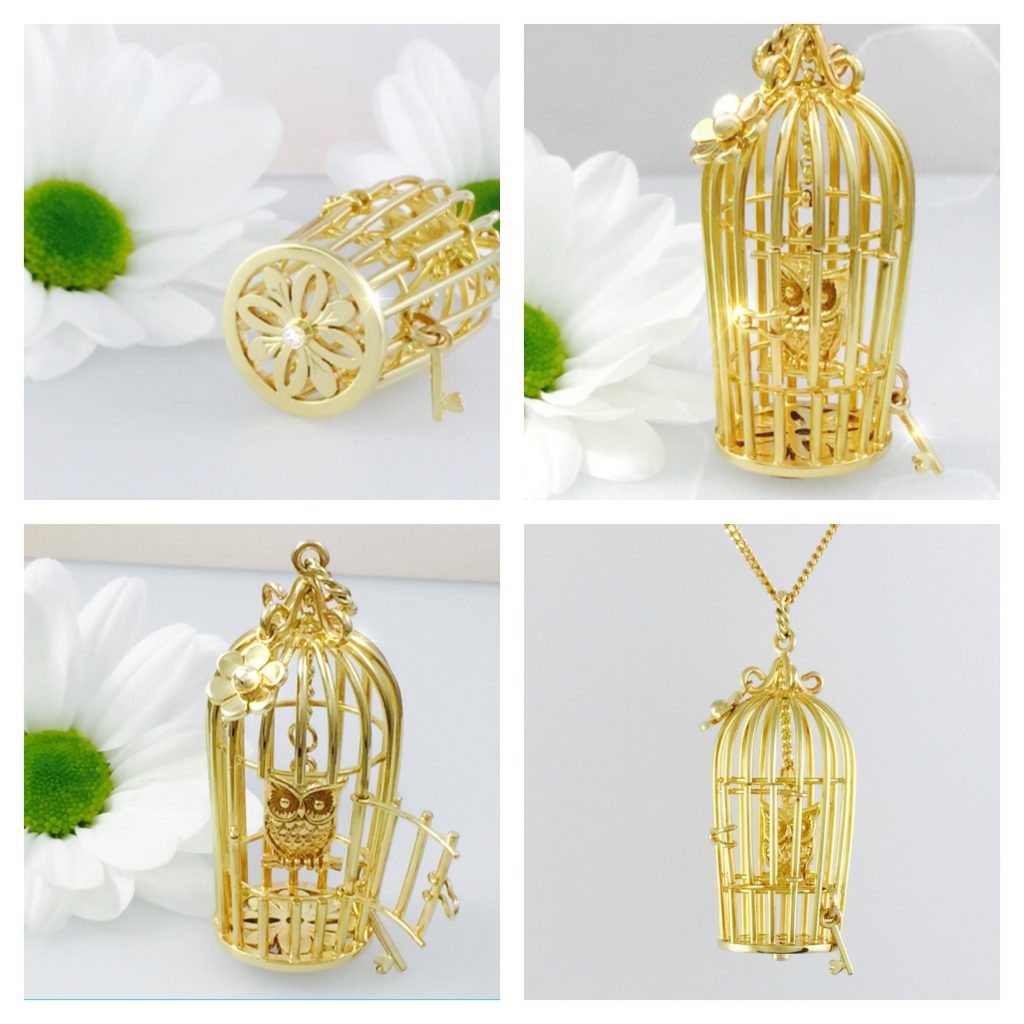 Gold Owl Cage with Hidden Diamond
What is the one item in your jewellery making workshop that you could not live without?
There are so many tools that I used day in day out and most of which I couldn't do without, I must admit I am a bit of a tool junkie and I love to buy new tools even if I don't need them. For instance, I have five saw frames ranging from the standard budget ones to two of the Knew Concepts frames plus the Green Lion one that I absolutely love. My best purchase was probably the GRS benchmate, I wasn't sure how much I would use it but it makes setting so much easier, and although I'm still learning certain setting techniques I find myself using this most days whether it be for rub over settings, replacing a stone in a claw setting or even for holding objects to be engraved. It's paid for itself many times over.
What upcoming trends do you see being popular soon?
There are a lot of companies using 3D printers now, and when used alongside CAD software you can produce some amazing designs. I can see this being a great tool for producing items that would sometimes be seen as uneconomical to make by hand, due to the number of hours it would take.
As I said earlier, I've also noticed a rise in the popularity of rose gold, especially in the bridal market with wedding and engagement rings.
What is the most valuable lesson you have learnt from your time in the jewellery making industry?
Just to get stuck in and believe in yourself. I used to be apprehensive about doing certain jobs just in case I messed it up, but since I adopted the mindset of just give it a go my skills have developed and my confidence has grown. So far I haven't messed anything up that I haven't been able to sort out myself (touch wood).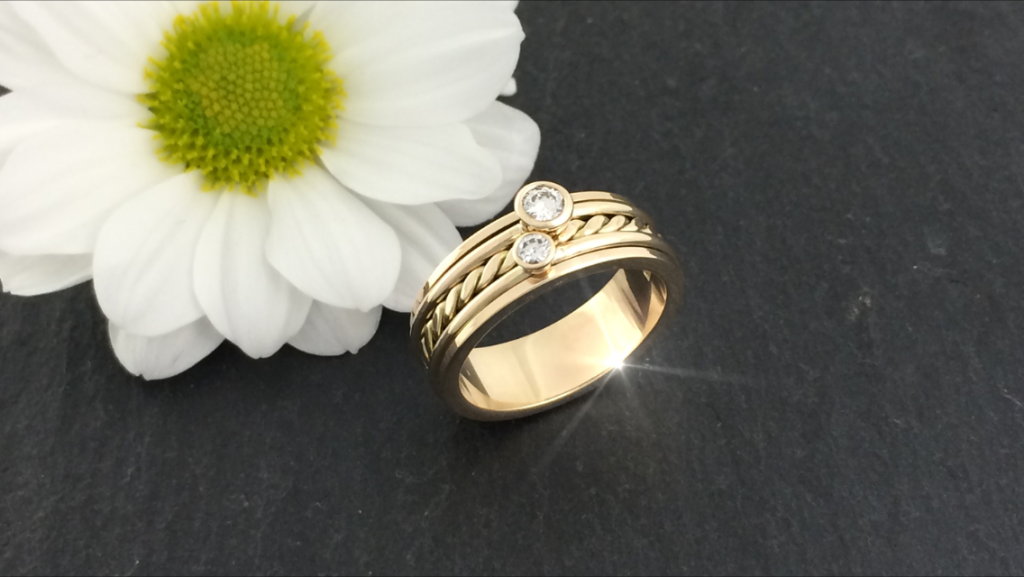 Stacking Rings
Do you have any particular advice that you would give to up and coming jewellery designers, or someone interested in getting into jewellery making?
If you can go to university whilst you're young, do it. Although I never went I do sometimes find myself regretting not going, especially when I look at doing a short course in an area I'd like to improve in and see that it costs upward of £1500 for a five-day course.
…and finally, time for a bit of fun in our quick-fire round! Tell us your favourite…
…sport – rugby
…city – Bruges
…colour – blue
…biscuit – custard cream
…animal – shark
For more details on Michael's work feel free to visit the Jeff's Jewellers website. You can also find him on Facebook or Instagram.