Self-taught jewellery maker Leanne Llewelyn takes inspiration for her pieces from her hippy roots as well as nature, a trend which she sees becoming very popular. Learn more about Leanne and her work in this Designer of the Month interview…
Let us know a bit about yourself, detailing your background, study and training in the jewellery making industry.
I am a single mum raising 2 beautiful boys, running my own jewellery business ESFB (Everybody Should Feel Beautiful).
I am self-taught starting from a young age. I attended a lot of festivals with my dad and grew up in a very hippy background, so making and seeing beautiful beaded necklaces was very norm for me.
Tell us about your work – are there any particular materials or techniques that you favour?
The materials I work with are sterling silver and precious or semi-precious stones.
How would you best describe your design style?
My style is very unique, I want the customer to own their own piece of jewellery just for themselves.
Something that stands out and is a talking piece. Jewellery should stand out and speak to people, not just fade in with its scenery.
As a jewellery maker, where do you like to get your inspiration from for your pieces?
I find inspiration through many things but mostly nature, love and my hippy roots.
Do you have a piece that you have made which you favour or are particularly proud of?
This nature bohemian inspired ring with spectacular opal is definitely one of my most favourite.
What is the one item in your jewellery making workshop that you could not live without?
I couldn't live without my Dremel, any job you need done then the Dremel can always help.
What upcoming trends do you see being popular soon?
I see nature-inspired pieces making a huge impact and becoming very popular, as I feel lots more people are noticing their surroundings and the impact nature makes on lives more. Also, awareness inspired jewellery.
What is the most valuable lesson you have learnt from your time in the jewellery making industry?
Lots of people join the jewellery business with lots of different styles, always stick to your own style.
Do you have any particular advice that you would give to up and coming jewellery designers, or someone interested in getting into jewellery making?
Always clean and maintain your piece as you are working, as it saves so much more time than doing it all when the piece is finished.
…and finally, time for a bit of fun in our quick fire round! Tell us your favourite…
…food – pasta
…gemstone – Opal
…place – at home with my kids and dog
…animal – giraffe
…colour – pink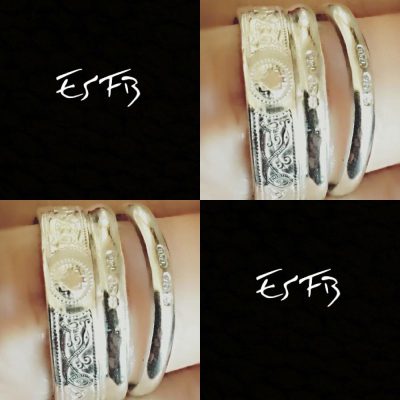 For more details on Leanne's work, you can visit her Facebook page here.