In 2013, Evgeniya gave up her job in marketing to become a full time jewellery maker and designer, and has not looked back since. She now uses a wide variety of techniques and skills to create her antique style, classic pieces, which often feature gemstones. Read more about her work in the following Designer of the Month interview.
Let us know a bit about yourself, detailing your background, study and training in the jewellery making industry.
I had a dream to have my own business and always have had a passion for exploring and learning different arts & crafts. I got started in jewellery making in 2011. I did dozens of courses all around England and Europe, gaining practical knowledge from experienced industry gold & silversmith professionals. I was keen to get a comprehensive jewellery making skill-set. I sold (and still sell) my items online and by 2013 had developed worldwide customer base, and decided that my jewellery making skills were good enough to give up my job in Marketing and devote myself full-time to achieving this dream. I have not looked back since.
Tell us about your work – are there any particular materials or techniques that you favour?
I like to combine my artistic ideas for bold designs with my passion of natural gemstones. I started working in silver then moved on to gold. Since buying a hydrogen welder I have expanded my material capability to platinum and palladium.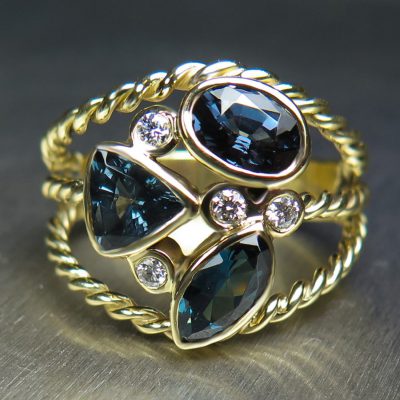 I love to make bespoke handmade items from scratch as it's always challenging and involves using many of my acquired skills. I enjoy doing all steps in the creative process: conceptual design, jewellery fabrication, soldering, engraving, polishing & cleaning, setting stones and finishing. Depending upon the jewellery piece I may go down the wax carving and casting route.
How would you best describe your design style?
It is important for me to widen my skill-set and come out of my comfort zone. In order to do this I always challenge myself, experimenting with different designs and styles. My favourite items are typically chunky jewellery in antique or classic styles.
As a jewellery maker, where do you like to get your inspiration from for your pieces?
I can find beauty and inspiration in different objects around me. It can be beauty of nature, architecture of France, Italy, China and many other countries. I get inspired by historic & archaeological objects of art such as monuments, sculptures, pottery and many more. I enjoy crafts such as wood carving, embroidering, stained glass & mosaics. I like to explore the works of famous painters.
However, having said all of this, I can be inspired just by a gemstone that I want to use to make a jewellery item.
Do you have a piece that you have made which you favour or are particularly proud of?
I always go through stages of "love to hate to love" with all challenging items I am making. Last year I started to make items in platinum, and I have recently finished a beautiful bespoke engagement ring with sapphire & diamonds that I think looks great.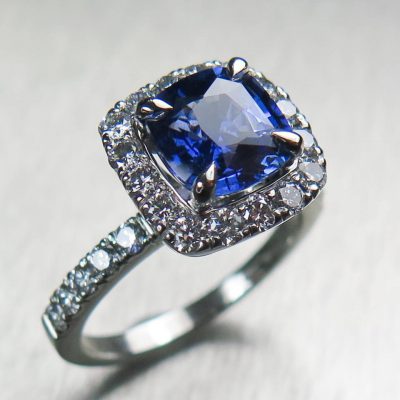 There are also wax carved items I love and I have made a seahorse engagement ring and a chunky ring featuring a pair of lions.
What is the one item in your jewellery making workshop that you could not live without?
This a very hard question as there are many. In jewellery making the more tools the better. It is very important to have good quality & right tools for specific jobs to achieve best quality results.
I would say my micro-motor drill, polisher & pneumatic engraver in one is one of my most important tools. I also cannot live without my microscope, especially for stone setting.
What upcoming trends do you see being popular soon?
More and more people are exploring 3D printing and CAD designs in jewellery making. This encourages designers to explore more exquisite & intricate designs.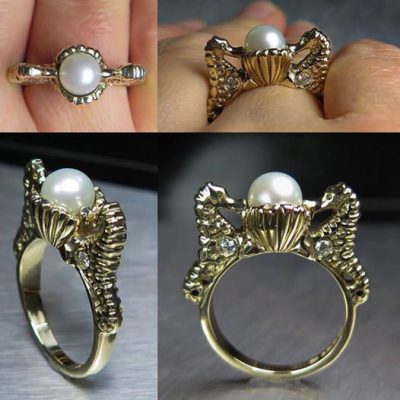 What is the most valuable lesson you have learnt from your time in the jewellery making industry?
Do not rush the job. Slow is smooth, smooth is fast.
Do not overvalue your job and do not discount your work.
I have also received a great support and advice from my husband who said invest in the best tools to both speed up the job and to get the best quality result.
Do you have any particular advice that you would give to up and coming jewellery designers, or someone interested in getting into jewellery making?
Never stop learning & acquiring new skills. Always strive to challenge yourself and be objective enough to be critical of the quality of your work.
…and finally, time for a bit of fun in our quick fire round! Tell us your favourite…
…film – any film with Minions
…sport – Latin Dance
…city – I prefer the countryside
…place – mountains
…colour – yellow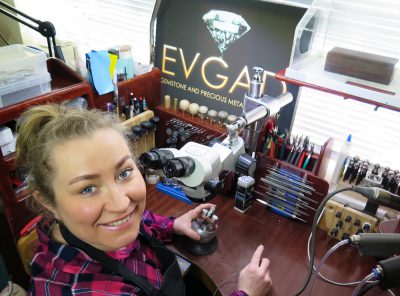 For more details on Evgeniya's work, feel free to visit her website here or find out more about her work on her Facebook page.