Jewellery maker Emma Scott has a natural yet contemporary jewellery designing style, she has learnt a variety of techniques and has shared some very valuable advice. View some of her work, read about where she gets her inspiration from and more in this month's Designer of the Month interview.
Let us know a bit about yourself, detailing your background, study and training in the jewellery making industry.
I am a self-taught jewellery designer, I started off repairing bits and bobs for the charity I worked for around 10 years ago and it quickly escalated from there. I am a very hands-on individual and love the challenge of converting my designs and ideas into actual pieces. I frequently get a bee in my bonnet and everything stops until I can figure out just what I need to do to get the look I want. This has led to me getting involved with lapidary, vitreous enamelling, delft casting, metal clay work, stone setting, forging, general metal work, silk knotting, the list goes on. Every day I sit at my bench I learn something new.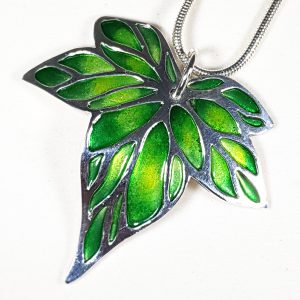 Tell us about your work – are there any particular materials or techniques that you favour?
I rarely make a piece without colour, either enamel or gemstones, I am particularly obsessed with jaspers and opals and like to cut them myself when I have time. I usually make one-off pieces and special commissions, which often allows me to incorporate many different techniques into one piece. Because I make a lot of art jewellery I tend to use silver to design in, I make gold and palladium pieces to order only.
How would you best describe your design style?
I would say that my style is contemporary organic, I tend to go with the flow of my materials, they tend to tell me what they want to be.
Where do you like to get your inspiration from for your pieces?
Honestly, I just don't know, while I was filling in this interview an idea for a set of stacking rings based on a kraken dragging down treasure popped into my head. Who knows where that came from… I do make a lot of foliage-based designs and I particularly enjoy vintage and art nouveau style projects, so I guess I am inspired a lot by nature.
Do you have a piece that you have made which you favour or are particularly proud of?
I am particularly proud of my champlevé enamel leaf pieces, they are very me, they rely on a particular skill set to make (I use fine silver and kiln fired vitreous enamels) and they are really popular with my customers!
What is the one item in your jewellery making workshop that you could not live without?
I have a very old, vintage steel burnisher with a wood and brass handle, originally made for working leather. My friend picked up for me at a car boot sale. It was £2. I use it for marking out designs, setting bezels, lifting claws, cleaning awkward corners, sculpting resin and art clay.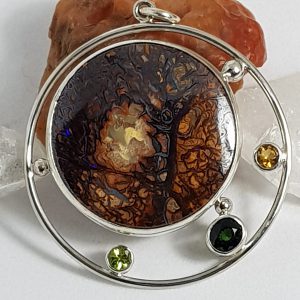 What upcoming trends do you see being popular soon?
Because I make commission work and art pieces it is very hard to say, people tend to ask me for something specific or make a purchase because of the design. I have found however that people are asking more and more for something completely unique to their taste, rather than asking for more conservative designs. I frequently have customers pick out a central stone, tell me they want a pendant/ring/earrings etc. and then tell me to just go for it. I have found that people are becoming more confident when asking for what they want, and are realising that commissioning a piece of artwork jewellery for themselves is OK, they don't have to wait for a birthday or anniversary or a special occasion to do so.
What is the most valuable lesson you have learnt from your time in the jewellery making industry?
Don't chase trends or other people's work, be yourself, have your own style, enjoy yourself. It will show through in your work if you love doing what you do. If you excel at big and bold, do that, do it with everything you have. If you do dainty and petite naturally, go with it, don't force yourself to mimic someone else's style. Do your own thing until it shines. There is no point being like everyone else, be unique, people want to be complimented on their beautiful jewellery and feel like a million dollars wearing it, give them that opportunity and they will buy from you.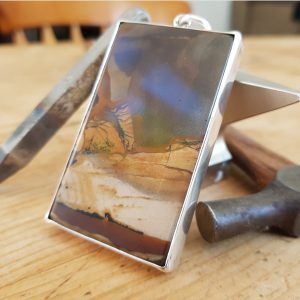 Do you have any particular advice that you would give to up and coming jewellery designers, or someone interested in getting into jewellery making?
If you are new and want to have a go… Firstly, actually have a go, get a few tools, and some copper wire and make yourself some stuff. There are tons of videos online to see how things are done. If you get hooked, you will find yourself knee deep in tools and precious metals in no time at all.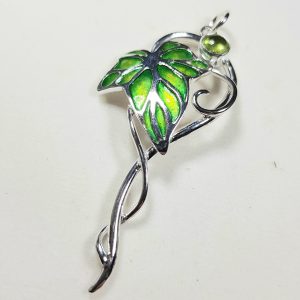 For designers… Make a quality product. Cheap is everywhere, offer people something they cannot get for £15 from a big online chain. Do not be disheartened by the fact that people can buy a mass manufactured product for a few pounds, don't try to compete with mass manufactured stuff, you are not a machine and you will lose, but machines cannot create art, that is where you will win every time.
Finally, time for a bit of fun in our quick-fire round!
Tell us your favourite…
Colour – Red
Biscuit – Tunnocks Caramel Wafer
Drink – Tea, in enormous mugs, must have biscuit, see above.
Place – The Discworld
Animal – All of them
Gemstone – Jasper
Food – Spaghetti
Sport – No thank you.
Film – 28 Days Later
City – Amsterdam
Many thanks to Emma for being our Designer of the Month of October and for sharing this information
Want to discover the work of other jewellery makers? Take a look at our interviews with even more Designers of the Month to learn more about their designs, inspiration and more.