With over 10 years' experience of using silver clay to make jewellery, Claire is now developing her silversmithing technique. She likes to take inspiration for her designs from a number of sources, including her home county of Dorset and the Jurassic coast. Read on to find out more about her work…
Let us know a bit about yourself, detailing your background, study and training in the jewellery making industry.
I have always felt the need to create for as long as I can remember. Whether it was a whittled stick, from down on the farm where I grew up, or friendship bracelets to give to my friends.
At school I particularly loved Art. I would always be on the lookout for little treasures to collect to make things with later. I ended up with A-levels in Art and Art Textiles and then moved onto a Diploma in art foundation at Weymouth College. It wasn't until my early 20s that I realised it was jewellery I had to make.
I somehow stumbled across a fairly new material called Art Clay Silver. This material gave me a way into creating the type of jewellery I craved to make. I read all the books, watched all the videos and attended some courses, to learn as much as I possibly could. Now I have over 10 years of experience using silver clay. Along the way I've been evolving and now use mostly traditional silversmithing techniques to create my items. I am learning new skills every single day.
Tell us about your work – are there any particular materials or techniques that you favour?
Though I still work with silver clay (Art Clay Silver being my favourite), I am starting to move more into the traditional silversmithing techniques.
Since moving into my own workshop space a year ago, it has allowed me to fill the room with better tools and create spaces so that I don't need to pack away everything before I move onto the next stage, which is what I used to have to do when I worked at home. I'm very lucky I now have a space for soldering, a space for silversmithing and a space for silver clay.
How would you best describe your design style?
That's a tricky one as I mainly make what I would like to wear or buy myself. So I have a few different collections depending on what inspired me at the time.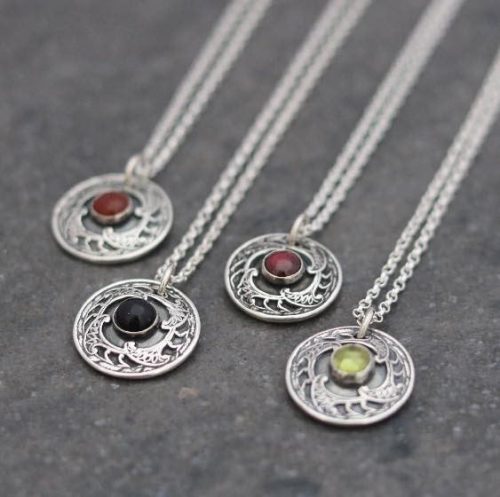 My first collection has been inspired by the place I live in Dorset, the Jurassic coast and the landscape. My next collection was inspired by contrasting textures and mosaics. I'm now starting to explore inspirations from my time travelling the world.
Do you have a piece that you have made which you favour or are particularly proud of?
It's possibly the simpler piece from my Mosaic Collection, but it really makes me feel something when I look at it. I love the tiny little tiles of silver, the texture, the shine and the pattern. When I was making it back in the summer last year, I had in mind a lovely round mosaic table people have in their gardens. When I look at this pendant it makes me think of a hot summer's day, sat with a glass of wine on the table, watching the flowers in the sun.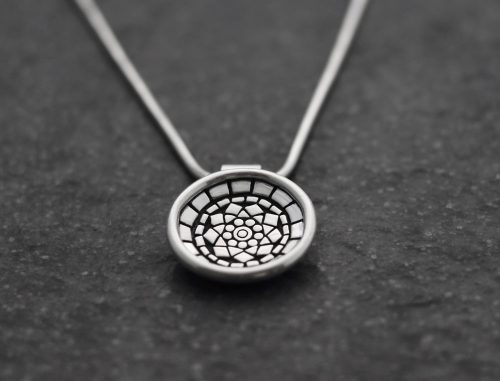 What is the one item in your jewellery making workshop that you could not live without?
Ooooh, there's so many. But going back to the start, my butane torch. I wouldn't have been able to fire my silver clay without it. I use it to solder everything now too. It's just a large chef's torch and has lasted me 10 years! It's just starting to play up a bit now, so will have to either buy a new one or look into a proper silversmithing one.
What upcoming trends do you see being popular soon?
I have seen metal clay gain more attention over the years, I think it intrigues a lot of people. With new and easier to work with types coming out, and more classes and workshops available, I'm sure more and more people will be giving it a go.
What is the most valuable lesson you have learnt from your time in the jewellery making industry?
Stay focused. Keep sight of what your aims are. As long as I stick to making items that I like, then I know I'm on track. There's quite a few items that I've started to make and realised I really don't like this style" and just abandoned it.
If you don't like an item you are selling, then you will always feel a bit reluctant to sell it. I'm slowly building my confidence enough to be proud of all my jewellery.
Do you have any particular advice that you would give to up and coming jewellery designers, or someone interested in getting into jewellery making?
It's never too late. I thought I had missed my opportunity to learn how to make jewellery, as I didn't finish university. But if you really want to do something you have to find a way. After just over 10 years, I am finally starting do what I dreamed of doing.
…and finally, time for a bit of fun in our quick fire round! Tell us your favourite…
…food – lemon cheesecake
…gemstone – Black Onyx
…place – on top of Colmers Hill
…animal – cat
…colour – purple
For more details on Claire's work, you can visit her website or feel free to check out her Facebook page, Twitter page or Instagram page.