The natural world is a big feature of jewellery designer Alison Young's handmade pieces, in particular rare black coral which takes centre stage as part of her black coral jewellery collection. Learn more about her design style, inspiration and more in the following Designer of the Month interview.
Let us know a bit about yourself, detailing your background, study and training in the jewellery making industry.
I have always enjoyed experimenting with design – making and organising objects into aesthetically pleasing arrangements. I learnt to knit as a small child and continued to enjoy colour and texture in knitting throughout the 1980s.
I didn't regret choosing to study English at university, and I found a great deal of fulfilment in teaching literature in further education for 27 years. Whilst some aspects of my creativity were satisfied through teaching, collecting ceramics and textiles and knitting, I was hugely inspired when, after taking redundancy from work in 2009, I enrolled on an adult education silversmithing course. My tutor encouraged me to develop my first collection which featured copper leaves and autumn colours.  The course began in the autumn and we started by learning metal working techniques using copper; it seems inevitable that I should have used those techniques to roll and pattern the copper with leaf skeletons, saw out the delicate shapes and then colour them with the richness of the autumnal shades of the trees and fallen leaves.
I continued to learn further traditional silversmithing techniques and developed my work into a number of collections. My work has been for sale at art and craft shows and in galleries throughout the UK.
Tell us about your work – are there any particular materials or techniques that you favour?
Whilst my work uses silver settings, I enjoy featuring a variety of natural materials, including petrified wood, sea bamboo and rare black coral as well as gemstones. Colour and texture is very important to me and I am drawn to asymmetrical and irregular shapes, so I tend to favour gemstone chips rather than beads. A recent collection uses hand formed ceramic beads, partially glazed in earthy colours, which were made from Yorkshire clay by a ceramicist in Cardiff. Copper is also often used as accents in my jewellery. I enjoy finding materials that I like because of their colour, texture or shape and then designing my work around them.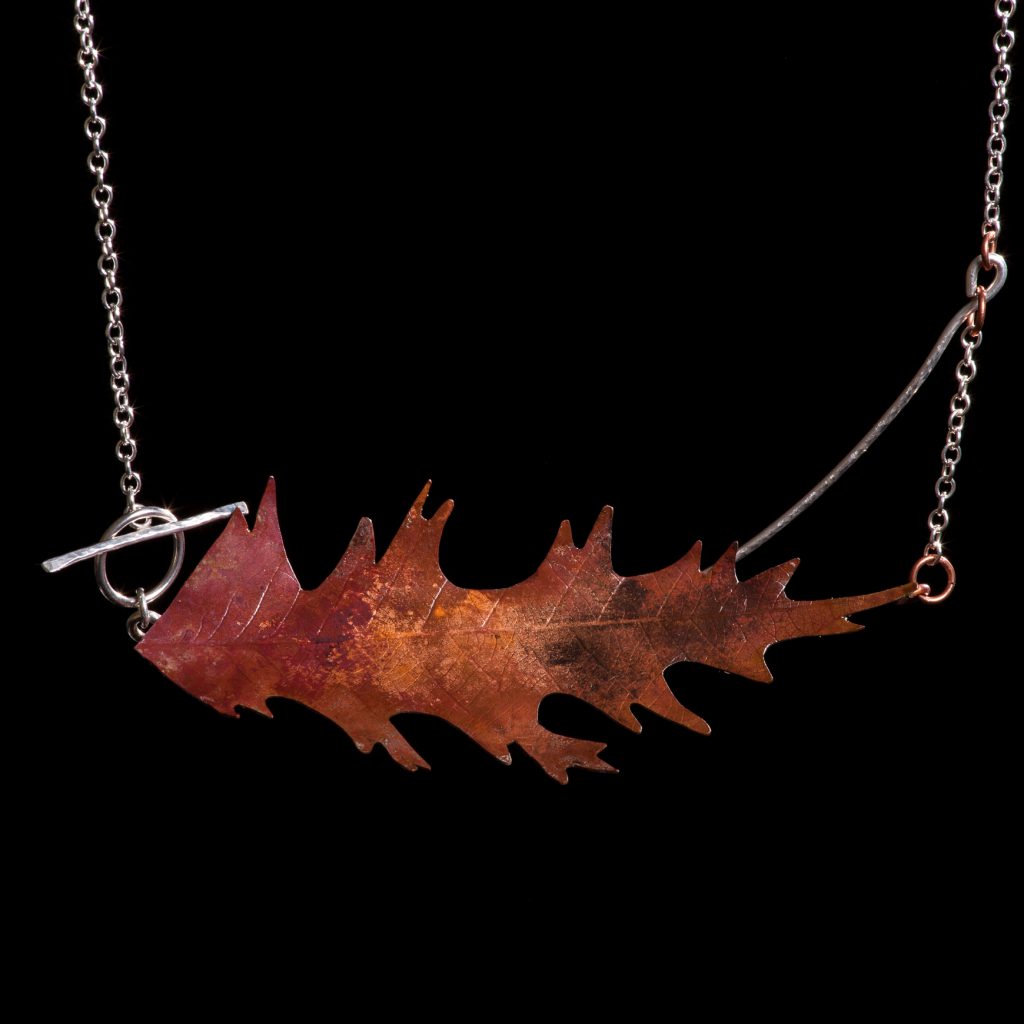 I use traditional silversmithing techniques including metal piercing, hand forming, soldering, stone setting, finishing and polishing. I also reclaim silver from pieces of scrap. For my copper leaves I heat borax to colour and patinate the metal, and then varnish to preserve the finish. Seaside pieces use reclaimed silver rolled into an irregular sheet, textured by reticulation and then left with the pickle from cleaning unpolished in an attempt to resemble driftwood.
How would you best describe your design style?
I would probably describe my work as contemporary silver jewellery, although it often incorporates copper, gemstones and natural materials such as petrified wood, sea bamboo and black coral. Some of my necklaces are bold, statement pieces but I also am drawn to making more delicate, simple pieces with a bit of a twist. I make all my own findings which I often use at the front of my work, and I also like designs that are asymmetrical. My work has been described as unique and stylish but most importantly, wearable.
As a jewellery maker, where do you like to get your inspiration from for your pieces?
I suppose I am generally inspired by the natural world around me; I like the roughness and irregularity of natural objects, of stones, and sticks and bark, so that I prefer to use chips of gemstones rather than beads. Colour is also very important to me and I love the greens in nature contrasted with autumn colours. I also find that much of my work is asymmetrical and I often use fastenings at the front of my work, making them an integral part of the overall design.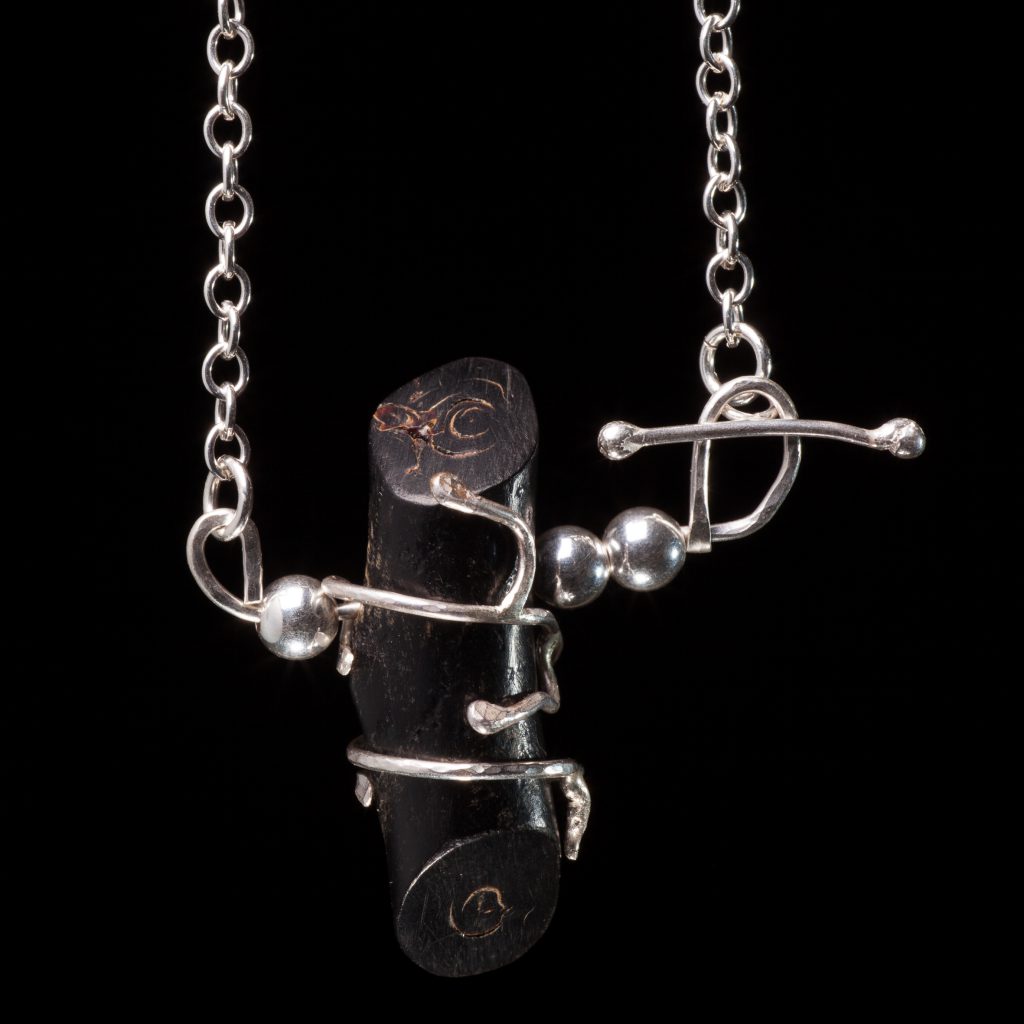 In my black coral collection it was the shape and texture of the materials that inspired the design; silver leaves and silver chain complement the twig-like quality of the coral, which I have only lightly polished in order to retain the resemblance to bark of the coral in its natural state. The informal settings of the coral slices, which show the growing rings in the coral, were chosen to reflect the organic nature of the material and freshwater pearls in peacock shades to complement the colour of the coral.
I love the wide open expanses of the coast, particularly in North Norfolk, and also the joy of traditional seaside holidays. I designed a necklace and brooch which use reclaimed, rolled and reticulated silver left unpolished to reflect my love of driftwood. In the brooch an element of fun is injected with a silver boat and bucket, whilst the green sea glass wrapped in copper wire is reminiscent of beach combing walks.  The necklace incorporates a copper ice cream cone and a cool and simple mother of pearl cabochon to contrast with the vibrant green of the Peridot chips, the gemstone for August.
For one show, exhibitors were asked to provide a piece inspired by light. My necklace featured at its heart a rainbow moonstone cabochon set in a reclaimed and reticulated silver pendant which was intended to resemble a cloud. It was suspended from a necklace of rainbow moonstone rondelles which, to one side of the pendant, incorporated a rainbow made up of tiny gemstone chips. The silver ring and toggle front fastening provided a visual balance to the piece.
Do you have a piece that you have made which you favour or are particularly proud of?
I am particularly fond of one piece from my black coral collection.  It was the shape and texture of the materials that inspired the design; the silver leaves complement the twig-like quality of the coral which I have only lightly polished in order to retain the resemblance to bark of the coral in its natural state. The handmade silver chain and ring and toggle fastening echo the lack of uniformity and organic nature of the piece.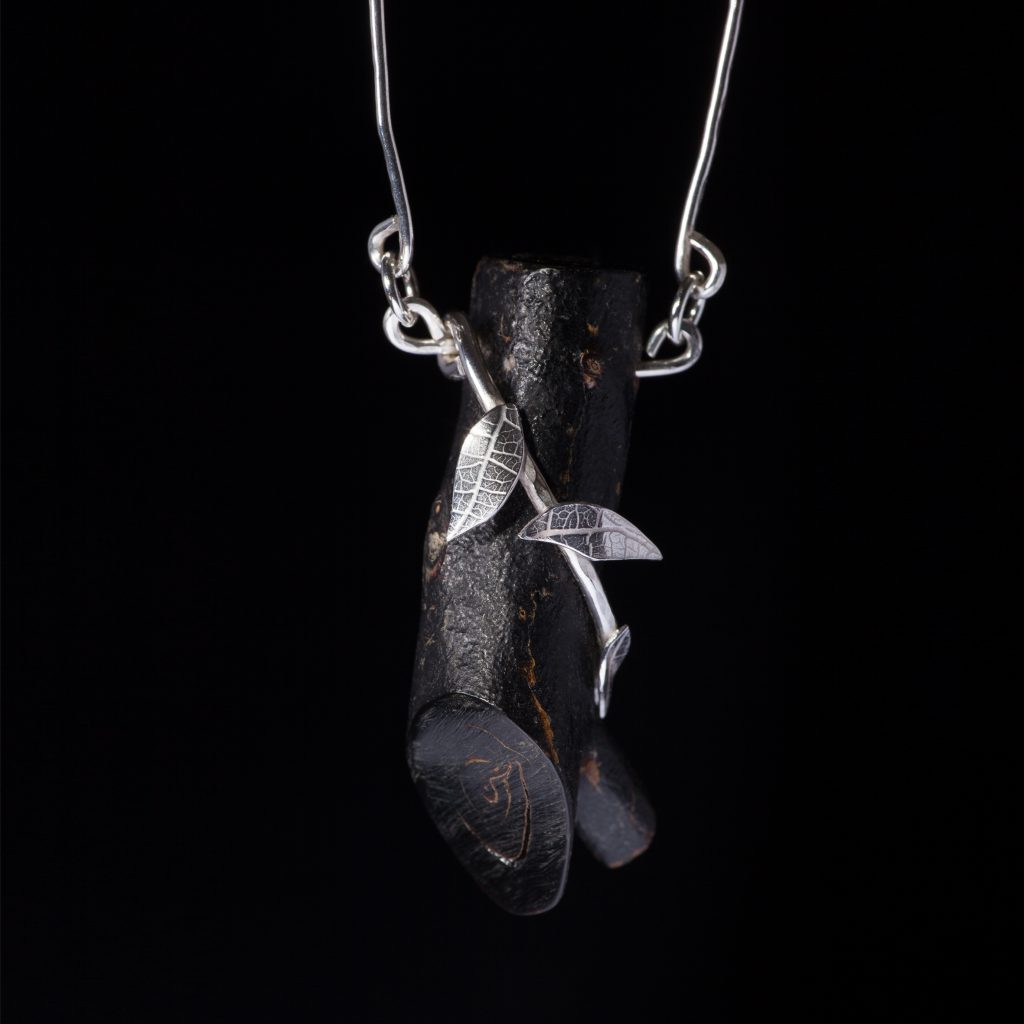 What is the one item in your jewellery making workshop that you could not live without?
A difficult question! I need my adjustable saw frame and my hand torch!
What upcoming trends do you see being popular soon?
The fashion shows feature as trends a bold and dramatic style which is often asymmetrical; dramatic and bold single and/or mismatched earrings with either geometric metal designs or sparkly dramatic long dangles;  chunky chokers and bold oversized necklaces and chains; bold cuffs and bracelets; statement strings of pearls.
What is the most valuable lesson you have learnt from your time in the jewellery making industry?
To keep going and work from the heart. I think you need to retain the love for your own work and believe in it!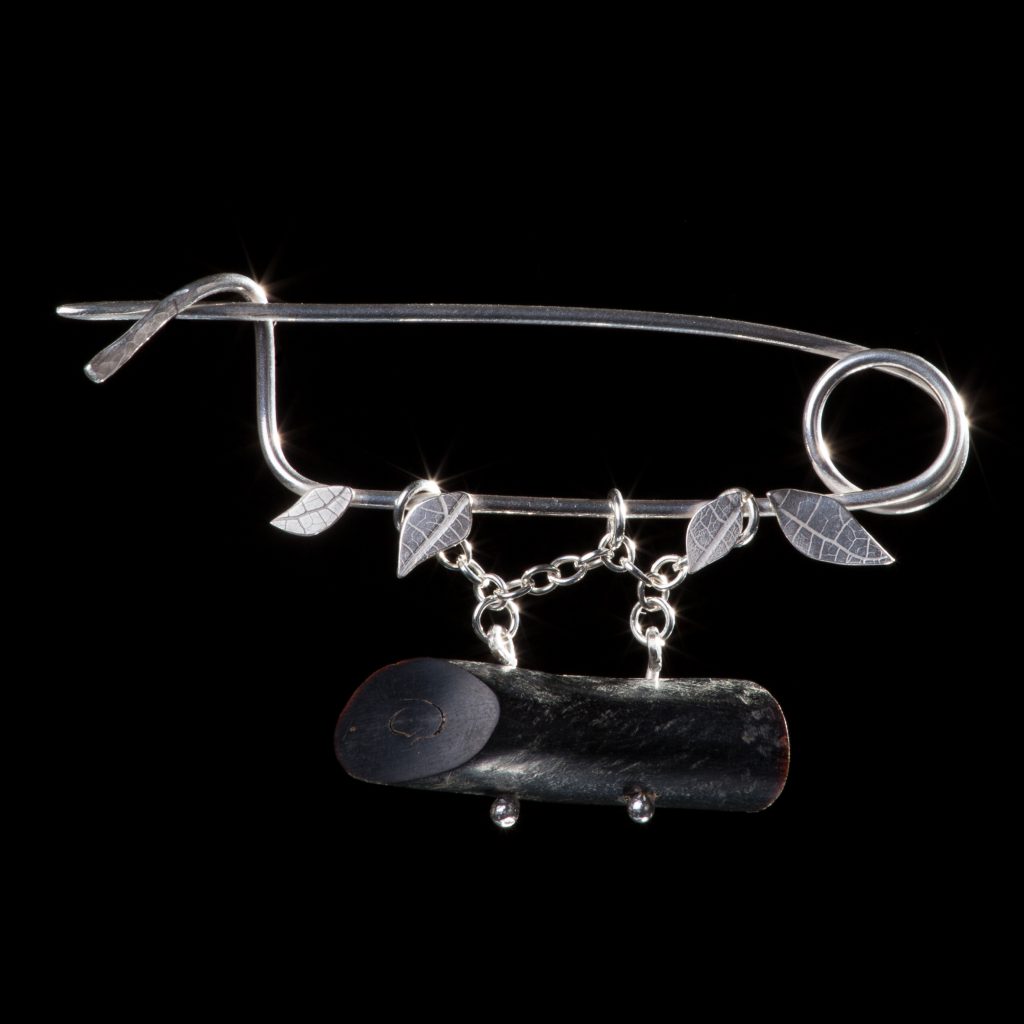 Do you have any particular advice that you would give to up and coming jewellery designers, or someone interested in getting into jewellery making?
I suppose one of the hardest things to remember is that jewellery designing and making is one of the most competitive areas of craft/art and design, so you really need to love what you are doing and keep plugging way at it despite disappointments along the way.
…and finally, time for a bit of fun in our quick fire round! Tell us your favourite…
…sport – snowboarding – an observer more than participant!
…gemstone – Turquoise
…place – North Norfolk coast
…animal – otter
…colour – blue
For more details on Alison's work, you can visit her website or feel free to check out her Facebook page, her Twitter page or her Instagram page.