One of Alison Baird's favourite materials to work with is yellow gold, and she often incorporates it into her classic yet stunning jewellery designs. Read the following Designer of the Month interview to learn more about her time in the jewellery making industry, and the technique she plans to add to her skills set next…
Let us know a bit about yourself, detailing your background, study and training in the jewellery making industry.
In 2012 a lifelong passion for jewellery became something more, when I decided to re-string some lovely Austrian glass beads originally belonging to my Granny into a set of illusion necklaces for my Mum, my sister and myself. In December that year I launched my first wee business selling bead jewellery via Facebook and market stalls in my local area. I soon graduated onto making wire wrapped pieces and on the advice of a friend and fellow maker, I decided to sign up to do a part-time Diploma in Creative Jewellery at the London School of Jewellery in 2013. After my first basic silver class I was hooked, and working with precious metals became and still is my passion.
After graduating in 2014 I continued to refine my skills in metal fabrication, stone setting and design, selling my work via the internet. My desire to keep learning meant that in January 2016 I went back to school to do a Level 2 Jewellery Manufacturing Diploma and a Level 2 Creative Techniques in 2D City & Guilds Certificate at Holts Academy in Hatton Garden. I have just finished the course, and plan to continue to develop my skills alongside working with my customers on their commissioned designs in my own workshop.
Tell us about your work – are there any particular materials or techniques that you favour?
I work with both silver and gold, with an emphasis on texturing. My favourite Fretz texturing hammer was a lucky find at the counter in Cooksongold, spotted whilst waiting to be served, and it now features heavily in my designs.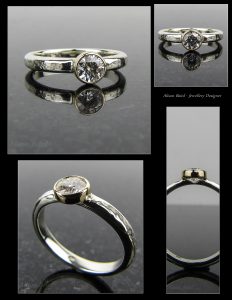 Moissanite and White Gold Ring
My designs tend to evolve as I work on a piece, and I love to add little hidden details such as a pierced design on the back of a pendant setting, or texture on the back of a ring which only the wearer will know about. I recently discovered a passion for vitreous enamel during my course at Holts which I am exploring at the moment, creating a series of ring designs.
How would you best describe your design style?
My design style is simple, my pieces are created to showcase the metal, stone or enamel I am working with.
As a jewellery maker, where do you like to get your inspiration from for your pieces?
I find inspiration in the world around me, studying the simple yet complex shapes seen in nature and the world at large. My recent studies in 2D design have opened a whole new world of inspiration to me, using my own photographs of nature to inspire my designs.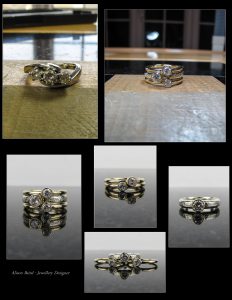 Diamond Rings
I find real inspiration is beautiful cabochons, and I design my pieces around the stone, creating a setting to showcase its beauty.
Do you have a piece that you have made which you favour or are particularly proud of?
One of my favourite pieces is my Pink Tourmaline ring, which is set in a combination of white and yellow gold. I love the 'raspberry' pop of colour in the cabochon, and it makes me smile every time I wear it.
What is the one item in your jewellery making workshop that you could not live without?
I would be devastated if anything happened to my Fretz texturing hammer, I just love that texture!
What upcoming trends do you see being popular soon?
I think that yellow gold is making a comeback, which makes me happy as it's my favourite metal both to work with and wear.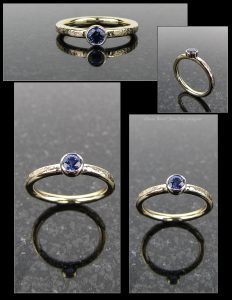 Blue Sapphire and Gold Ring
I would also love to see enamel make a comeback, I have been getting favourable comments about the designs I have been trialling in my workshop and it is a beautiful technique for adding colour to designs.
What is the most valuable lesson you have learnt from your time in the jewellery making industry?
You never stop learning even if you think you 'know' a technique, by watching someone else work and/or talking to other makers you will learn even more.
Do you have any particular advice that you would give to up and coming jewellery designers, or someone interested in getting into jewellery making?
Take the opportunity to talk to everyone you can within the industry, make connections and never stop learning. Be brave you learn more from mistakes than from a perfect piece so just go for it.
…and finally, time for a bit of fun in our quick fire round! Tell us your favourite…
…sport – football
…gemstone – Tourmaline
…place – The Highlands
…animal – cat
…colour – blue
For more details on Alison's work, you can visit her website or feel free to check out her Facebook page or Instagram page.