Following on from our previous focus on new chain, we thought we could take this opportunity to look at exactly what constitutes 'new' in an extremely crowded market place.
Many chain styles have been around for what seems like forever and often it can be difficult to shake a pre-existing association you have, with a certain type of chain.
However, chain design is so much more than simply style. Scale, finish and length play a major part in the overall look of a chain. A simple change of one or more of these factors can alter the appearance dramatically.
Take for example our new 'mini' range which incorporates classic styling but on a tiny scale. Apart from being incredibly cute, these smaller sizes mean they are suited to lighter weight pendants as well as clusters of charms which would otherwise look lost on standard versions.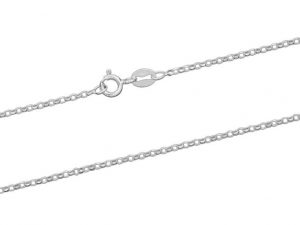 VVA ANA – Sterling Silver 1.4mm Diamond Cut Belcher Chain 30″/76cm Unhallmarked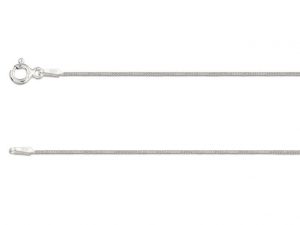 VVO M09F – Sterling Silver 0.9mm Mini Snake Chain 16″/40cm Unhallmarked
Both smaller in scale than standard examples, our diamond cut belcher and mini snake chains (shown above) both look super stylish and have a bright, white finish. Thus catching the eye without being flashy. Both are fastened with a bolt ring clasp, which is nice and light. Allowing it to overpower any pendant and is perfectly adequate for any light/medium weight chain. The belcher in particular looks very different at this scale and is elevated further by the addition of diamond cutting along the links. This added sparkle and change of scale completely dispels any previous associations many may have about belcher chains.
Diamond cutting is a great means of updating a chain to make it just a little bit more special. You may feel that a trace chain is nothing to get excited about but our new diamond cut, hammered trace chain, may just change your mind!
VVTD H15J – Sterling Silver 1.5mm Diamond Cut Hammered Trace Chain 22″/55cm Unhallmarked
Beautifully finished, this tiny trace chain has hammered flat faces along the longest part of the oval link, meaning it catches the light no matter what position it is in. It makes a terrific universal option if you need one style to suit all as it will compliment both modern and traditional designs without a problem.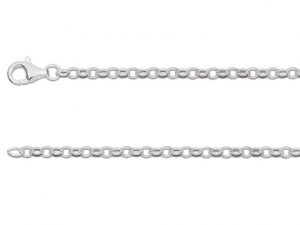 VVB BNA – Sterling Silver 2.5mm Belcher Chain 30″/76cm, Hallmarked
Length is another way to distinguish 'new' chain designs from standard ones as we are no longer limited to just 16 and 18 inches thankfully. Here at Cooksongold we can now offer a full range of chain lengths from 16" right up to 30". Thus, giving customers a great selection of options to choose from to create that layered look.
Many people like to wear chains longer so they can be easily put on straight over the head without the need to fiddle with clasps. Longer lengths also sit well over thicker winter clothes to provide a focal point, which will help to elongate the body (which is no bad thing for many of us). Long chains tend to carry bigger pendants well, often with drop or tassel designs, which will make the most of the movement created as you walk around. Smaller pendants will get lost on a 30" chain so either group two or three together to form a heavier cluster or wear them on a shorter chain.
To check out our full range of new chains go to www.cooksongold.com/Finished-Chain or head to our New Products page
Written by Joanna Varney
Joanna has worked in and around the jewellery industry for well over 20 years. She has designed and created her own pieces as a designer maker, as well as working in jewellery retail on a much larger scale, producing designs and NPD for some of the UK's largest high street retailers