by Jo Varney
The New Encyclopedia of Jewellery Making Techniques is a glossy paperback book, split into eight chapters spanning 160 pages dealing with; Cutting Metal, Heating Metal, Moving Metal, Surface Decoration, Working with Wire, Specialist Techniques and Using other Materials, which all follow a basic introduction covering tools, metals and design.
The New Encyclopedia Of Jewellery Making Techniques By Jinks Mcgrath (999 A114)
This is a fully revised and updated version of the original configuration which, as the name suggests, focuses essentially on jewellery making technique. The book follows a logical format which is organised a little differently to similar texts in that topics are broadly dealt with chapter by chapter, but cover all aspects of the subject, with more complex processes interspersed with basic tasks. This method helps to give you a more comprehensive overview of the topic as a whole, which actually makes a lot of sense. Make no mistake though, there is enough information on each topic to enable a beginner to attempt a new technique with confidence.
To give you an example of this, Chapter 2: Cutting Metal covers not only piercing, filing and drilling but also inlaying, making blanks, lathe work and engraving, so you really do have all the information on hand to make the right choice of technique for your particular project.
Jinks McGrath, the author, gives a written explanation of each process to begin each subject, which is then reinforced by a visual step by step guide which is excellent. This means that if you do happen to get a little lost in the initial description, any uncertainties will be dispelled via the visual clarification. Every aspect of each process is photographed, making a fantastic optical reference guide for both beginners and those looking to refresh a technique. You will find no superfluous photos in this book; every picture has a purpose and is illustrative of either a product or a process.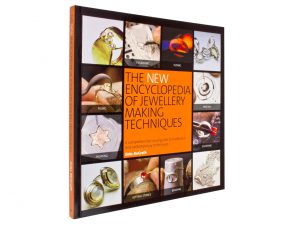 For those of you wanting to push forward a little there are chapters which deal with more specialist techniques such as casting and enamelling, as well as information on using alternative materials for example wood, acrylics and metal clay. Admittedly these subjects are only dealt with briefly, but still contain enough information to give an insight into each technique and as ever, all are accompanied by that all important visual reference.
Personally speaking, one of my favourite chapters was Chapter 5: Surface Decoration, which covered texturing, polishing, reticulation, stamping and embossing. It was nice to see a strong emphasis on traditional hand processes as well as mechanised ones, and it was encouraging to see some nice examples of rolling mill texturing showing what can be achieved with simple, everyday objects such as feathers and patterns cut out from watercolour paper (pg. 77).
This is a book which is pleasurable to read but also packed full of useful information which would benefit any beginner. The step by step instructions make a fantastic visual reference and the writing is clear and concise. For a relatively small price tag, you get a lot for your money; this is a purchase you won't regret.
If you want to add this handy and informative reference guide to your jewellery making workshop, you can order your copy from Cooksongold today here.