by Jo Varney
If, like me, you don't know the difference between a Larks head, a Carrick bend and a half-hitch, then The Knotting and Braiding Bible by Dorothy Wood is going to be a fantastic voyage of discovery! Creative knotting is a vast subject full of somewhat alien terminology, which for beginners (of which I am one) can seem a little daunting. However, I am pleased to say there is no need for alarm as Dorothy Wood is a competent and considerate author, as well as being an expert in her field and with this book she will effectively take your hand and gently guide you through those treacherous first steps.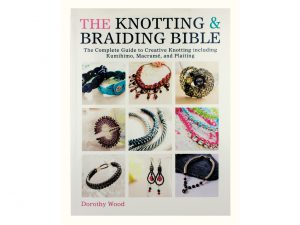 The Knotting and Braiding Bible by Dorothy Wood (999 A143)
The Knotting and Braiding Bible is a large paperback format consisting of 158 pages of step-by-step instructions covering all aspects of knotting (including individual knots, knotted braids and macrame) and braiding (which deals with plaiting and Kumihimo, a Japanese braiding technique). The book begins with a substantial introductory chapter, describing the basic equipment you might need to get started which is extremely useful. There is a huge amount of valuable detail in this section as Ms Wood discusses the pros and cons of the various threads and cords available, as well as explaning the different types of findings, beads and also tools that you may need. Personally I found this section particularly interesting, as it helps you to consider the merits of your materials before you start – which in the long run will inevitably lead to less disasters! Needles, glues and wires are all covered so really nothing is left to chance.
Before embarking on any projects Ms Wood gives an extensive visual guide of basic techniques, which is where you will learn about the different names and types of knot as well as some vital finishing ideas to give your work that professional touch. There are fantastic photographs throughout, along with step-by-step instructions which will essentially become your glossary of terms to refer back to if unsure at any stage. It is also worth mentioning the size of the photographs, as they are big enough that you could actually lay your cords and threads over the top of them as a guide to follow, should you get really stuck.
Things start to get infinitely more complicated once you reach the Braiding sections, but Ms Wood has included simple diagrams in these chapters which serve as a 'quick reference guide', and give you a numbered sequence to follow in order to achieve an even braid. The Kumihimo technique is dealt with as a separate subject, with plenty of information on templates including a disc and square plate at the back of the book which can be photocopied and enlarged for your own use at home. There are also some great hints and tips included throughout, providing additional information to help you on your way:
"If your cord is silky or slippery the knot may not stay firm – use a little glue or a few tiny stitches sewn on the reverse side to secure it."
The book culminates in a series of more complex projects which incorporate many of the techniques already illustrated. They showcase some of the author's favourite ideas, and are a great example of what can ultimately be achieved once your skills are honed.
If you are interested in knotting and braiding but have been put off by the complex terminology and the mind boggling array of different techniques, then The Knotting and Braiding Bible will give you the confidence you need to make a start. Ms Wood's comprehensive but clear approach help to demystify what is, without doubt, a complex craft and will provide you with all the information you need to achieve successful results. Without doubt this is a reference book that you will turn to again and again – a great read.
So, why not venture into something new and learn more about knotting and braiding with Dorothy Wood's clear and comprehensive guide? Buy The Knotting and Braiding Bible from Cooksongold now and start your braiding journey!